Strichpunkt, one of the leading design and branding agencies in German-speaking countries, visibly expresses the transformation of the Essen-based energy company STEAG with an energetically dynamic brand image for the new green energy solution provider brand Iqony. From the complete corporate identity and corporate design to support naming and brand strategy to the internal and external launch campaigns on print, out-of-home and digital channels: With a modular layout system including a dynamic logo, powerful, vibrant colours, one with clear, factual typography and down-to-earth high-quality images Strichpunkt brings to life Iqony's sustainable brand promise as a "reliable partner in a changing energy world" in an eye-catching and differentiating way.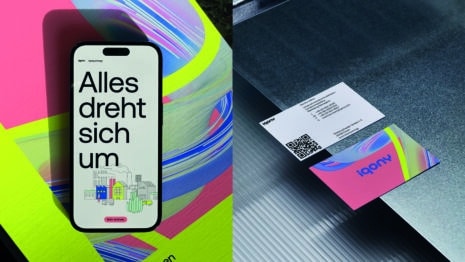 "Energy is always changing. It has countless forms, it is constantly changing and always retains its power. We have made this constant change, change, transformation and dynamism the basis of the new Iqony brand identity," says Peter Matz, member by the management, Studio Lead Strichpunkt Berlin. "In a very short time, we developed a complete brand identity for Iqony in the Berlin office, which visibly traces the sustainable brand transformation into a supplier of green energy solutions. As part of an integrated development approach, we placed great emphasis on involving all employees and managers from the start and actively involve them. Because that is the only way to live the new brand actively from day one!"
"Together with Strichpunkt, we have designed a new common brand identity for the established and market-tested growth business from the former STEAG, which will enable the individual business areas to be even more successful in the future thanks to a new common market launch," says Christoph Dollhausen , who as former marketing manager at STEAG was responsible for the development of the new brand and will henceforth be responsible for communication and marketing at Iqony as division manager.
Iqony: A new brand for new energy
Strichpunkt has visibly translated the identity and the Iqony claim as a reliable partner in a changing energy world into a strong brand image. The specially developed brand name Iqony already reflects key building blocks of the new brand identity developed together with STEAG, with which the energy transition must be designed individually (I), intelligent (IQ), feasible (ON) and full of energy (Y) ).
Iqony's corporate design is as confident and transformative as energy itself. With powerful colors that are striking and dynamic combine to create new worlds of tomorrow's energy. With a clear, factual font that enables the brand to get to the heart of the matter. With a calm world of images, high quality and grounded, which radiates safety and reliability. And an illustration style that makes it easy for Iqony to present its own energy solutions. It all comes together in a modular layout system that adapts flexibly to all media needs and can be seen from January 10 in an internal and external Iqony campaign under the claim "It's all about".
Semicolon:
Peter Matz
Antje Grieshaber
Tobias Nusser
Veronica Wehner
Christian Ram
Vanessa Frommelt
Jacob Rhinelander
Maria Strodt
Maximilian Tolksdorf
good thoughts:
Alexander Wilke
Caroline Thiedig
Jacob Barzel
Svenja Stasch
BOROS:
Heike Neumann
Bjorn Schwefer
We own you:
Alexander Basilica
About Iqony
Iqony makes green energy possible. With 85 years of experience in the planning, construction and operation of energy systems, the company offers holistic solutions for decarbonisation, decentralization and digitization of the energy supply. Iqony relies on regenerative energies and bridging technologies that can also be used in a climate-neutral way in the future. In addition to solar, wind and geothermal energy, the portfolio also includes hydrogen solutions, storage technologies, engineering services and gas power plants. Around 2,300 employees worldwide carry out projects for large industrial companies, energy suppliers, cities and municipalities in several countries around the world. Specializing in tailor-made solutions for demanding challenges, Iqony uses its broad knowledge of the energy industry across all technologies and services. www.iqony.energy
About STROKE POINT
Strichpunkt is one of the leading design and branding agencies in the German-speaking region. Around 120 specialists design sustainable brand transformations. The agency supports brands such as Audi, Deutsche Post DHL Group, Otto Group, Porsche, Schwäbisch Hall and Trumpf.
We design sustainable brand transformation: www.sp.design
Credit: semicolon