As we approach the end of the year, the numbers for the Cardano price are not looking very good. ADA/USD has fallen nearly 83 percent in value over the past 12 months. That means the price has by far the biggest losses among all the top 10 cryptocurrencies by market capitalization, as data from coincodex.com shows. The Ethereum price has shown the second worst trend this year. But with a minus of around 70 percent, the drop is significantly less than Cardano's.
The ADA price dropped from $3 to 25 cents
Many investors will likely have sold their ADA tokens during this year's slide. The panic surrounding the events at Terra (LUNA) and the crypto exchange FTX has caused many investors to pull out of the crypto market. And by doing so, many of them will have sold ADA at a loss. Because compared to the record price of around $3 in 2021, an ADA token currently costs just 25 cents.
But this extremely low price compared to the record high price could also provide a special opportunity to buy ADA for 2023. Because from the record high on September 2, 2021, there is now a whopping 92 percent "discount" for investors if they decide to buy ADA on a crypto exchange.
Now a unique opportunity to buy ADA?
But is Cardano really a once-in-a-lifetime buy-the-dip opportunity to generate big returns next year? Or is it better to stay away from Cardano because the descent continues in 2023? Kryptoszene.de takes a look at the latest Cardano news that may be important to the trend and uses the ADA/USD chart to analyze where the price may move. We also look at current price predictions for Cardano in 2023.
The recent statements by Cardano founder Charles Hoskinson, who gave his followers insight into his roadmap for NFTs on Twitter, were very interesting. It has been observed for some time that the network wants to establish itself as an important platform for non-fungible tokens and thus makes a strong competition for the Ethereum blockchain, which has so far been considered number one in the crypto industry in terms of mass adoption in this sector.
The Cardano founder sees extreme potential in NFTs
Hoskinson wrote on Twitter that he was impressed with how quickly the NFT sector has evolved in 2021, growing from nothing to a multi-billion dollar business. From his point of view, however, the potential is far from exhausted, but one is only at the beginning of a development from which the Cardano ecosystem could benefit massively.
So Hoskinson assumes that NFTs will be relevant in the future for anything that involves collecting something and having value. As examples, he gave rights to land, minerals, water and raw materials in general. Property rights could be stored and assigned in the form of NFTs. However, certain evidence of achievement such as certificates, diplomas and certificates can also be stored in the format of non-fungible tokens. Of course, the GameFi area also plays a very important role for NFTs. Progress in a game, certain characters you collect and rewards you receive in the game can be symbolized by NFTs.
Not a single mention of Cardano. Pretty low and pretty sad. I honestly expected better pic.twitter.com/0VHSdm5A2H

— Charles Hoskinson (@IOHK_Charles) 21 December 2022
Use NFTs to make money
In the next step, these NFTs could then earn money for the owners. For example, property rights and patents could be stored in the non-fungible tokens. The owners then license these rights for e.g. money. One could also securitize patents and give the owners loans for which they can make important investments.
Hoskinson sees a great opportunity for the Cardano network in the mentioned business areas. Therefore, he will focus more on topics such as Metaverse, GameFi and non-fungible tokens. As a next step, he wants to take care of governance, interoperability and things like that and find ways to better monetize NFTs in the future. According to Hoskinson, the tokenization of brands by influencers in social networks can also play a big role in the future.
Buy ADA on crypto exchanges
Of course, should the Cardano network actually become a pioneer in the NFT sector, this could also boost the price of the ADA token in 2023. On the other hand, Hoskinson puts little weight on the fact that ADA is listed on other crypto exchanges. In retrospect, he was quite relieved that the failed crypto exchange FTX had not yet listed Cardano. This means that investors in ADA would not be affected by the crash, where many investors on FTX lost their assets.
With that in mind, he doesn't mind that the Gemeni crypto exchange has yet to offer ADA trading to its customers, even though it already has over 100 coins listed, most of which have a far smaller market capitalization than the Cardano token. There have also been reports of payment problems surrounding Gemini recently, and some fear the next FTX may be imminent. Apparently, the Genesis firm owes the crypto exchange about $900 million in user assets because it ran into liquidity problems with its monetization program.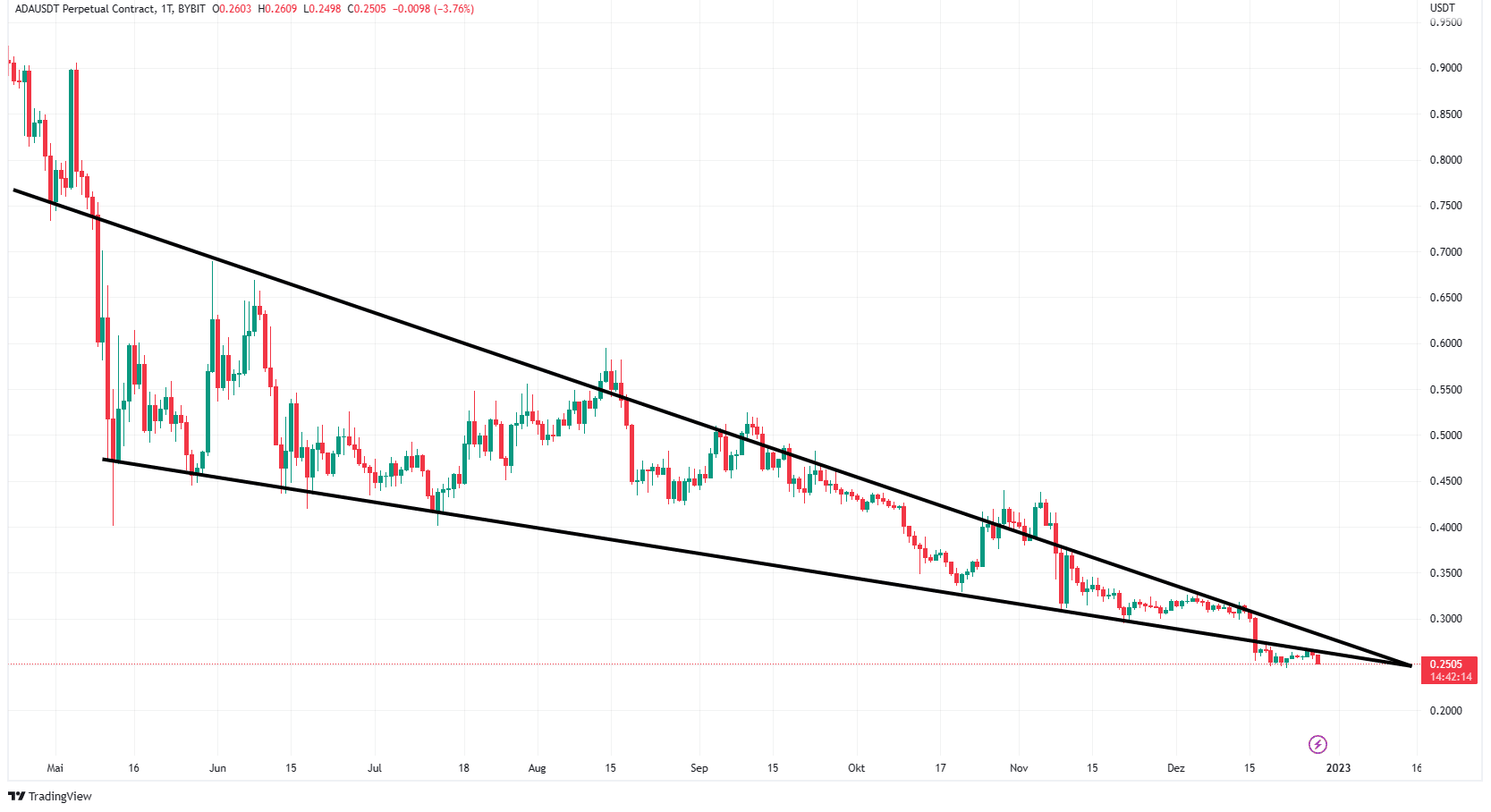 ADA Price Prediction: Price may rise to $0.65 in 2023
However, anyone currently looking to buy ADA has the option to do so on several other crypto exchanges such as eToro. But is now the right time for this? Technical chart analysis shows that the price has recently broken bearishly from a falling wedge. This chart pattern is actually bullish and has a higher probability of a breakout to the upside. So far, however, there has been no retest of the lower support line as a new resistance zone. So there's still a chance it's a fake-out.
By January 15 at the latest, ADA/USD may come back into the formation and then break out to the upside. This could bring the Cardano price to a technical price target above $0.5 in 2023. Thus, buying ADA would provide a 100 percent return.
Digital Coin Price's 2023 price forecast for Cardano is even more bullish. Because the analysts even expect the price to rise to 0.65 dollars. If this estimate comes true, Cardano buyers could even see profits of more than 150 percent next year.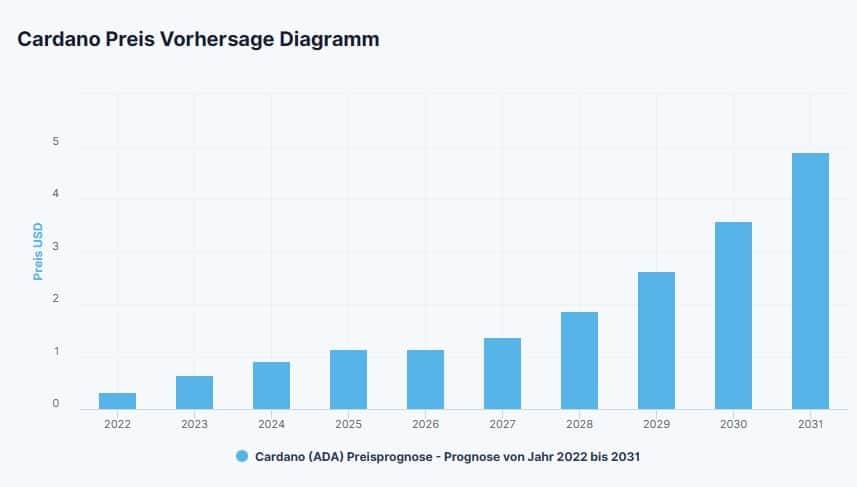 Dash 2 Trade Token still in presale
Investors still have a few days to buy D2T tokens in the presale at a preferential price. However, 84 percent of the offer is already sold out, and the pre-sale ends in 9 days.
D2T is the native token of the new crypto platform Dash 2 Trade. It offers users important chart indicators, trading signals and crypto news to make the right investment decisions.