Whether it is Bitcoin, Ether, Cardano or the rest of the 22,000+ cryptocurrencies: they are all safest in cooling solutions. If you are not a day trader or a passionate online casino gambler and therefore need to have your coins available constantly, you should ensure proper storage of your coins.
Whether it's MtGox, QuadrigaCX or FTX. It happens again and again. An exchange slides down to insignificant depths, taking the private keys with it. The coins are gone and the investors are staring down the drain. Because only those who have the private keys to their Bitcoin, Ether and ADA can access them anywhere and anytime. Quite simply: not your keys, not your coins.
Cold Storage: Digital Bitcoin Fort Knox
It is therefore advisable to store your Bitcoin and Co. in the fridge – because it is more secure than the safest crypto exchange. This is a storage of the private keys in offline mode. No hacker, no matter how clever, has access to it. And depending on how silent you are, no one needs to know that there is a 24-word combination somewhere that represents the passwords to your Bitcoin.
How you design your cold storage solution is up to you. Of course, you can go the low-budget route and store your keys in a paper wallet. We explain how it works here. If you want to be a little more comfortable and want to keep a few coins more than just Bitcoin, a hardware wallet is recommended.
Hardware Wallet: Security for your Bitcoin
This is basically an extra secure USB stick that you can store your coins on. In a (somewhat outdated) video we explain how to set up a hardware wallet from Ledger. Of course, there are plenty of other hardware wallets to choose from. You can use the linked tutorial as a guide and create another hardware wallet, the principle is quite similar for most hardware wallets. Just look at our wallet comparison.
No matter which variant you choose: You should now have a cooling solution for your Bitcoin at hand. In order to withdraw your coins from an exchange in the next step, you still need your Bitcoin address. This is an alphanumeric combination of characters. It is composed of numbers and letters. It looks like it:
1A1zP1eP5QGefi2DMPTfTL5SLmv7DivfNa

First Bitcoin Address ("Satoshi Nakamoto's Genesis Address")
This will be shown to you when you create your wallet. Write them down or copy them into your browser. You will need them soon.
How to withdraw your coins from an exchange (Bitpanda)
In the following, we show you step by step how to withdraw your coins from an exchange. We chose Bitpanda for this tutorial. Since the process is roughly the same for most exchanges and brokers, you can use it as an example and copy the process analogously to other crypto exchanges.
First visit the official website and login. To do this, enter your email address and password. You will then receive a code by SMS and/or e-mail. You must enter this to prove your identity. Now you land in your dashboard.
To get to your coins, just scroll down a bit and you will see your portfolio there.
If you now want to withdraw your Bitcoin from the exchange, click on the BTC symbol and enter "BTC" in the search field. If you are interested in other coins, look for the corresponding ticker symbol or the name of the coin. You should now get to the following view.
Now right click on "More" and select "Send BTC". In the next window, just enter your Bitcoin address and click "Send". NOTE: Make sure the address is correct. Once you send your bitcoin to the wrong address, you can't get it back.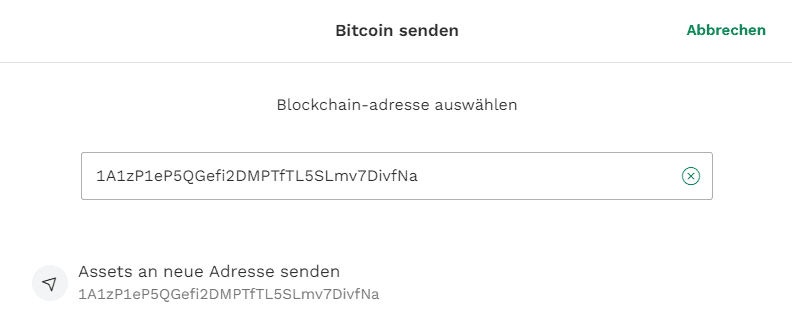 In the next window, enter the amount you want to send. Here you can choose between Bitcoin or Euro. Then click on "To the overview". Now you need to read Bitpanda's message and confirm that you understand it. Now click "Next" again and your coins are on their way. Congratulations! You have successfully transferred your bitcoin from an exchange to a wallet!
Want to compare the best wallets?
In our BTC-ECHO comparison portal, we show you the best wallets with which you can store your crypto assets safely.
For the wallet comparison
The latest issues of BTC-ECHO Magazine
You may also be interested in this