Young investors in particular are wondering which is probably the best long-term asset class. The asset classes of cryptocurrencies and ETFs are particularly popular at the moment. Both offer vastly different advantages and disadvantages and suit different investment strategies. Which of the two asset classes is the best long-term investment is explained below.
Cryptocurrencies – high risk, high return?
Arguably the most popular risky asset of our time is without a doubt cryptocurrencies. The underlying blockchain technology, smart contracts, NFTs and the various application areas of all these inventions make investors' hearts beat faster. In the past decade, bitcoin has multiplied in value and early investors have become millionaires. Many are now emulating this dream, although getting rich or even profitable with crypto is far from possible.
Many of the projects and coins you can invest in turn out to be futile or irrelevant after a few years, and new cryptocurrencies are constantly replacing the old tokens at the top. Of course, the top coins Bitcoin and Ethereum, which are in first and second place by market capitalization, have been an exception to this. Anyone looking for a long-term investment in the crypto sector should definitely fill a large part of their position with these two cryptos to minimize the long-term risk of a total loss of part of the crypto position.
The biggest benefit of investing in crypto is undoubtedly the huge potential that still exists in the industry and can continue to unfold in the years to come. Bull markets, where prices increase tenfold on average, have been normal in the past. As soon as the global economy begins to stabilize again, many experts expect another rise, which could give investors big profits.
The high volatility of the crypto market should not pose too much of a risk for long-term investors. As long as the prices of the currencies you invest in increase on average over the years, it is ultimately irrelevant how far the rate has deviated in the meantime. The main disadvantage of investing in crypto for the long term, 10 or 20 years, is the uncertainty of whether the digital assets will really catch on. For investors with an investment horizon of 1, 2 or 5 years this may be less relevant as they are just waiting for the next bull run, but for longer term investments this is a serious risk.
ETFs – in small steps to the investment goal!
Unlike cryptocurrencies, ETFs are a much more conservative asset class. They depict the development in the price of an index, which in turn consists of many individual shares. They therefore reflect the prices of a huge number of individual companies that have already found their place in the market and are generating sales. If one of the companies whose stock is included in the index goes under, it is not so bad, since the loss is cushioned by the huge diversification.
Of course, there are also more or less risky titles among ETFs. This depends entirely on which market or industry the ETF tracks and how many stocks each index includes. But in general it can be said that ETFs are the much safer long-term asset class and a total loss here is very unlikely, even with an investment horizon of more than 10 years.
Of course, such high profits cannot be generated with ETFs. Annual returns average 9-14%, which is much more average than the potential returns of cryptocurrencies. In addition, however, ETFs are also subject to significantly lower volatility and are therefore a more reliable asset class as they reflect the average performance of many companies. There is little to be said against a long-term investment in one or more ETFs. Before making a long-term investment, however, you should carefully consider which ETF you invest in and which industry or market it represents.
Long-term investment – crypto or ETF?
Whether crypto or ETFs are the right asset class for long-term investing depends entirely on your own investment strategy. Cryptocurrencies can provide extremely high profits, especially with long-term investments, but also carry a high risk of loss. ETFs, on the other hand, are the much safer investment option, with which you can reach your investment goal step by step with manageable returns. In both cases, adequate diversification is important. It is not recommended to invest all available capital in just one cryptocurrency or ETF. A diversified portfolio effectively mitigates any loss.
Invest sustainably with IMPT
Whether it is crypto or ETF, there are currently many good investment opportunities due to the difficult economic situation. Above all, sustainable investments also offer long-term potential. One of the most promising projects in this sector is currently IMPT.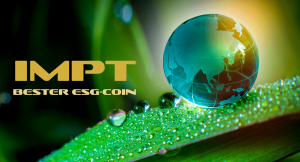 IMPT.io is a project that aims to bring together companies and people who want to keep their ecological footprint as small as possible. The platform enables the exchange of so-called CO₂ credits. This is supported by blockchain technology and is thus made secure and transparent. In addition, IMPT collaborates with many well-known brands and wants to establish a kind of sustainable cashback system via its own platform. A portion of the profit margin must be donated to charity. Buyers also receive the IMPT token as a reward. This token is deeply embedded in the IMPT ecosystem and can already be purchased in the PreSale. By purchasing the coin, you can invest early in the future success of IMPT.io. Since the pre-sale ends in a few days, you should not spend too much time on your investment.
Any trade is risky. No guarantee of winning. All content on our website is for informational purposes only and does not constitute a recommendation to buy or sell. This applies to assets as well as products, services and other investments. The statements on this website do not constitute investment advice and independent financial advice should be sought whenever possible.
Click here to see the best crypto presale that could increase 10X this year!