We live it. That's the slogan for Spacecamper. For boss Ben Wawra, this is more than a flat advertising message, but a motto in life.
He actually traded his apartment for a high-roof camper van from his own house about ten years ago. Even the experienced camper scratches his head questioningly. How does it work?
Not so easy, one would think. After all, everyone in Germany needs a registration address, otherwise they are considered homeless. The letters from the tax authorities, insurance companies and all kinds of invoices have to go somewhere. It was organized by Ben Wawra. Formally, he lives with his father, whom he visits regularly, but does not live there. That's why he has his bus.
It's not exactly huge, to say the least. Living in a liner like many retirees in North America do – no problem! With a little imagination, you can even imagine a full-fledged van with a permanent wet room as a domicile. But a Bulli? (New ID.Buzz: How to drive the all-electric VW Bulli with T1 genes)

Works in front or in Bulli

"It's going really well," says Ben Wawra. I kind of picked him up from work. Which makes this a somewhat imprecise definition for Ben. Not only since Corona, he often works in or in front of his bus. On the day of our meeting, the high-roof Bulli is parked on the premises of the Spacecamper company in Darmstadt's Haasstraße.
Because there is a lot to discuss and examine in the internal workshop. prototyping and such. The boss does not say more details. It doesn't matter, it's not about technology and products for us today anyway, but about Ben Wawra himself. And what is it like when you live in a bus.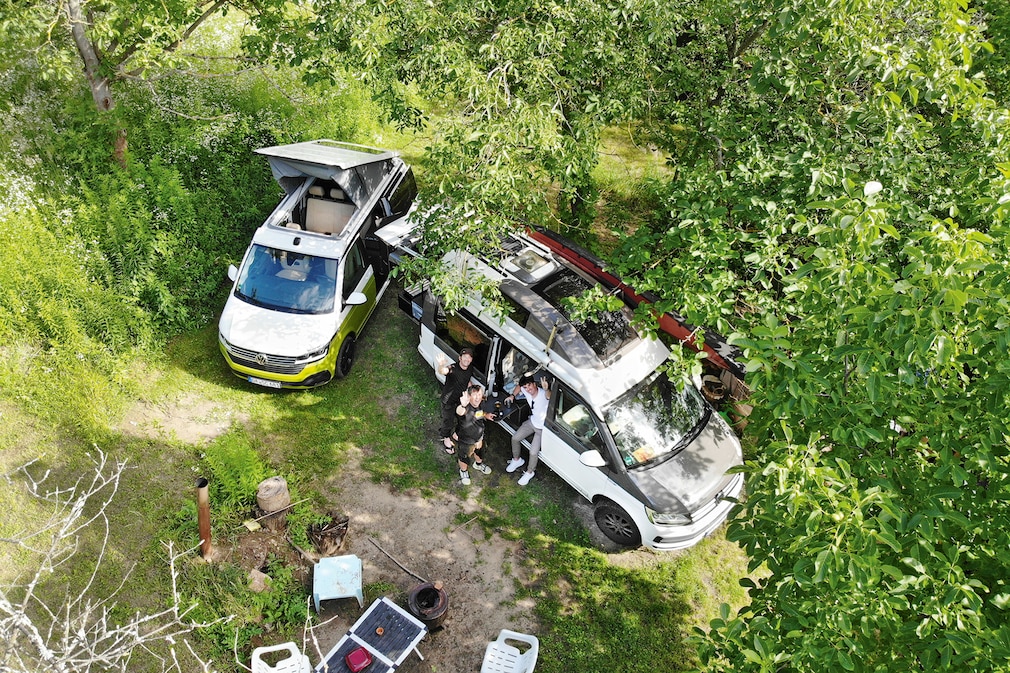 It all started in 2012. In a kind of self-experiment, the boss of Spacecamper wanted to see what it's like to spend not just free time and holidays, but the whole life in his own bus. He thus repeats what he had already practiced during his studies: He lived for a number of years in a Ford Transit, which he had converted himself.
Spacecamper tanks taken to the extreme

His partner Markus Riese, with whom Ben Wawra founded the RW vehicle engineering company in 2005, spent a sabbatical in Australia in his own VW bus. Both then implemented the ideas they had gathered in camping practice in the Spacecamper Bullis. So with his current mobile home, Ben Wawra simply takes the space camper idea to the extreme.
We drive out to the mountain road. The long-term mobile camper bought a piece of land there. We will not reveal where it is. Some Spacecamper customers know it. After all, Ben uses the property from time to time to introduce customers to their new vehicles and provide practical tips. This is how it works for us now.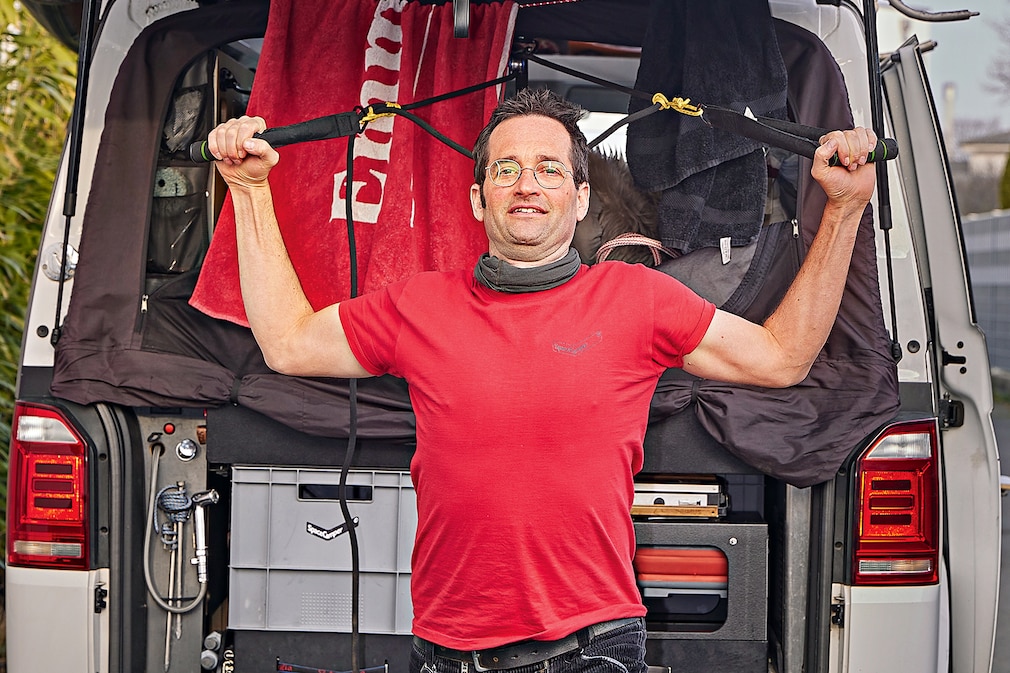 Ben is actually on the first foot with all customers, including us, even though we are not customers. But we have at least one Classic Open from the test fleet with us. In a mini-convoy, we drive a few kilometers south until Ben turns on the blinker. It goes slightly uphill through a small village, then along a dirt road – until we finally reach the property.
It is quite hilly, but parking bays allow the buses to park fairly flat. Large trees provide shade. Otherwise, the property's equipment is rudimentary. A couple of stackable plastic garden chairs, a former laundry drum converted into a barbecue and a swing.
The apple doesn't fall far from the tree
After all, Ben is a father of two. Although the two are already at the age where you don't always automatically board the next swing. Son Jan Hardy is 17, daughter Lara (19) already has a driving license – and occasionally borrows dad's bus. The apple doesn't fall far from the tree. After all, when his children were children, they stayed with him about 150 nights a year, that is, in the bus. However, they spent most of their time with their mother, from whom Ben lives separately.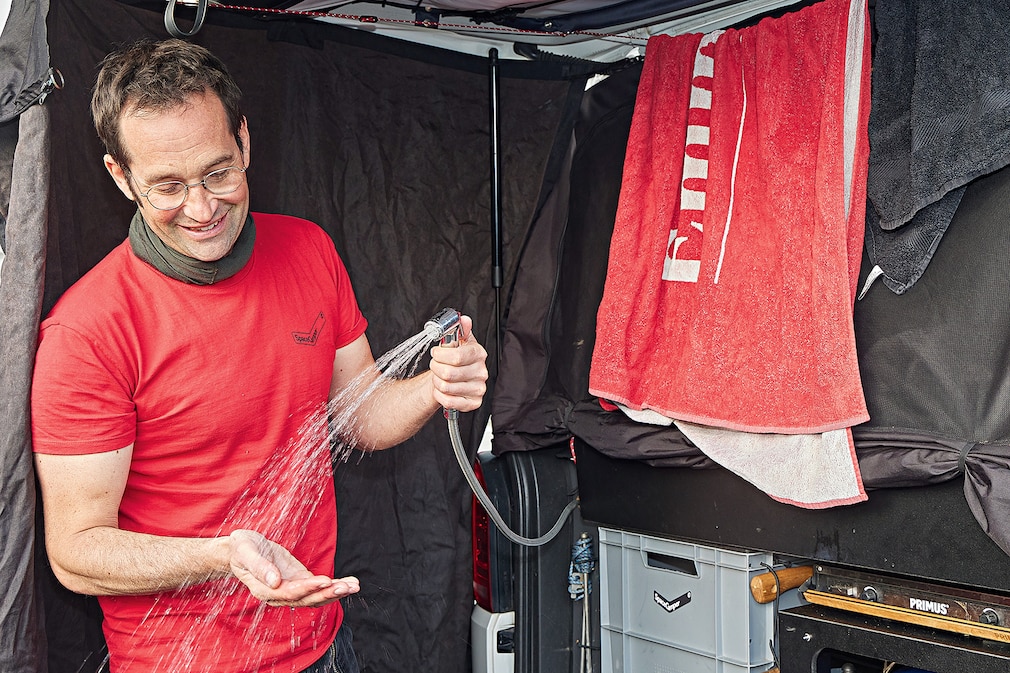 Nevertheless, he assures them, they maintain a friendly relationship. A large-format picture, which Lara painted for him and is now pasted on the underside of the roof bed, testifies to the good relationship with his daughter. And when Ben rummages in the drawer under the seat, he suddenly pulls out an Uno playing card with a laugh. The monkey card testifies to the former children's room on wheels.
As Ben waved at the barbecue with a gas burner, he raved about life on the bus: "It's just so varied. Sometimes I don't think about where I'm going to stay until I leave." Today here, tomorrow there – as Hannes Wader once sang.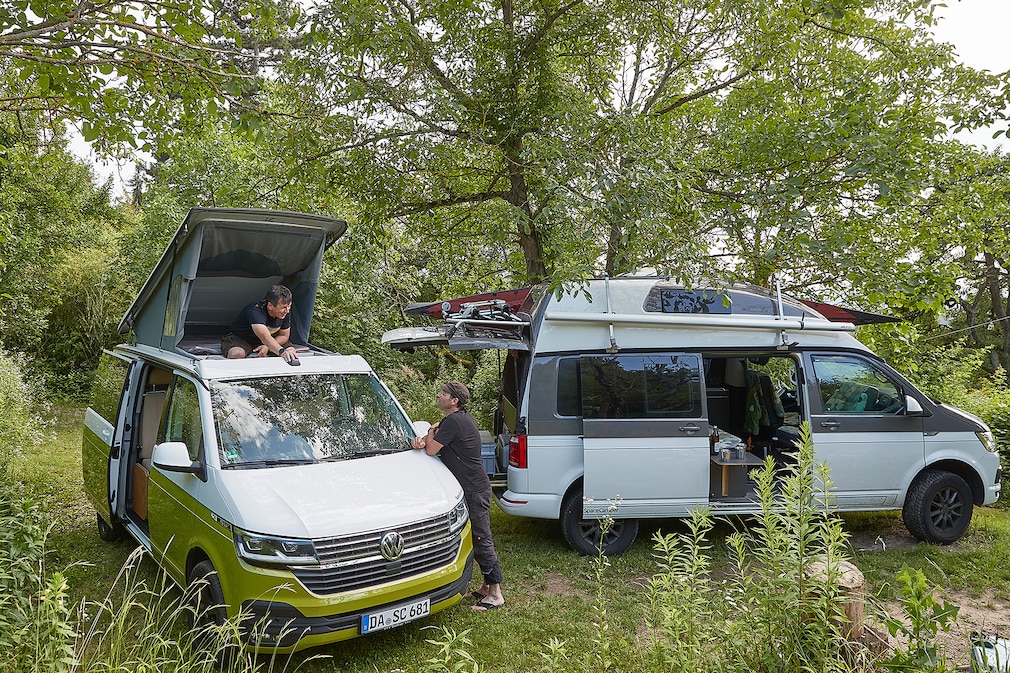 He likes to go towards the banks of the Rhine. After all, he is a passionate paddler. The boat is always there and hangs to the left of the raised polyroof. His laptop and of course his smartphone are always on board. After all, he often works on the bus, which he considers very efficient: "I can concentrate on doing many things at once."
In the company, someone often comes into the office. Outside, Ben actually takes the liberty of turning off his cell phone when he's deep into a problem. No doubt he lives it.