The new meme coin Tamadoge already attracted a lot of attention during its dynamic presale. A few days ago, the TAMA project's NFT Drop started. Now some blog posts are writing that the cryptocurrency could become the new Bored Ape Yacht Club with the new NFTs. What's behind it?
Tamadoge NFTs launch with the Ultra Rare Edition
The young project started selling NFT on October 6. The developers announced this via the website and a Twitter post.
By purchasing a Tamadoge NFT, token holders secure an application in the soon-to-be-released Play to Earn game. Initially, 100 extra rare NFTs will be sold. With this variant of the NFTs, the owners get a very fast, strong or particularly stylish Shiba Inu.
This rare pet gives players a better chance to climb into the top 3 on the global leaderboard. According to the TAMA team, this improved chance is 90%. The price of one of the rare NFTs is 1 WETH, which is currently around $1,300. The sale is limited to 7 days, until now there are still 99 NFTs available for purchase.
Attention #TamadogArmy!📣#Tamadog Ultra rare NFTs are on sale now!🤩

Starting price: 1 WETH
Listing Type: Fixed Auction
Auction length: 7 days

Buy now on @opensea And get a 90% better chance of being in the top 3 on our global rankings💪⬇️https://t.co/hUtUDoLqzh pic.twitter.com/AiSfNTD9HX

— TAMADOGE (@Tamadogecoin) 6 October 2022
The NFT sale will continue soon with new collections
Token holders are only authorized to play the Tamadoge game by purchasing one of the NFTs. A total of 21,100 NFTs are available. They vary in price and rarity. Each NFT integrated into the game is unique.
Ultra Rare NFTs: 100 pcs
Rare NFTs: 1,000 pcs
Common: 20,000 pcs
Buyers who are not quick enough on their first NFT drop or want to wait for a cheaper price will soon have another chance to secure a Tamadoge NFT. The NFTs can be purchased via Opensea.io.
The TAMA price reacted positively to the NFT announcement
On October 3, the Tamadoge price was $0.06. Price after the announcement of the NFT sale, the price saw a significant increase. On October 5, the price was $0.19. So in one day TAMA price received a 216% increase.
But even before the announcement of the puppies' NFTs, Tamadoge showed a good performance. During the Tamadoge presale, $19 million worth of tokens were sold in just 55 days. With the successful sale of the coins, the community behind the project also grew. Tamadoge's official Twitter account is currently followed by nearly 77,000 people.
After the presale, the token received the first crypto exchange listing on September 27 and began trading on OKX. The native token already achieved a trading volume of USD 2 million on the first day of trading. Step by step, the coin reached further milestones. On October 5, LBank and MEXC included the token in their exchanges. The Coinsbit listing followed on October 7.
The Tamadog Game – coming soon?
Tamaversum's Play to Earn Game is scheduled to be released in beta in the coming weeks. Then players will receive their personalized Shiba Inu puppy generated from their purchased NFT.
The gameplay is reminiscent of the popular Tamagotchis of the 90s. Players are tasked with looking after and caring for their puppy. He must be fed and developed. If you have developed your dog far enough, you can participate in PVP matches with it.
Only through the matches, where players compete against players, the participants have the opportunity to benefit from the play-to-earn mechanism. Each win earns players Doge Points that can be converted into Tama Tokens every month.
How Tamadoge differs from Bored Ape Yacht Club (BAYC)
According to the developers, anyone who buys a Tamadoge NFT will get a real benefit from it. Accessing the Play to Earn game allows players to earn Tamadoge tokens while playing. By purchasing a Tama NFT, buyers are also investing in a young project that still has a long way to go. Tamadoge's roadmap is still in its infancy.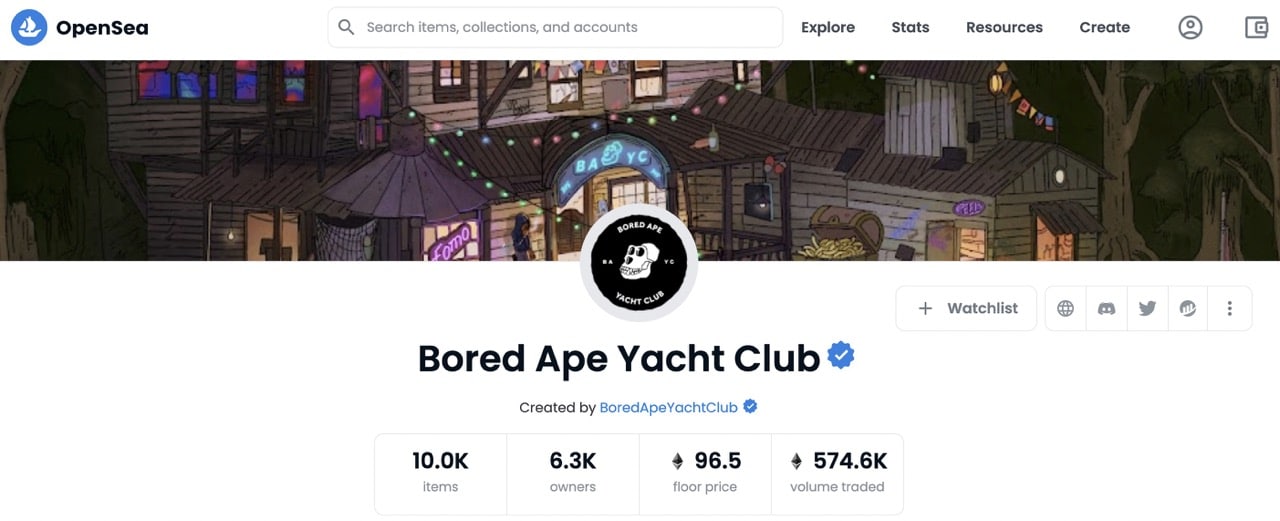 At Bored Ape Yacht Club, on the other hand, the timetable is already complete. If you buy an NFT here, you will receive an asset with probably little potential. Tamadoge's value currently shows better prospects for appreciation.
How to buy Tamadoge tokens
If you want to buy a Tamadoge token, you must first have a crypto wallet. A wallet can be integrated into the browser in minutes.
Step 1: Call up OKX
Visit the OKX website and create an account. Your name, date of birth and address are required for registration. A picture of your photo ID is required to verify. Activation usually only takes a few minutes.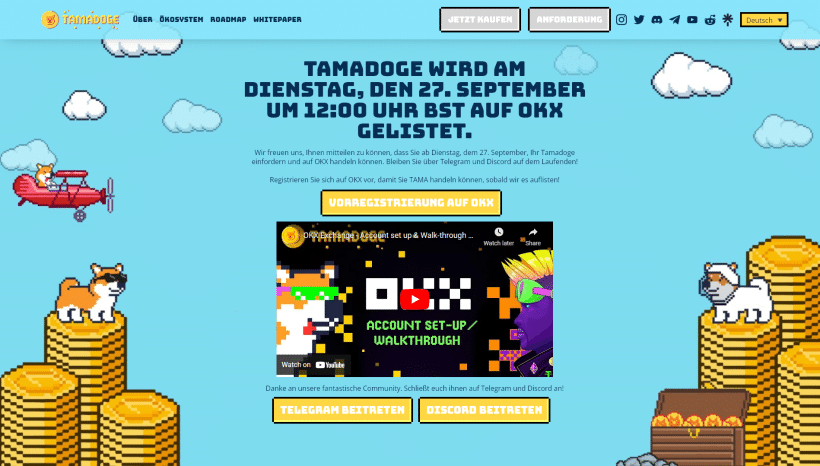 Step 2: Top up account
Once your user account has been activated, you can start shopping. USDT tokens are required to purchase Tamadoge tokens. Use the Buy Crypto button and use the Buy with Card feature.
Here you can now choose how many coins you want to buy and the total amount owed will be displayed in your chosen currency. Confirm the purchase and go to the "Trade" section.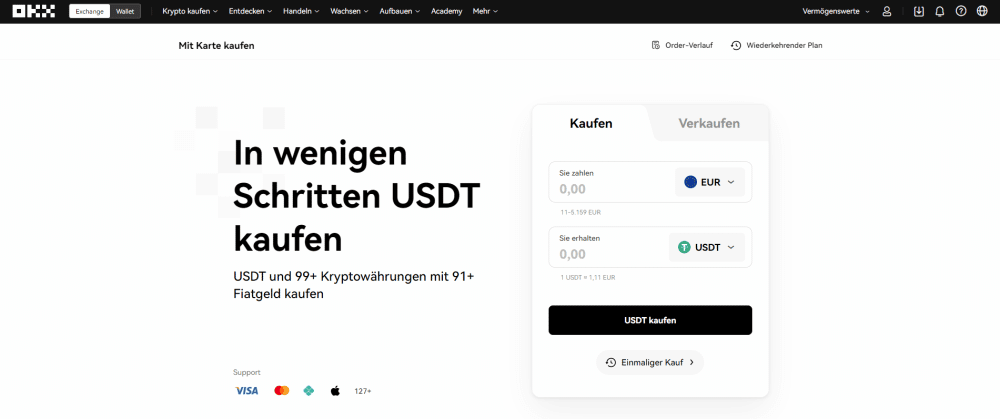 Step 3: Switch to TAMA
Search for "TAMA/USDT" here. In the trading window you have the option to specify how many USDT tokens you would like to buy or how many TAMA tokens you would like to buy. Confirm your choice and complete the purchase.
Now your tokens are in your trading account. You can send these to your OKX financial account, sell them or send them to your crypto wallet.
Offers that match your criteria…
More filters
Close filters
Offers that match your criteria…
sort

Cryptocurrencies are a highly volatile, unregulated investment product. Your capital is at risk.