The course of the new meme token DIE, which was created after a tweet by Vitalik Buterin, increased by 5,500% (!) within a short time. However, the token seems to be in a big bubble right now.
A tweet from Ethereum co-founder Vitalik Buterin led to the creation of a new memecoin. Days after he jokingly hinted that there might be a project called The Protocol, the crypto community created The Protocol token (THE).
After another tweet from Buterin, the meme token "DIE" was created. DIE is based on the German article "die".
It wasn't long before crypto developers launched the token and the first social media accounts created to promote DIE. According to DEXTools, the DIE price has increased by 5,500% in the last 24 hours. At the time of writing, the DIE rate is $0.0000019.
Such large price increases are not uncommon for memecoins. However, the listing on some larger crypto exchanges such as Huobi and MEXC and some smaller crypto exchanges is probably also to blame for the massive price increase.
2022 turned out to be a good year for memecoins. Some, like the Vitalik Buterin-inspired memecoin, have clearly outperformed other major cryptoassets. While investors are wary of major cryptocurrencies in the current crypto bear market, that seems to be the case with memecoins.
The crypto community debated on Twitter whether DIE token's market cap could exceed THE market cap. DIE currently has a market cap of $8.6 million with far more buy orders than sell orders. Liquidity is currently over $400,000 which appears to be large enough for solid trading activity.
Some members of the crypto community may not believe that there are any risks associated with memecoin.
For example, Twitter user @crypto_TomTom is bullish on DIE: According to his forecast, the market value of DE will increase to over 30 million US dollars in the next few weeks. Nevertheless, investors should remain cautious with this type of token.
Is DØ in a bubble?
Cryptocurrencies that promise quick riches are always particularly risky. At worst, developers even build traps into the code to steal money from users. Most memecoins have also experienced sharp price drops because user interest is rapidly waning – the bubble bursts.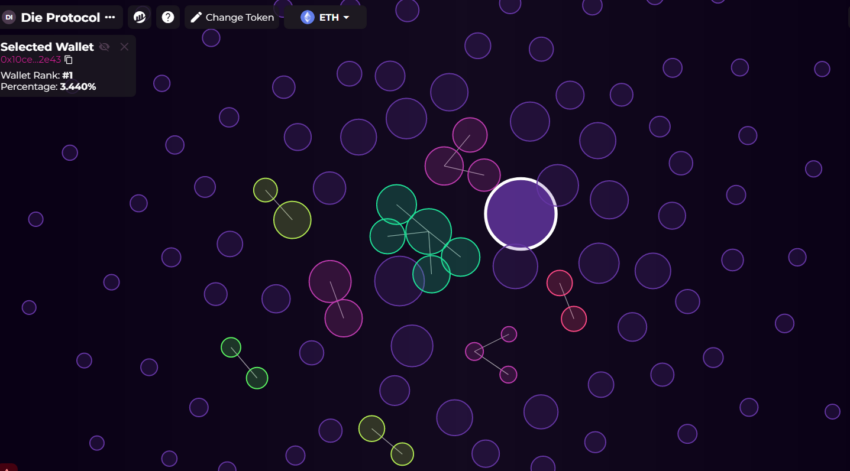 In the case of DIE, only a relatively small portion of crypto wallets currently hold the majority of all tokens. According to Bubblemaps, the 15 largest DAI wallets hold over 20% of all DIE tokens. If at least some of the top 15 crypto wallets sell the holdings at the same time, a quick dump could follow. Therefore, as with other memecoins, investors should proceed with caution.
Disclaimer
All information on our website has been investigated to the best of our knowledge and belief. The journalistic contributions are for general information purposes only. Any action taken by the reader based on the information on our website is entirely at his own risk.