Quality and features come at a price, but with these five cars, it's pretty small. AUTO BILD has selected models that have a lot of comfort, space, quality and equipment – and at the same time are very cheap. The best: At Carwow there is another discount of up to 6900 euros!

Five cars with an attractive price-performance ratio

Selected products in table overview

| | |
| --- | --- |
| | |
| Hyundai i30 | |
| Peugeot 308 | |
| Kia Ceed SW | |
Skoda Fabia: a lot of equipment for little money
With a base price of just 14,540 euros, the Skoda Fabia is certainly good value. But is the rest also correct to be a real price-performance winner? With 65 hp, the little car is obviously not a sprinter, but it is enough to get you comfortably from A to B.
Comfortable is a good keyword, because even in the basic version the Fabia comes with a number of functions: Drowsiness detection, lane departure warning, electrically adjustable and heated side mirrors and LED headlights are always on board.
For example, if you invest only 2900 euros more (for the "Ambition" equipment line), you get air conditioning, a multifunction steering wheel, central locking with radio remote control, six speakers (instead of four), Apple CarPlay and Android Auto .
Hyundai i30: The Golf competitor

With the i30, Hyundai has a direct competitor to the VW Golf on the market. Only that at least 21,650 euros must be paid for the absolute basic Golf – and the i30 starts at 20,650 euros.
What does the VW have that the Hyundai can't? Not even that much. For the i30, it also comes with air conditioning, lane departure warning, heated side mirrors, multi-function steering wheel and height-adjustable driver's seat.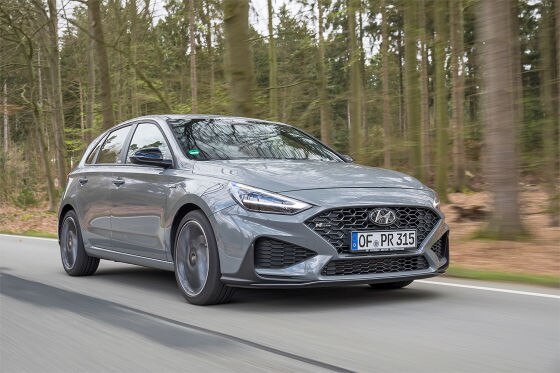 The Hyundai i30 comes with a manual six-speed gearbox, 120 hp and a maximum torque of 172 Nm. At Carwow, the cheap five-door model is up to 5580 euros cheaper.
Peugeot 308: many technical features

Whether as a combustion engine or as a plug-in hybrid: the Peugeot 308 is definitely a cheap car. The basic price for the petrol engine is 30,450 euros. With 131 hp, a WLTP consumption of 5.6 liters per 100 km, a fresh look and all kinds of standard equipment.
Standard onboard features include keyless cruise control, dual-zone automatic climate control, remote central locking, front and rear parking assist (acoustic and visual), fatigue warning, 180-degree rearview camera, traffic sign recognition, 17-inch alloy wheels, 10-inch screen and a multifunction steering wheel.
With the new 308, Peugeot places particular emphasis on the modern interior and the wide range of technical functions.
But a fresh and modern design is also important to the French, which is supported by the free standard color of the 308. Where other manufacturers use a white finish, Peugeot offers "Olivine Green". Chic! At Carwow, there is a discount of up to 6,863 euros on the fresh compact car.
Kia Ceed Sportswagon: plenty of room for a few coins

Of course, a cheap station wagon should not be missing. Here it comes: Kia Ceed Sportswagon. You can get a practical compact station wagon here from as low as 22,490 euros. The base Ceed SW has 100 hp and 395 liters of luggage space. It's rare to find so much storage space for so little money.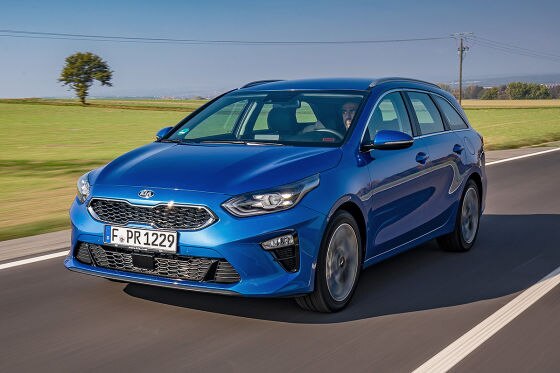 Naturally, the storage space can be increased by folding down the split rear seat backrest (60:40). Besides that, the Sportswagon comes with a few equipment highlights in the base version: air conditioning, multifunction steering wheel, fatigue warning, lane departure warning and speed limiter. At Carwow you can save up to 6163 euros when you buy this cheap station wagon.
Renault Kangoo: The family car for a small wallet

Renault Kangoo combines pragmatism and price advantage. Not only is the van still very cheap with a base price of 25,350 euros; at Carwow there is also a discount of up to 5722 euros!
And what do you get for it? First and foremost, a very practical van for the whole family. The front doors can be opened at an angle of up to 90 degrees, and there is a sliding door for the rear seats – so boarding is easy.
Of course, 102 hp achieves peak performance in the Kangoo, but it doesn't have to be. After all, five-seaters must above all be practical and suitable for families.
This is also supported by the good equipment that the Kangoo already arrives at the base with. These include tinted windows, electrically adjustable and heated exterior mirrors in body color, roof rail preparation, rear park assist, air conditioning, lane departure warning, second row front seat pockets and traffic sign recognition.