Status: 06.10.2022 15:59
Just over a year and a half ago, Jana Glindmeyer received from VfL Pinneberg Federal Award "Stars of Sports" audience award – In her club, she had made abusive behavior by adults an issue with the help of a cartoon. Now this idea has been taken up again.
Playing sports together and having fun at the same time – such as during football training at VfL Pinneberg – to ensure that this works, youth guard Jana Glindmeyer has been involved in child protection at VfL Pinneberg since 2013. She got the idea for the comic "Stop! Not with me!", which she published two years ago with the club. Sexualized violence is a taboo subject, both at home and in society, says Jana Glindmeyer. "It's just not talked about. It's dead silent if there's sexualized violence in the club. And that's why it's important to us that we strengthen the children, that we also show them that they have rights," says the head of child protection. The cartoon must also be a help and make the children aware that "Stop!" allowed to say and that they are not alone, but the club stands behind them, says Jana Glindmeyer.
Cartoon "Stop! Not with me!" must strengthen the children
In the cartoon "Stop! Not with me!" different situations are illustrated, e.g. in the changing room, in the gym, on the pitch and in communication. It's about what's okay and when the kids have to say, "Stop – not with me!". The cartoon was very well received by children and young people. "There are also people who want to say I don't want to, but also don't dare to say leave me or stop. I think this cartoon is good because it makes you feel better when you say it to the person ", says 12-year-old Taimaa Alzyab, who plays football for VfL Pinneberg. And 14-year-old Nele Mindermann from the hockey team also finds the cartoon useful: "If someone touches you now that you say, ok, it's funny, maybe you didn't even realize that it's really not real, like who's touching you . And then maybe you found out from the cartoon that what he's doing is really not right. And then you address it."
District Pinneberg enthusiastic about the idea
The district of Pinneberg has now taken up the idea for the cartoon. He published a revised version. With the help of the newly published "STOP" brochure, children and young people learn from real-life examples of where boundaries are broken and what rights they have. On 22 pages, it is no longer only about situations in sports clubs, but all places where children are involved – for example in the youth fire service, in music lessons or in the swimming pool. The new edition has been created in collaboration with many people involved in the district – including the youth fire service, the district's youth council, St. Martin's Catholic parish and the Evangelical Lutheran church district Rantzau-Münsterdorf. In addition to summoning the comic to be strong and say "stop", help contacts are mentioned.
Award to Jana Glindmeyer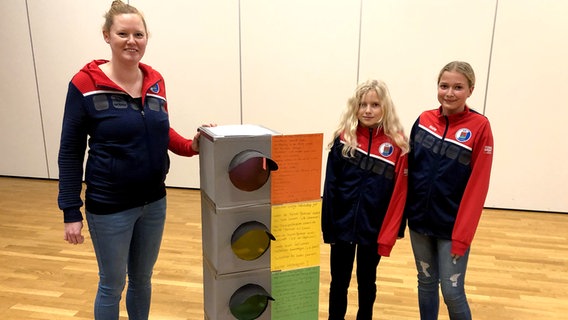 2021: Youth leader Jana Glindsmeyer shows Nele Bruhn (centre) and Mieke Bruhn (right) the traffic lights that indicate manners and rules at VfL Pinneberg.
Jana Glindmeyer also contributed to the new comic and supported the circle. She didn't expect the big response then. In January 2021, she was even awarded the Audience Award for her commitment and the cartoon at the Federal Prize "Stars of Sports". "To this day, we still have inquiries from associations asking if we can help them develop such a cartoon, if they can use our cartoon, if we can help them with advice and action," says the association's child welfare. It is nice to see that the topic is being discussed publicly and that so many people are fighting for children's rights.