Crypto assets have a reputation for being used for shady dealings online. Not even by the latest Cross-Chain Report 2022, which was recently published by Elliptic, a research firm specializing in blockchain. It shows that cybercriminals are increasingly using decentralized exchanges and services that help exchange cryptoassets to cover their tracks.
"Already, criminals have taken advantage of cross-asset and cross-chain swapping services to
Laundering over $4.1 billion in proceeds from illegal or high-risk sources. The sources of these funds
– involving a variety of sanctioned entities, terrorist organizations, crypto-thefts and others
Crypto heists and other serious crimes – threaten to harm broader innovation in the crypto space and trigger restrictive responses from legal systems. Tackling the issue across chains is therefore an important step to ensure that the crypto industry continues to positively innovate and remain accessible to all," said the authors of the Elliptic study.
Cross-chain became the main target of attack
As reported, hacker attacks on cross-chain services have increased this year. A whopping 69 percent of all known stolen cryptocurrencies were stolen during cross-chain bridge hacks, according to an analysis by Chainalysis (Trending Topics reported). If hundreds of millions of dollars worth of crypto tokens are often stolen during such attacks on services such as Wormhole, Nomad or Ronin, the thieves quickly face a problem: if the hack becomes known, the value of these tokens will drop quickly – or will Tokens fall quickly. stolen that can be tracked or even blocked.
An example is the attack on Axie Infinity's Ronin Network. 173,600 ETH and 25.5 million USDC were stolen for the then response of $625 million. However, since centralized issuers such as Tether (USDT) and Circle (USDC) have the ability to freeze certain tokens via smart contracts, thieves need to quickly get rid of such crypto assets. For this purpose, they are often and willingly changed to ETH or the decentralized stablecoin DAI. "Usually they try (the attackers, note) to exchange these tokens for higher volume assets – like ETH – as soon as possible to avoid losing money on an impending token price drop," Elliptic said.
Quickly trade in ETH or DAI
As the main crypto-asset in the DeFi space, Ethereum is of course the main money-laundering token, followed by the stablecoin DAI: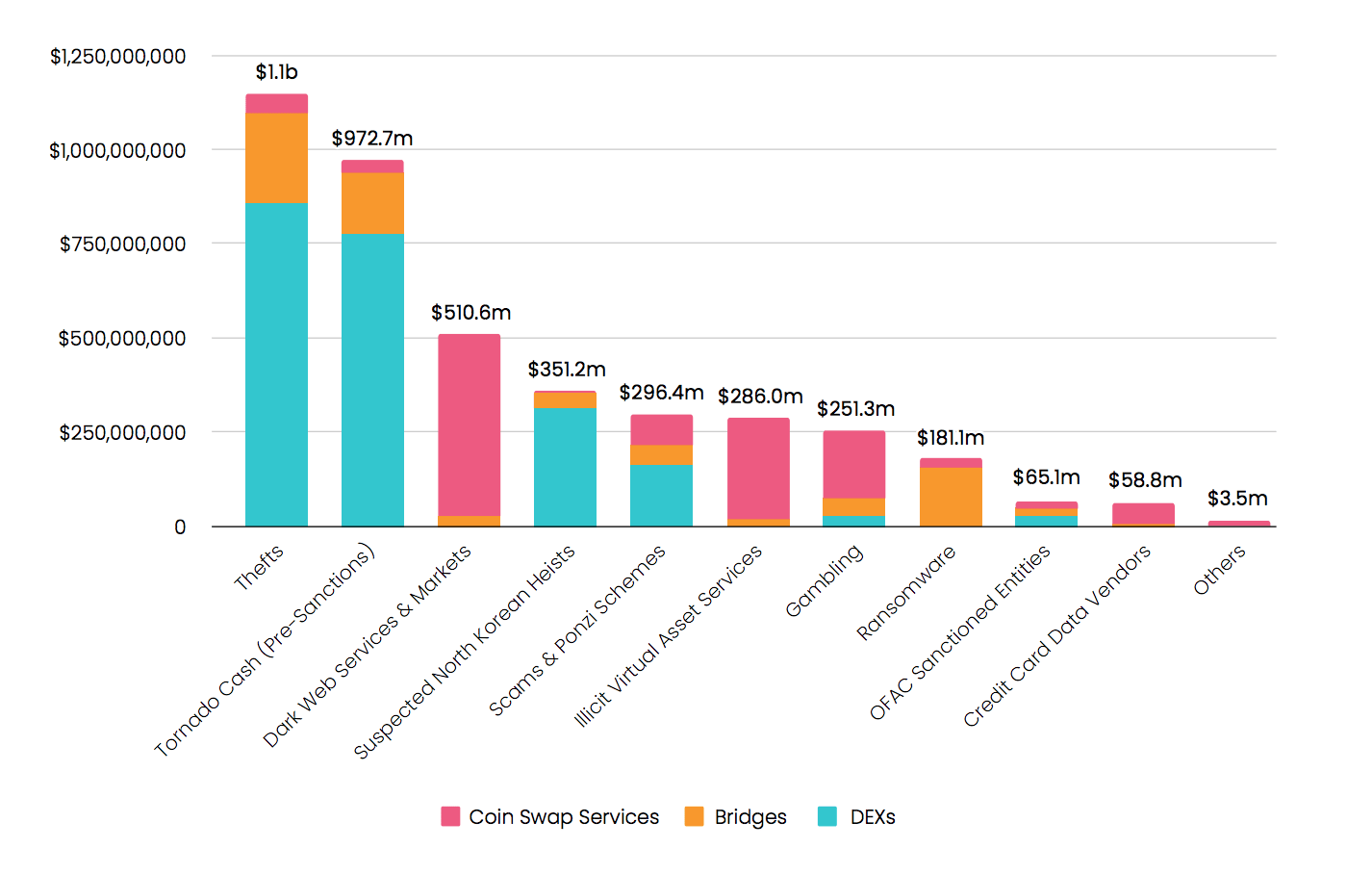 1inch, Curve.fi and Uniswap are the most abused
But which DeFi services specifically are cybercriminals particularly fond of and often using? According to Elliptic's analysis, the top 3 are 1inch, Curve.fi and Uniswap. But they should not be demonized. "While the amount of stolen funds processed by DEXs – $1.2 billion – is significant, that number is in line with the current average daily trading volume of Uniswap alone. The primary uses
of DEXs are mostly legitimate and serve an important purpose in today's increasingly connected crypto ecosystem," said Elliptic. "DEXes are therefore here to stay – and therefore their risks of criminal exploitation must be managed."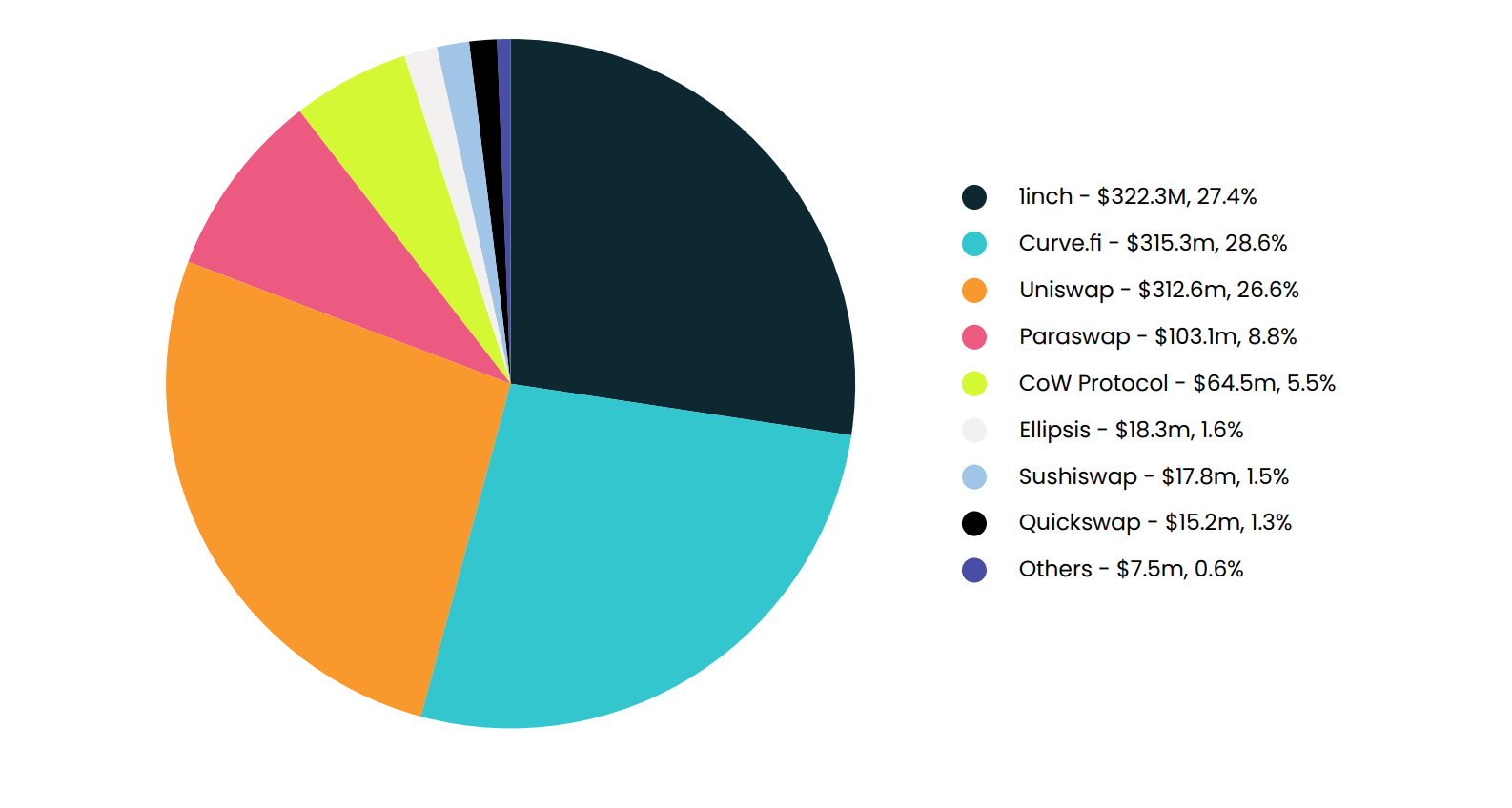 It's hardly surprising that Elliptic filed the report. The company aims to use tracking and data analytics to help crypto companies, financial institutions and regulators detect and prevent financial crimes involving crypto assets. Elliptic counts Coinbase, Revolut or Paysafe among its clients. There are also prominent investors namely JPMorgan, SoftBank Vision Fund 2, AlbionVC, Digital Currency Group, Wells Fargo Strategic Capital, SBI Group, Octopus Ventures, SignalFire and Paladin Capital Group.