(excerpt from the press release)
Amazon Kids for Alexa includes parental controls as well as family-friendly features like time limits, a filter for songs with offensive words, voice purchases disabled by default, and answers to (almost) all questions
Amazon Kids+ for Alexa provides access to hundreds of audiobooks and radio games, ad-free radio stations, and premium Alexa Skills for kids
LUXEMBOURG – 28 September 2022 – Amazon today announced a new Alexa experience specifically for children in Germany and Austria. Parents can choose between the following options for their children:
​​​​​​​​​Echo Dot Kids combines an Echo Dot with a kid-friendly owl or dragon theme, Amazon Kids features and parental controls, and a year's subscription to Amazon Kids+. There's also a two-year worry-free warranty – if the device breaks, Amazon will replace it for free. Echo Dot Kids can be pre-ordered now at www.amazon.de/echodotkids.
Amazon Kids for Alexa allows parents to enable parental controls and family-friendly features on compatible Echo devices at no additional cost. To do this, simply add Amazon Kids to an existing or new Echo device via the Alexa app.
Amazon Kids+ for Alexa brings the kid-friendly media library Amazon Kids+ to Alexa, including a large selection of Alexa-specific content such as kid-friendly audio plays, audiobooks or premium skills. With an Amazon Kids+ membership, kids have access to a curated selection of kid-friendly books, family movies, TV shows, educational apps, audiobooks, audio plays, and games on Fire tablets, Fire TV, Kindle, Chromebook, iOS, and Android devices, as well as now Alexa .
"We are delighted that Echo Dot Kids is now also available in Germany and Austria, and that children can have fun but also learn with Alexa," said Eric Saarnio, VP Amazon Devices EU. "Millions of children and parents around the world have enjoyed Amazon Kids. With Echo Dot Kids, Amazon Kids and Amazon Kids+ for Alexa, parents know their children will have an age- and family-appropriate experience. For example, they can listen to audiobooks, questions or use children's skills – all in a child-safe and protected environment."
Amazon Kids for Alexa
Amazon Kids for Alexa is designed with parents and children in mind. It offers age-appropriate Alexa features and parental controls for compatible Echo devices, including:
Add or remove services and content: Parents can control which services and skills their children can use through the parental control panel and the Alexa app. Voice buying is disabled.
Time Limits: Parents can set bedtimes and time limits to prevent their kids from talking to Alexa late into the night. Or they can pause Echo devices during dinner.
Filter for songs with offensive words: Alexa can help filter out songs with offensive words and phrases from Amazon Music, Apple Music or Spotify.
Questions and Answers: Kids can ask Alexa questions about science, math, spelling, definitions, or any other topic that piques their curiosity. Because Alexa is cloud-based and constantly learning, Alexa has new knowledge every day.
Voice and video calls with parent-approved contacts: Kids can only make voice calls—including video calls on Echo Show devices—to contacts approved by their parents as long as they have an Echo device or the Alexa app. This makes it easy for kids to chat with friends to do their homework together or keep in touch with family and loved ones. Amazon Kids for Alexa also enables notifications, calls, messages and drop-ins throughout the home.
Activity reports: Parents can use the parent dashboard to keep track of their children's Alexa activities.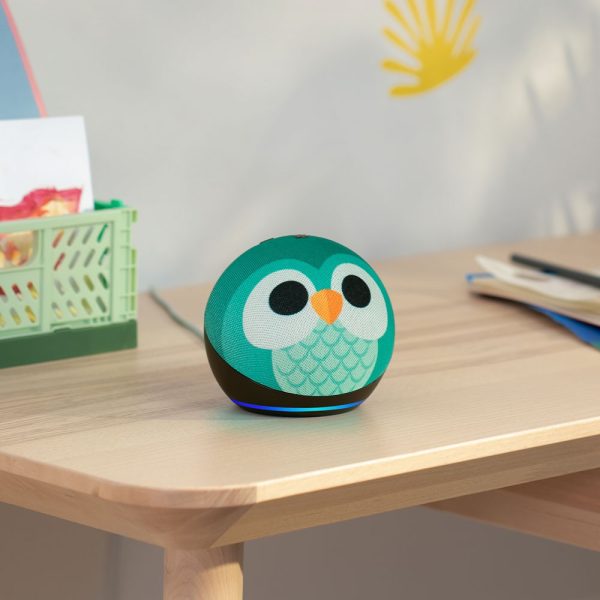 Amazon Kids+ for Alexa
Amazon Kids+ for Alexa includes Amazon Kids parental controls and features, plus unlimited access to Amazon Kids+ content. The kid-friendly media library has now expanded to include Alexa-specific content:
Just ask to get started: Kids just say "Alexa, open Amazon Kids," and Alexa will suggest an audiobook, skill, and more.
Hundreds of Audible Songs: Kids can listen to unlimited fun and interesting Audible songs featuring their favorite characters. These include Benjamin Blümchen on holiday, Bibi & Tina – The original radio play for the film, The mysterious cookbook or Take care of yourself: 30 exercises in mindfulness.
Premium Alexa Skills for Kids: Kids can explore exciting, interactive and educationally valuable Alexa Skills such as Arithmetic with Conni, Bibi & Tina stories, Gruffalo World, Benjamin's Good Night, WAS IST WAS quiz or WAS IST WAS sound world.
Waking up with their favorite characters: Children can be woken up in the morning by characters such as Benjamin Blümchen, the Gruffalo or The Little Dragon Coconut.
Daily overviews especially for children: With Radio TEDDY Naturwetter, children can hear the current weather forecast and learn more about natural phenomena, animals and plants. Every Day for Future offers practical tips on how small changes can help protect the environment.
Coming soon: Commercial-free music and information from Radio TEDDY: Ten Radio TEDDY stations such as Info and Fun Channel, Kindergarten Hits or School's Out Party delight children with thousands of songs and exciting news.
Families who already have an Amazon Kids+ membership can now access Amazon Kids+ content for Alexa at no additional cost. Amazon Kids+ costs €4.99 per month for Prime members and €7.99 for non-Prime members. Find out more here.
Customization features for shared Echo devices
When parents enable Amazon Kids on an existing or new Echo device, Amazon Kids is always on. When families share an Echo device in a common space like the kitchen or living room, parents can use two optional features to personalize the experience for each family member, including the kids:
Voice ID: If parents create a Voice ID for their child, Alexa will recognize them when they speak and Amazon Kids will be activated. As soon as parents talk to Alexa, there is a seamless transition to their settings.
Visual ID: On Echo Show 8 (2nd Gen), Echo Show 10 (3rd Gen) and Echo Show 15, parents can set visual IDs for their children. In this way, age-appropriate content is shown on the screen when the relevant child is recognised. Children can also see personal content, e.g. a family member's note. All images used to create a visual ID are encrypted and stored only locally on the device.
Parents can delete their visual and voice IDs, as well as their children's, at any time.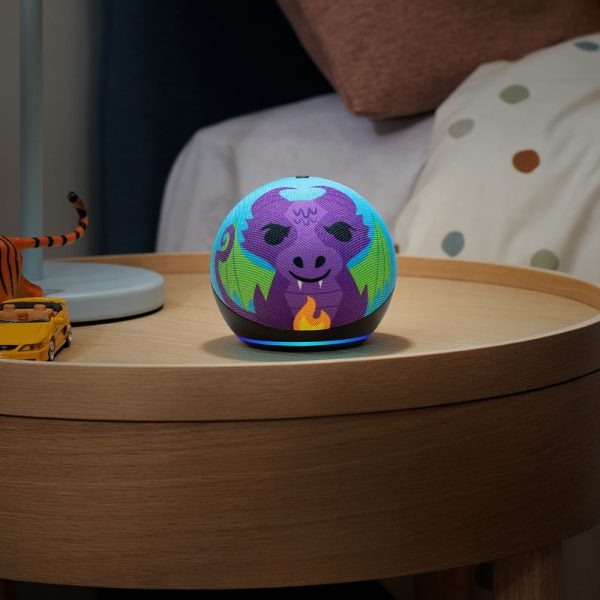 Transparency and control over the child's Alexa experience
As with all Amazon devices and services, privacy and security are built into Echo devices like the Echo Dot Kids and Amazon Kids for Alexa. Strict safeguards protect children, parents have transparency and control over their children's Alexa experience. This includes the Parent Dashboard, where parents can choose which services and skills their children can use and where they can view their children's activities. Voice purchases are also disabled.
Parents and their children always know when Alexa sends a request to Amazon's secure cloud because a blue light indicator appears on the Echo device. You can turn off the microphones on the device with a single tap. Most Echo Show devices also have a built-in camera cover. Parents can review and adjust their privacy settings in the Alexa app. You have access to all voice recordings and can at any time choose not to let Alexa save the recordings or delete the recordings. Customers can learn more about features that provide transparency and control over the Alexa experience on the Alexa Privacy Portal.
Climate Pledge Friendly
Echo Dot Kids is Climate Pledge Friendly. 95% of the fabrics are made from recycled consumer waste. 99% of unit packaging is made from engineered wood sourced from responsibly managed forests or recycled sources. Echo Dot Kids has a power-saving mode that intelligently lowers energy consumption during periods of inactivity and provides energy savings over the lifetime of the device (depending on usage patterns).
Prices and availability
Echo Dot Kids costs EUR 69.99 and can be pre-ordered from today at www.amazon.de/echodotkids. Deliveries begin on October 20.
Amazon Kids and Amazon Kids+ for Alexa can be activated on new and existing Echo devices through the Alexa app. These include the Echo, Echo Dot, Echo Flex, Echo Input, Echo Plus, Echo Show and Echo Studio. The software update required for this will be rolled out from October 20.