Prince Harry + Prince William
Insight into their fragile relationship
Prince Harry and Prince William have presented themselves as a unit since the Queen's death. Will the grief of their beloved grandmother unite the warring brothers?
With fixed gaze they march through London behind Queen Elizabeth's coffin, † 96. Side by side. Almost like when they had to say goodbye to their beloved mother Princess Diana, † 36, far too soon.
Prince Harry, 38, and Prince William, 40, are lovely to watch – despite the sad occasion. The brothers, who were once so close, have been separated for months by a deep chasm full of accusations, disappointments and wounded pride. In honor of their grandmother, they have now put aside their differences and agreed to appear in public together – including with their wives, Duchess Meghan, 41, and Catherine, Princess of Wales, 41.
For Prince Harry, the situation with Prince William is said to be "uncomfortable" and "difficult".

However, things are not meant to be quite so harmonious behind the scenes, as royal expert Roya Nikkah learned from the "Sunday Times". Following their grandmother's wake, the brothers drove home in separate cars, even though they live only a few meters apart. William was spotted with his eldest cousin Peter Phillips, 44, while Harry sat in a limousine with Zara Tindall, 41.
The queen's grandchildren stand guard by her side


23 pictures
As Nikkah reports, Harry is said to have found it "uncomfortable" and "difficult" to be so close to William during the past two weeks in the UK. On his 38th birthday on Thursday, September 15, they just happened to see each other in the car after William picked up his children from school. One of allegedly many "embarrassing moments" since the Queen's death.
"Awkward moments" between the brothers

"The joint performances are exhausting," says a friend of the estranged brothers. Harry and William are said to have agreed to show solidarity, "but I don't think it goes much beyond that," the insider said. "There have been some awkward moments this week. I certainly don't feel like there's a deeper, meaningful convergence or that things will be straightened out again. Harry's memories remain a constant tension."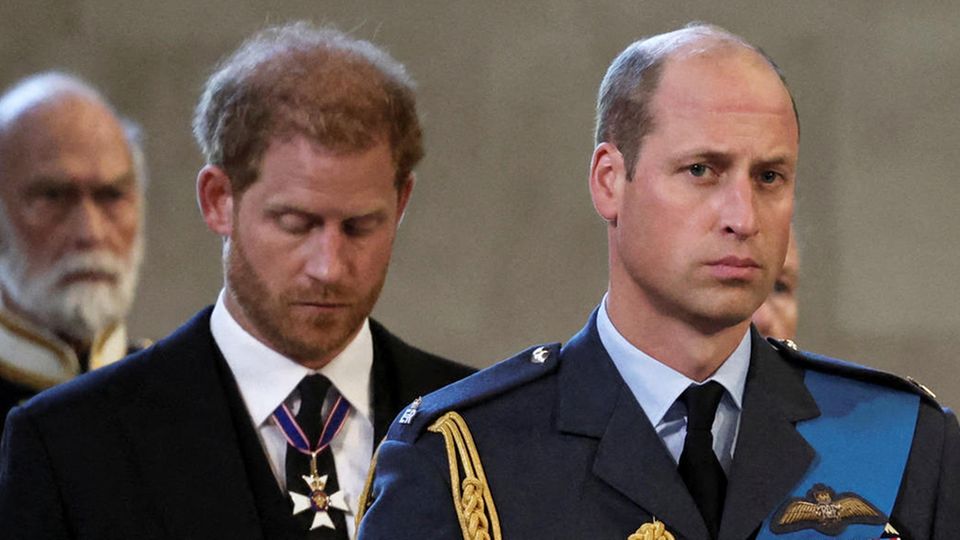 Another insider claims that Harry's encounter with his brother makes him feel sorry for "what could have been" and that "it shouldn't have been so ugly" between them. A friend of the Sussexes confirms: "They are very sensitive to what is happening and see the big picture, not just from a personal perspective but from a family perspective. Meghan is not afraid to throw a hand grenade here and there, but no toys have been thrown out of the pram now. Their view is: "Let's move on – we want to be where we need to be, and we're not going to be where we don't need to be."
However, no one should be interested in a reconciliation at the moment – ​​especially not Prince William. "While William understands the interest in the relationship with his brother, his focus is solely on honoring the Queen," anonymous sources told The Sunday Times.
But during their difficult walk on Monday, where they will say "goodbye" to their grandmother for the last time in front of the world, the brothers will at least support each other mentally. Because that's exactly what Queen Elizabeth would have wanted.
Sources used: thetimes.co.uk
the
Gala