In the second quarter, Chipotle's revenue increased 17% and its operating margin increased 15.3%.
The company plans to more than double the number of its restaurants in the coming years.
The stock's higher growth prospects justify its high valuation.
Over the past five years, Chipotle Mexican Grill (NYSE: ) has outperformed the S&P 500 Total Return Index, with a staggering return of over 450% compared to the S&P 500's 85%. And there are several factors that can contribute to the share's continued outperformance.
Impressive performance
In its most recent quarter, Chipotle Mexican Grill's revenue rose 17% year over year. It is particularly important that the profit margin increased from 13% in the previous year to 15.3% due to price increases.
The higher margin reflects Chipotle's ability to pass on higher costs, including increased costs of materials and labor, to customers without significantly impacting sales.
Chipotle's long-term performance is equally impressive. Sales increased faster than operating costs, which was reflected in a significant increase in operating profit. Total revenue has grown at a compound annual growth rate (CAGR) of 15.7% from 2018 to 2021, while operating expenses increased by 13.5% over the same period. This translates into a CAGR of 46% for operating income between 2018 and 2021.
Expansion plans promise further improvements in earnings
Chipotle promises solid growth in the coming years. The management wants to increase the number of restaurants from the current 3,000 to over 7,000. In addition to the US, Chipotle also focuses on Canada and Europe. The company operates 29 restaurants in Canada and plans to increase that number to several hundred. Five new restaurants have opened in the UK and Europe is poised to become an important market for Chipotle. Another positive aspect is that the company focuses on drive-thru pickups in so-called chipo lanes.
Drive-thru pickup could improve margins
Drive-thru lanes are so attractive to restaurant operators because they increase sales without the added real estate costs that make up a large portion of operating costs. In the most recent quarter, Chipotle opened 42 new restaurants, 32 of which featured chipolanes.
Source: InvestingPro
The company plans to open 235 to 250 new restaurants by 2022. Each year, the number of new restaurants is expected to increase by 8-10%, with Chipotlanes accounting for 80%.
During the latest conference call, management reiterated that Chipotlanes is delivering higher average sales and higher margins at the restaurant level. This gives hope for a further improvement in margins.
Attractively rated
The stock trades at a high price-to-earnings (P/E) ratio compared to other comparable companies. Compared to the historical 5-year median P/E of 74.36, the current valuation of 61.5, which is a 20% discount to the historical 5-year median, looks attractive.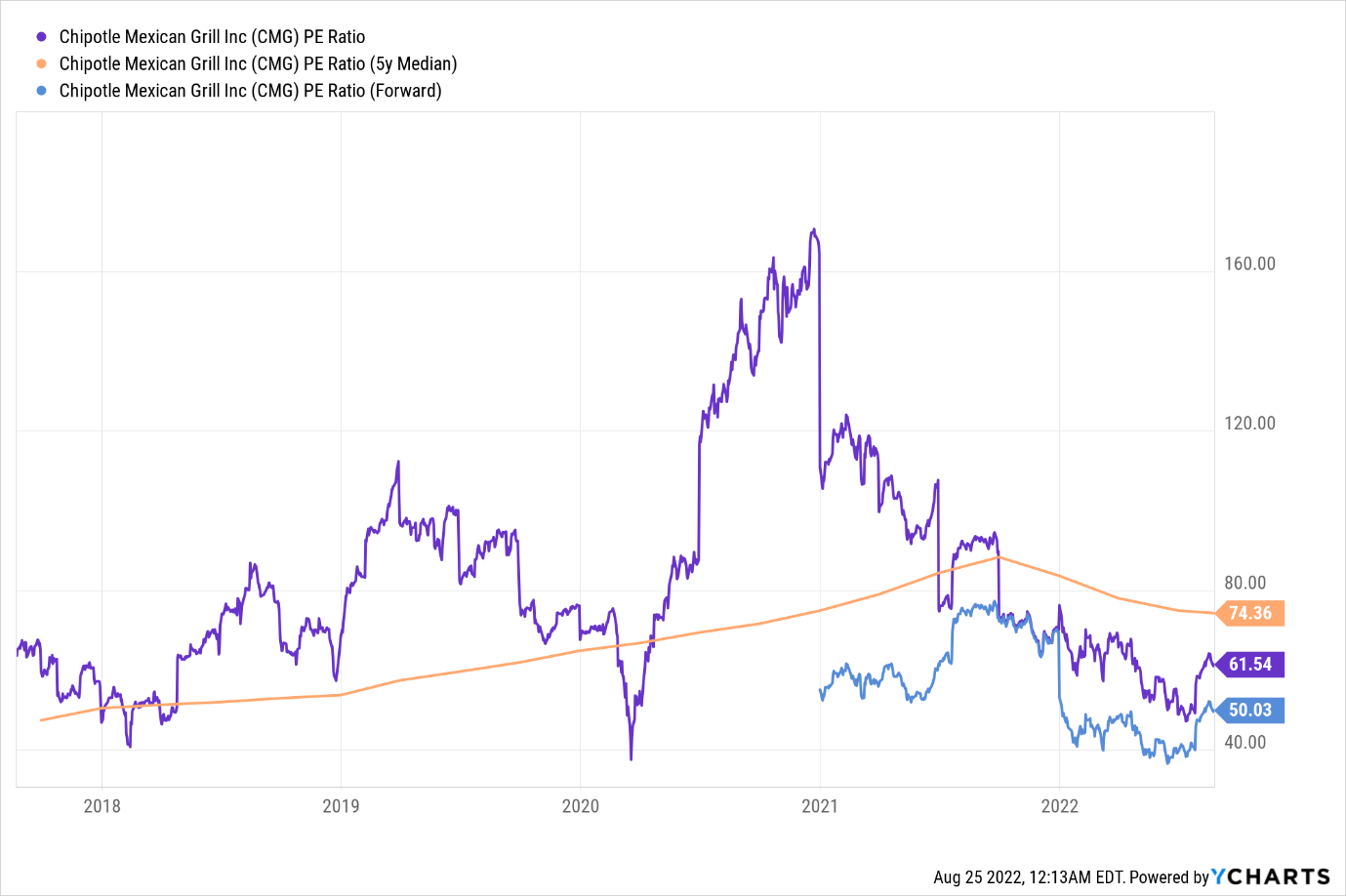 The one-year forward price-to-earnings ratio of 50 also points to higher earnings expectations in the coming quarters.
Analysts adjust price targets upwards
In August, Stifel analyst Chris O'Cull raised his price target on Chipotle stock to $1,750 from $1,550, reiterating his buy rating and adding that margins should be stable in the second half of 2022.
In July, Morgan Stanley analyst John Glass raised his target price to 1. from $1,768. His argument is higher earnings estimates, which are due to "better than feared results in the third quarter, further price increases and the associated margin benefits".
Piper Sandler analyst Nicole Miller Regan is also bullish on Chipotle stock, with a price target for the chain of $2,500.
InvestingPro analysts' average target price for Chipotle Mexican Grill stock is $1,749, representing a potential return of 6% from current prices.
A solid, long-term investment in the gastro sector
I believe that despite the higher P/E relative to other companies, Chipotle is a solid name in the fast food space that should be well positioned for continued growth in the coming years. The stock's valuation is low compared to its own historical multiple.
The growth in the number of restaurants will drive the company's revenue growth, and there is significant potential to improve operating margins with more outlets and more chipolanas across the restaurant mix. The chain's ability to pass on cost increases through menu price increases to customers is also positive for margins.
Note: All courses per August 24
Disclaimer: The author has no position in Chipotle Mexican Grill or any other stock mentioned in this article.