Notice from 01.08.2022
For two years, the corona pandemic also slowed down the benefit cyclists in the "VOR-TOUR der Hoffnung". But now you can look forward to the days in August when the anniversary tour, which was canceled in 2020, finally starts its 27th year. Start is August 7. From then until August 9, people will be pedaling hard and collecting donations.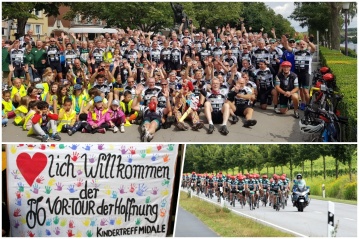 Waldbreitbach/Region. Idealistic citizens, famous athletes, politicians, managers and doctors are once again pedaling hard for children who suffer from cancer and need help. Many cities, communities and localities want to work hard to make the 50-minute stay a "festival dedicated to helping".
Itinerary and stops:
The 340-kilometer benefit bike ride with an appealing elevation difference begins with the 85-kilometer prologue on August 7 in Cologne on the grounds of the Amsterdamer Strasse Children's Hospital. Other stops on this day are: Bensberg Castle, Troisdorf, Brühl and Cologne Cathedral.
Emotional stops in Bornheim, Bonn (Old Town Hall and at the Post Tower), Rheinbach, Ahrweiler, Sinzig and Bad Breisig are planned for Monday, August 8. The daily goal of a
big event is the central square in Koblenz.
There will certainly be many interesting meetings with children, adults and expectant spectators on Tuesday 9 August in Niederbieber, Waldbreitbach, Neustadt/Wied, Buchholz/WW and at the historic Engerser Castle.
Spectacular skydiving
The former horizontal bar world champion Eberhard Gienger (Gienger somersault) and long-time member of the German Bundestag ensures spectacular parachute jumps every day – especially in Troisdorf, Brühl, Sinzig, Koblenz, Waldbreitbach and Engers.
Social commitment:
But what good would this bike ride be without the visitors at the start, the stops and the finishes and the exemplary commitment of the clubs, town and local councils and other local groups. "With the 25th benefit bike ride," said Jürgen Grünwald, head of the organization, "we want to set an example that humanity does not freeze to death and that intensive cooperation for the benefit of the children can be sustainable".
Magnificent opening night at Köln's Maritim
An anniversary tour naturally also includes a corresponding kick-off event
numerous musical highlights, spectacular dance displays and attractive
Raffle prizes (holiday and city trips, high quality prizes, helicopter sightseeing flights, balloon rides over the Elbe Valley and much more. The Big Maggas, Steven Alan, Weibern Chaos Orchestra, Cologne Youth Choir St. Stephan, Funky Marys, Oliver Mager are there all together, the Kölner Rheinvioletchen and the Kölner Paulinchen dance group Sebastian Plingen will be moderating the Cologne night on August 6 at the Köln Maritim – an absolute must Entrance 49 euros including food, drinks and a raffle ticket.
(PM)
---
More on this: Events

Local: Rengsdorf and surroundings
Become a fan of NR-Kurier.de local edition Rengsdorf on Facebook now!

More images (click on one of the images for a larger view):