Press release from 21.07.2022
"Design through the ages" is the name of the exhibition that can be seen in the Stadtgalerie Mennonitenkirche from Thursday 28 July. In this exhibition, the well-known art historian, restorer, art collector and dealer Sebastian Jacobi has examined a period of around three centuries.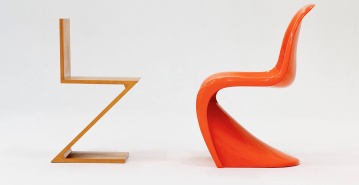 Neuwied. "The history of art and design revolves around the past, the foreign and the present," stresses Jacobi. "Things disappear, change or evolve in this story." According to Jacobi, all creativity comes from observing one's own and other cultures. New technologies or materials can make what was once visionary a reality. Jacobi is particularly fascinated by the design of furniture.
World-famous exhibits are juxtaposed with lesser-known objects in the exhibition, inviting you to compare or, at best, marvel. In addition to objects from Jacobi's collection, gallery manager Benita Roos has received loans from Vitra Design Museum Weil am Rhein, Koblenz State Museum (GdKE), Mono GmbH and Neuwieder collectors, among others. "We juxtapose historic design objects with modern ones to show constants and developments," explains Roos. The top of the dike also plays a role here. This landmark building is clearly inspired by the Bauhaus spirit. During construction, the renowned architect and designer Mies van der Rohe designed one of his most famous chairs.
Another focus of the exhibition is exhibits that were created over a period of more than 150 years in what is now Rhineland-Palatinate, and which, according to the press release from the Neuwied city administration, were admired all over the world at the time. Today they are partially forgotten or can be seen in the most famous museums in the world.
There is a support program for the exhibition, which can be seen until 30 December. Guided tours take place on Sundays 7 August, 18 September, 2 October, 6 November and 4 December at 14.00. Those interested can register by sending an e-mail to stadtgalerie@neuwied.de. Two film presentations are also on the programme. "A chair goes around the world – Michael Thonet from Boppard" is the name of a film by Utz Kastenholz, which will be shown on Thursday 8 September at Curator Jacobi will be present that evening to provide more detailed information and background information.
The filmmaker Sigrid Faltin, who comes from Neuwied, presents her film "Frank Lloyd Wright – The Phoenix Rising from the Ashes" on Thursday, September 22 at Faltin did research on the architect Frank Lloyd Wright for a book project in which the Guggenheim Museum in New York also plays a major role. She also wants to enrich her film with background knowledge. The additional support program will be announced on the city's social media channels.
The opening hours of the Stadtgalerie Mennonitenkirche at Schlossstraße 2 are: Wednesday to Friday 14:00 to 18:00, Saturday, Sunday and public holidays 12:00 to 18:00 Groups by appointment. Information by telephone 02631/20687 (gallery) or 02631/802494 (office), e-mail stadtgalerie@neuwied.de. Admission is €5 for adults, €4.50 for concessions and €2 for children aged 12 and over. More information is available here. (PM)
---
Local: Neuwied and surroundings
Become a fan of NR-Kurier.de local edition Neuwied on Facebook now!

More images (click on one of the images for a larger view):