July 20, 2022
Like milk chocolate, but without milk – organic, sustainable and fair: since 2015, iChoc has aimed to revolutionize the chocolate market.

The new iChoc goes on sale in September: even fairer thanks to certified Fairtrade cocoa and with climate-friendly regional beet sugar instead of cane sugar from Brazil. In most varieties, valuable ingredients such as buckwheat and almond oil replace the rice drink previously used instead of milk.
"The taste is now even closer to the milk chocolate original because the sweetness is more subtle," says Gerrit Wiezoreck (pictured), CEO of the Bochum-based chocolate manufacturer EcoFinia, which produces iChoc.
Fairtrade and fresh colors
The cocoa comes from sustainably managed organic cooperatives in the Dominican Republic, which EcoFinia has been working with for decades. "With the Fairtrade stamp, we now also show the outside world that we pay our partners fairly and want to improve their working and living conditions," says Wiezoreck. "With our own cocoa project, we are also supporting structurally weak growing regions."
The new iChoc design is even more striking than the new seal: the boxes made of FSC-certified cardboard come in fresh colors with eye-catching prints. The ingredients are clear: they emphasize the chocolate's inner values ​​- and ensure a clear differentiation between the varieties on the shelf.
More and more people want to know what is in food. And that is exactly what we at iChoc can show with a clear conscience, "says Gerrit Wiezoreck. As usual with iChoc, the film is also completely plastic-free: the wood fibers for the cellulose come from controlled, sustainable forestry and can be disposed of in the local compost.
Sweet meets salt
However, two varieties are new: "White Barista Art" is the first vegan white chocolate with an espresso crisp and a touch of sea salt. And "Salty Pretzel" is the first vegan "milk-like" chocolate with a pretzel crunch. Both address not only the trend towards vegan confectionery (according to the Innova Database, plant-based product launches in this segment are rising by an average of 34 percent per year), but also the combination of sweet and salty.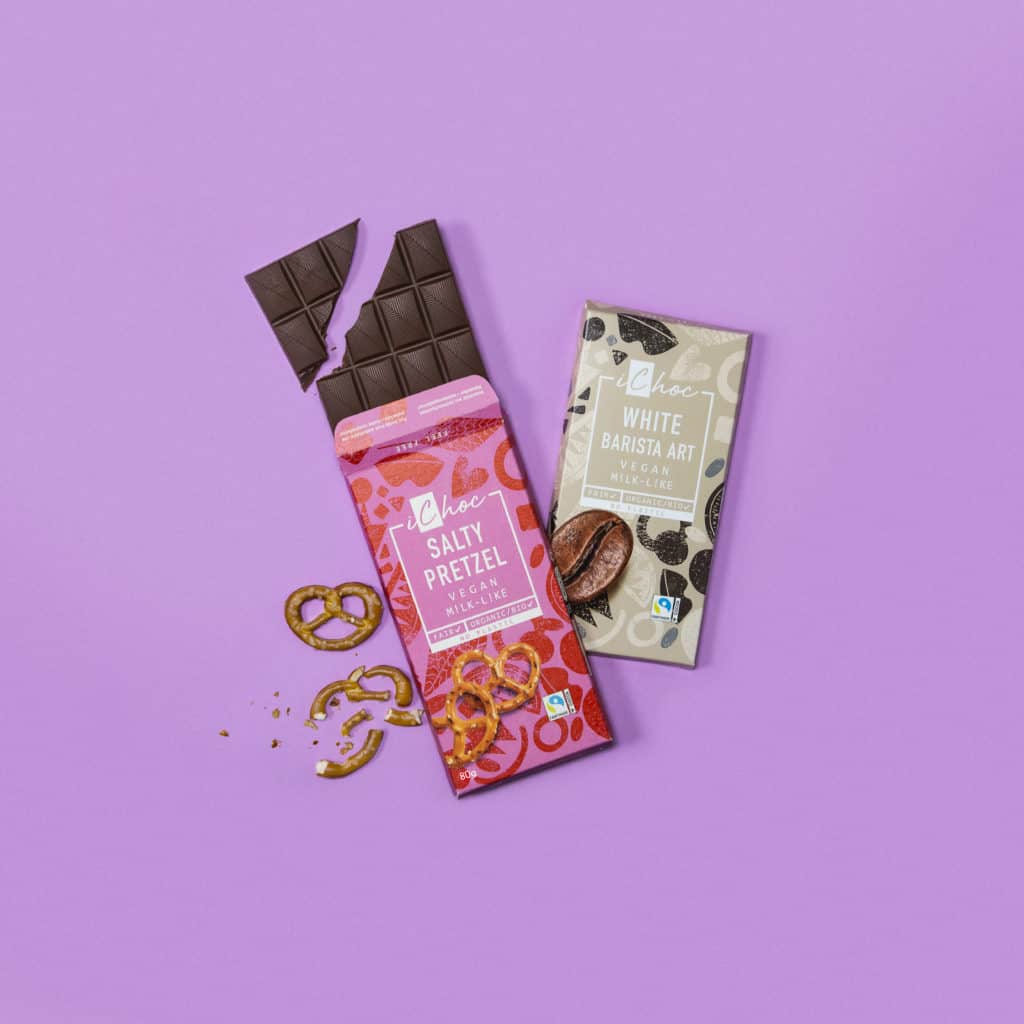 Celebrities support the Vegan Game Changer campaign
The relaunch is backed by media work, print ads, social ads and a top-notch influencer campaign: acclaimed author Lea Green (@leafromveggies) – one of the most successful vegan food bloggers in Germany – is developing recipes with iChoc for Pinterest and Instagram. And GZSZ star Anne Menden, a well-known iChoc fan and active in animal and environmental protection for years, supports iChoc as the official brand ambassador.
Pop mega-star Billie Eilish ensures even more brand awareness: The five-time Grammy winner presents iChoc as his favorite chocolate on social media – and sells the variety "Classic Style" as a special edition in his online shop.
Hop into the food retailer
"After the organic specialty store and the pharmacy chain dm, where iChoc has been represented for years, we now want to bring iChoc into the conventional trade," says CEO Wiezoreck. The time is ripe: "With iChoc, ethical consumption, vegan lifestyle and enjoyment can be combined in a sustainable way." For food retailers:
8 variants: Classic Style, Almond Orange, Choco Cookie, White Nougat Crisp, Super Nut, White Vanilla, White Barista Art, Salty Pretzel
Weight and recommended price: 1 bar of 80 g costs 2.29 €
Packaging: plastic-free (compostable cellulose film and FSC-certified cardboard, printed with organic colors without mineral oil)
Delivery unit (trade): Mono trays, 10 bars per 80 g each
Introduction: September 2022
Certificates / USP: Organic, vegan, fair trade, plastic free, Rainforest Alliance
Promotion: Print ads, press work, internet, contests, exhibitions
Listing area: Germany (organic trade, dm)
Visit iChoc at Biofach and get your sample package: From 26-29. July, Nuremberg Exhibition Center, Hall 7, Stand 7-152.
Further information at www.ichoc.de.