Revealing findings from Saskatchewan: Like the Canadian uranium explorer Skyharbour Resources Ltd. (TSX-V: SYH, WKN: A2AJ7J, ISIN: CA8308166096) announced Wednesday that joint venture partner company Azincourt Energy Corp. received analysis results from this year's winter drilling program at the East Preston Project. There is good news: Significant uranium enrichment has been identified on the property. The values ​​for uranium and uranium-thorium ratio determined by different borehole samples were in some cases massively above the usual background values. The results now available must be incorporated into the preparations for a follow-up drilling campaign next winter.
Skyharbour Resources and another partner, Dixie Gold Inc., had entered into an earn-in-options agreement with Azincourt Energy to acquire a 70% stake in East Preston, which Azincourt has since supplemented with $ 2.5 million in exploration expenses and $ 1 million in cash. CAD payments and share issues. Skyharbour and Dixie Gold each own 15 percent of East Preston.
Leadership: a significant step forward
Analysis of the drill core is "encouraging" according to Trevor Perkins, vice president of exploration at Azincourt. He stated that the uranium enrichment in the change zones is an indication that uranium-containing liquids were present in the change system. The system and the uranium moving in it were thus discovered – the next step is to identify the areas where the concentrations are located from which significant uranium escapes.
Alex Klenman, President and CEO of Azincourt, adds that the results of the winter drilling program continue to support East Preston's exploration model. These are significant change zones, both in size and extent, where the presence of uranium has now been confirmed. Klenman called this a "significant and critical step" in the exploration process. They are now looking forward to completing the next drilling round, as the results from the winter drilling program will be very useful in targeting areas with more significant mineralization.
Busy times ahead
Klenman went on to say that the next eight to ten months will be very busy for Azincourt. They wanted to continue work at East Preston and also start drilling at Hatchet Lake this fall. ("Hatchet Lake" is another Athabasca Basin project in the Azincourt portfolio; it is possible to earn up to 75 percent from owner ValOre Metals Corp.)
Despite the generally deteriorating market mood, Klenman stressed that Azincourt is in an excellent position: financially sound and fully funded to carry out all exploration projects for the coming year and beyond. They want to "be active" and plan to "drill aggressively."
This will soon continue: A thorough review and interpretation of the results of the winter drilling program is underway; preparations for another comprehensive program in the coming winter are already being planned. The goal is to continue the change and structure of the "G", "K" and "H" zones and also to devote attention to the "Q" zone for the first time.
The necessary permit process for the upcoming winter drilling program is currently underway. Azincourt Energy continues to hold regular meetings with local native Clearwater River Dene Nation and other rights holders. This ensures that all potential impacts and concerns are addressed and that communities can benefit from activities in the area. This includes supporting the local economy through employment opportunities and the promotion of selected programs and initiatives.
About East Preston
East Preston had discovered three potential conductive corridors with low magnetic signatures totaling 25 kilometers of line length, with each corridor having multiple conductor tendencies. There are long, linear conductors with bending changes in their orientation and offset disturbances near interpreted fault lines, which are typical of classical targets for inconsistent uranium deposits in the bedrock. Due to their structural complexity, these are upgraded or increased prospectivity targets (the "Zones" mentioned above) that are similar to the Arrow (NexGen Energy) and Eagle Point (Cameco) deposits. These assumptions are supported by excavation, soil, biochemistry and radon anomalies identified by soil exploration and sampling.
East Preston is located near the southern edge of the western Athabasca Basin. There are measurements in environments near the surface and are not covered by the typical Athabasca sandstone. The project is located along a leading parallel trend between the PLC Arrow trend and Cameco's Centennial deposit (Virgin River-Dufferin Lake trend)
The target areas are "in trend"
The primary target areas at East Preston are the leading corridors from "Zone A" to "Zone G" ("AG Trend") and from "Zone K" to "Zone H" and "Zone Q" ("KHQ Trend"). These trends were selected based on a compilation of results from the 2018-2020 Earth-based EM and gravity surveys and the 2019-2022 drilling programs, and a 2020 HLEM survey also indicates various potential leaders and structural complexity along the corridors.
Drilling programs completed to date have confirmed that the identified geophysical conductors are structurally rejected zones of graphite, sulfides and carbonates. Hydrothermal change, elevated uranium levels and abnormal radioactivity have been identified within the structurally disturbed conductor zones.
To the east and west, in addition to AG Trend and KHQ Trend primary targets, there are several other trends and zones on East Preston. These additional goals require soil geophysics and drilling to limit the location of the leaders and assess their potential.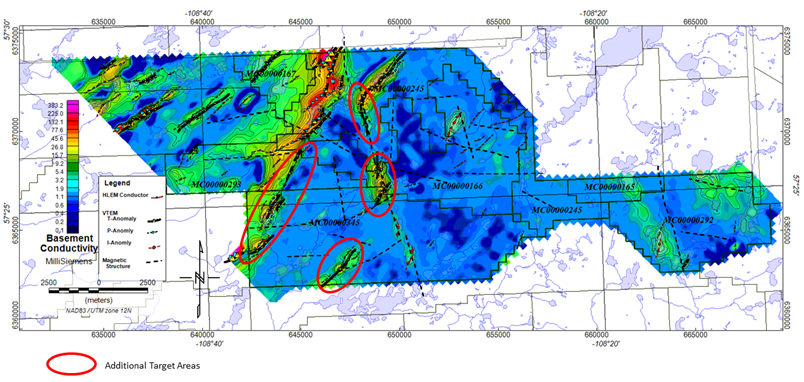 Information about the current winter drilling program
During the winter 2022 drilling campaign, nineteen boreholes totaling 5,004.5 meters were completed in East Preston between January and March. Drilling in the "G-zone" followed the previous year's drilling program and focused on the primary objectives of the "AG Trend" and "KHQ Trend" discussed above. 420 samples were collected and sent to the Saskatchewan Research Council Geo-Analytical Laboratory in Saskatoon for analysis. However, due to delays on the part of the laboratory, the results could not be quality checked and accepted by TerraLogic Exploration until the end of June.
The results in detail
The analyzes show uranium enrichment in the change zones along "Zone G", "Zone K" and "Zone H". The uranium enrichment has been identified in the form of uranium values ​​and uranium-thorium ratios that deviate from the normal ones (expected in the respective rock or area).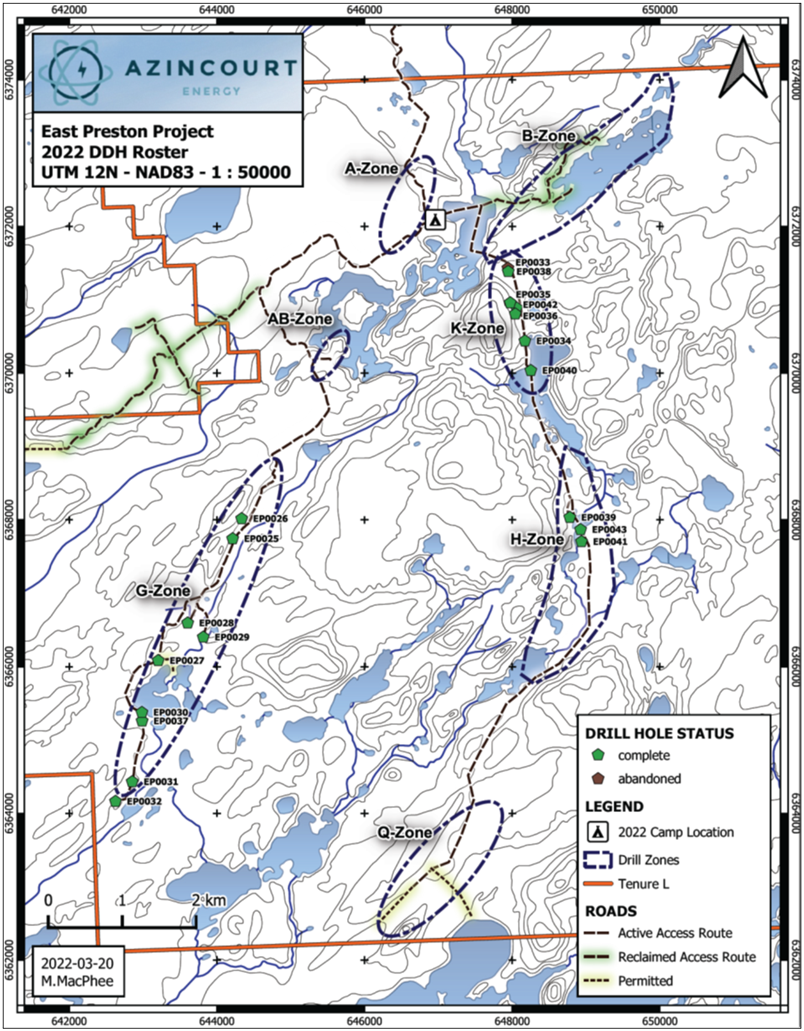 The boreholes EP0030 and EP0037 identified extensive hydrothermal change and signs of east-west intersecting structures along the northeastern trend "Zone G". Primary rocks in the change zone are granodiorite and diorite gneiss with expected average values ​​of 2 to 3 ppm uranium and uranium to thorium ratios of 0.25 to 0.3. boring EP0037 however, a sample returned 14.6 ppm uranium and a uranium to thorium ratio of 1.5 – five times the usual values. Another try out EP0032 even returned 19.5 ppm uranium and a uranium-thorium ratio of 0.8.
In "Zone H", there is a shift in the structural leading trend from north-south to southwest. It contains a thick zone of hydrothermal change and an intense graphite fault and mylonite zone. A sample of a borehole EP00441 returned 12.5 ppm uranium and a uranium-thorium ratio of 0.5 in a mylonite in this fault.
Extensive zones of hydrothermal hematite were cut through all boreholes along the north-south oriented "Zone K"; altered sound is also present. boring EP0035 identified an area of ​​locally elevated radioactivity more than ten times (!) the background levels. Here, gabbro is the typical rock with expected average values ​​of 0.5 to 1.5 ppm uranium and uranium-thorium ratios of 0.25 to 0.5. A sample from this hollow zone EP0035 returned 5.4 ppm uranium at a uranium to thorium ratio of 1.2.
According to Azincourt, the results of the sample analysis are an important indicator of the presence of uranium-containing liquids in the modification systems. Therefore, the goal of follow-up programs is to identify the extent of changes and areas of fluid and uranium enrichment.
About Skyharbour Resources Ltd.
Skyharbour owns fifteen properties (ten ready to drill) in and around the Athabasca Basin in Saskatchewan and is one of the largest project owners in the region on a total of 450,000 acres. The projects are researched partly independently and partly in the form of joint ventures or earn-in option partners.
joint ventures
As with the East Preston project described above, Skyharbour, also with third partner Dixie Gold Inc., has a similar joint venture with Orano Canada Inc. on the adjacent Preston property, with the difference that Orano is only a 51 percent majority owner and Dixie and Skyharbour each account for 24.5 percent. Both East Preston and Preston are large and future properties near Arrow (NexGen Energy) and Triple R (Fission Uranium) deposits.
Earn-in-Options agreements
In addition, there are currently three projects (excluding Dixie Gold engagement) where option partners earn interests in Skyharbour properties through cash payments, exploration expenses and stock offerings. They are: The ASX-listed Australian company Valor Resources (Hook Lake project, target: 80 percent share) and the two CSE-listed Explorer Basin Uranium Corp. (Project: "Mann Lake", goal: 75 percent share) and Medaro Mining Corp. (Project: Yurchison, goal: initial 70 percent share with subsequent opportunity to also acquire the remaining 30 percent).
Company owned and active
Skyharbour's flagship Moore project is located 15 kilometers east of the Wheeler River project (Denison Mines) and 39 kilometers south of the McArthur River (Cameco). Most recently, Skyharbour has expanded the land previously acquired from Denison Mines (a strategically important shareholder in the company) by selecting the adjacent Russell Lake Uranium Project (Rio Tinto). Russell Lake has high quality historic drilling rigs that indicate significant exploration potential. "Moore" itself is at an advanced stage of exploration and hosts high quality uranium mineralization in the "Maverick" zone of up to 6.0% triuran octoxide over 5.9 meters including 20.8% triuran octoxide over 1.5 meters in 265 meters vertical depth.
Skyharbour also owns a 100% stake in South Falcon Point on the eastern edge of the Athabasca Basin. This property contains a NI-43-101 compliant resource of 7.0 million pounds of triuran octoxide and 5.3 million pounds of thoria at 0.023 percent. Both projects are actively pursued through exploration and drilling programs.