Status: 24/06/2022 15:10
In some federal states, the long vacations are imminent, and parents and children are no doubt already thinking about the right holiday reading material. Katharina Mahrenholtz presents three summer books for children aged ten and over.
"Our summer by the lake": Holiday in house in the middle of the forest
A new book by Nikola Huppertz is always a promise – and we will not be disappointed this time either.
"Our summer by the lake" by Nikola Huppertz has been published by Thienemann Verlag.
Agda, Nick and Jula go on holiday with only their father for the first time. The parents are separated, while the mother is in Italy with a friend. Dad has rented a small house in the mountains: it's called a crowbar, and it makes a mysterious impression right from the start, so lonely and in the middle of the woods. But then dad breaks his foot, he has to go to the hospital and siblings are for the time being alone. They buy groceries down town and get to know the naughty Felix, who gives Nick a test of courage: He has to spend the night in the locked part of the house – as an exercise for a tax office that Felix will take on with him. Nick actually dares – and discovers a secret.
A wonderful summer book. You can smell the forest, feel the cool water of the lake and hear the squeak of the old house. Which, incidentally, plays a crucial role in this story. Absolute reading and reading tips for the summer holidays!
"Jukli": Roadtrip with surprises
Flora lives with her mother and two brothers in a run-down high-rise building on the outskirts of town. She has no friends, is bullied at school and fights back with blows, which gets her into even more trouble. Or she goes. Like the day she ended up in an abandoned allotment garden and met an old Roma woman. Mamou lives in an old gazebo with two Poitou donkeys, a rare breed from the south of France. There is a donkey festival there every year and Mamou would like to travel there with her donkeys to get the foal Jukli included in the pedigree.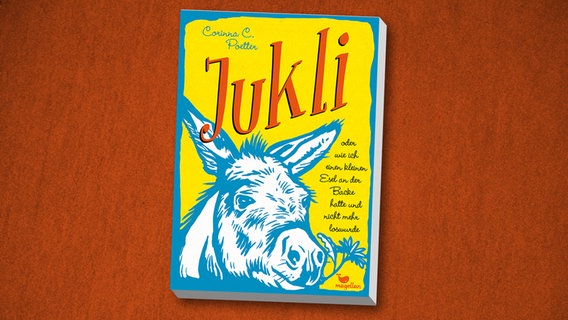 "Jukli or How I Had a Little Donkey on My Cheek and Could Not Get Rid of It" by Corinna C. Poetter has been published by Magellan Verlag.
Flora and Mamou become friends, and Flora decides to go with Mamou to France. And finally, Flora actually sets off – but only with a donkey and without Mamou, because something terrible happened just before departure.
An exciting road trip, told with a lot of humor. Flora is a lovable heroine who often does not have it easy, but surpasses herself during this journey. And along the way you get an insight into the culture of the Roma.
"Summer Thieves": Excellent summer book with lovable main characters
Finally summer vacation – lots of time for Mo to finally get on with the day. His mother is gone, his father is busy with himself and Mo walks alone through the forest. He discovers an abandoned house on a huge plot. This is where the sibling couple Fee and Prince hide. Mo takes care of the runaways – they live in their own world without adults for weeks. Only Nell, who visits her aunt, discovers the place and joins the others.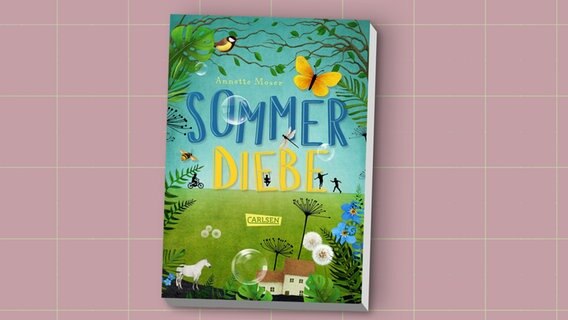 "Sommertyvene" by Annette Moser has been published by Carlsen Verlag.
Author Annette Moser describes the four children's summer adventures from changing perspectives and always leaves room for secrets. There is a suspicion that Fee and Prince come from difficult relationships, puzzles about what connects Nell's aunt with the enchanted property – and with Mos' father, whom she somehow knows from before. A light, sparkling summer book with lovable main characters.