The majority was clear: all members of the Iraqi parliament present during the session – 275 out of a total of 329 – voted last week for a law criminalizing any connection to Israel and Israelis. Violators can be punished with life imprisonment or even death. The law applies to Iraqis at home and abroad as well as to foreign institutions, companies and individuals working in Iraq.
According to media reports, the bloc of Shia militia leader Muqtada al-Sadr presented the bill. Following the Iraqi election last autumn, al-Sadr is seen as the country's new strong man.
Punishment for Israeli contacts in Iraq
Historian and Middle East expert Peter Wien of the University of Maryland says al-Sadr is trying to raise his profile with the new law. Unlike other Shiite groups, he distances himself from Iran, which has great political influence in Iraq. "His opponents accuse him of going too far against the country's Sunnis and Kurds instead." The Kurds in particular are viewed with suspicion by part of the political establishment. They are sometimes suspected of wanting to push through further political independence efforts with Israeli help. From the point of view of many Iraqis, it would be a serious breach of taboo, analyzes Peter Wien. "That is why al-Sadr is trying to use the new law he initiated to position himself as a targeted spokesman for anti-Israel forces."
In principle, however, the law is not a surprise, says Michael Kiefer, who teaches Islam at the University of Osnabrück. "It follows the line that Iraq, and in particular the Shia Muslim parliamentary majority, has positioned vis-à-vis Israel over the past few years." According to Kiefer, however, Iraq is not the only country with anti-Israel tendencies, some of which are clearly anti-Jewish. Despite the rapprochement of other Arab states with Israel, which began in 2020, the phenomenon is still present in large parts of the region, especially as only a minority of the member states of the Arab League maintain official relations with Israel. "It's not as violent as it was in the '90s," Kiefer says. "But politics can still be made with anti-Israel rhetoric."
This can be particularly noticeable every time – as recently with the death of Palestinian journalist Shirin Abu Akle and the unrest on Temple Mount – the Middle East conflict escalates sharply, with many traditional mass media as well as social media platforms in the Arab world focusing heavily on Palestinian casualties.
Profiling through anti-Israel rhetoric: Iraqi Shia leader Moqtada al-Sadr
Anti-Israeli tones in Tunisia
It is currently clear in Tunisia e.g. An Ministry of Sports official said earlier this week that steps had been taken to prevent an Israeli athlete – Hagar Cohen Kalif – from taking part in an international triathlon tournament in early June in the town of Hammamet. The ministry said it was acting on a commitment to "national principles" and supported the "fraternal" people of the Palestinians.
Tunisian-Israeli relations have deteriorated further since lawyer Kais Saied took over the presidency of Tunisia in the autumn of 2019. During the election campaign, Saied had made outright anti-Israel statements. He described the so-called Abraham agreements – the normalization agreement that some Arab states have signed with Israel – as "high treason".
The exclusion of the Israeli athlete comes at a time of significant domestic political tensions. Saied suspended parliament last summer and ordered its dissolution in March last year. With his increasingly authoritarian course, he has alienated part of Tunisian society. Michael Kiefer also sees a motive in this: "In the Arab world, anti-Israel rhetoric is often a proven means of uniting the people of a country, or at least trying to."
Emirates continue to converge
It is all the more remarkable that several other Arab states have so far remained clear on a course of rapprochement with Israel despite renewed violence and widespread solidarity with the Palestinians in the region. Since the signing of the so-called Abraham agreements with Israel in September 2020, this has been particularly true of the United Arab Emirates (UAE) and Bahrain, which of course share an overriding common interest: All three states are strictly against Iran, fighting its regional influence and is particularly concerned about Tehran's military might. Recently, the UAE has even signed a free trade agreement with Israel. According to Israeli Prime Minister Naftali Bennett, this is the most comprehensive free trade agreement with an Arab country to date.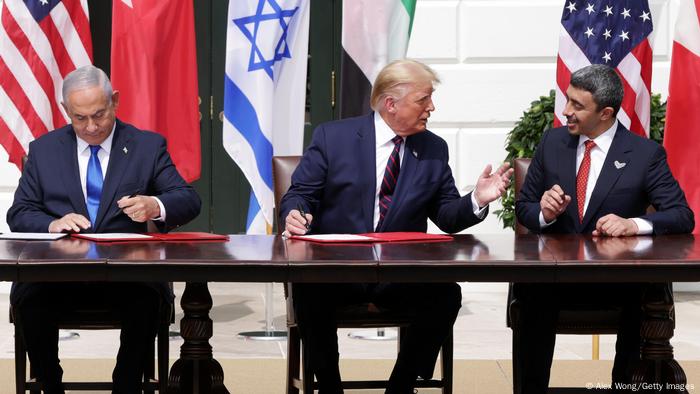 Breakthrough: Signing of the Abrahamic Agreement by then-Israeli Prime Minister Benjamin Netanyahu (left) and UAE Foreign Minister Abdullah bin Sajid al-Nahjan (right). Center: Former United States President Donald Trump, Washington, September 2020
The same is true of Morocco – along with the UAE, Bahrain and Sudan, the fourth Arab country to turn to Israel in recent years under US mediation as part of the Abraham agreement. The rapprochement was also a valuable deal for Morocco, not least because Washington in turn accepted Rabat's position on international law in the Western Sahara conflict. After Morocco and Israel established diplomatic relations in December 2020, a trade agreement followed in February last year. No less remarkable: With "I24NEWS", an Israeli television station has even opened a television studio in Morocco for the first time.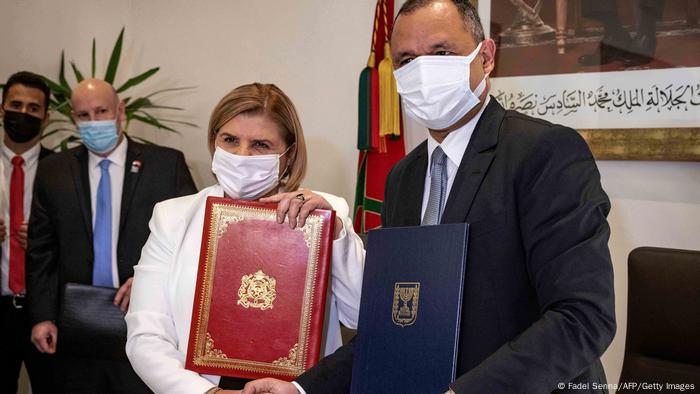 Israeli Trade Minister Orna Barbivai (left) and Moroccan Industry Minister Ryad Mezzour sign a trade agreement, Rabat, February 2022
Clear signals from Saudi Arabia
Behind the scenes, Israel's relations with Saudi Arabia, the region's leading Sunni power, are also improving. The Saudi royal family is still reluctant to enter into a formal normalization agreement with Israel, but according to reports, there have already been several talks. Apparently, however, the goal is to avoid the impression that Saudi Arabia, as guardian of the holy sites, would withdraw solidarity from the Palestinians by getting closer to Israel. In fact, there has long been an approximation: since the summer of 2020, Saudi Arabia has given Israel the right to overflight flights to the UAE. According to media reports, this right needs to be extended further.
The background to the Saudi-Israeli rapprochement – in addition to the common opposition to Iran – is apparently also negotiations on two islands in the Red Sea, which are to be transferred from Egyptian sovereignty to the Saudi kingdom. But according to the 1979 Israeli-Egyptian peace treaty, this also requires Israel's consent.
Earlier this week, Israeli Foreign Minister Yair Lapid confirmed that he believes a normalization process with Saudi Arabia is possible. However, he warned against exaggerated hopes: This process of rapprochement is lengthy and progresses only in small steps. But it's also "perfectly fine," he said.