Announcement from 27/05/2022
Where does our food actually come from? The latest event in the "Wller Schnecke" series was held for girls and boys from Dierdorf on the Ehrenstein family's Kaiseriche farm. In the "green classroom", the primary school children learned a lot about agriculture and the cultivation of cereals, vegetables and fruit.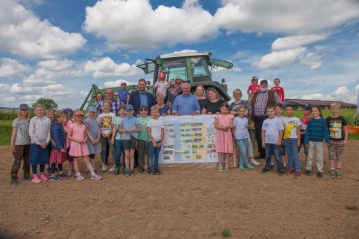 Dierdorf. Water comes from the tap, electricity from the socket and groceries from the supermarket. But when suddenly there is no more flour or sunflower oil, the question arises: where does it actually come from? From agriculture, of course. This answer should ultimately be clear to everyone, but it would be important to be aware of it even without a crisis. And as early as possible in life. Therefore, the regional initiative We Westerwlder created the Wller snail: an out-of-school education program for day care and school children on local farms. The couriers had already reported it.
The goal of the project is to teach children to appreciate our local food, sums up the three district administrators Dr. Peter Enders (Altenkirchen district), Achim Hallerbach (Neuwied district) and Achim Schwickert (Westerwald district), who work together in the regional initiative, brought together the basic idea of ​​the green classroom.
In Dierdorf, farmer Dominik Ehrenstein first explained the children in class 2c at Gutenberg primary school with their class teacher Andrea Theisen-Welsch and the group of school children from Eulennest kindergarten with their teachers Elfi and Nadine, using the annual calendar as a basis for when which grain is planted and harvested. After this, both groups were allowed to start under expert guidance – and supervision of the farm dog Wilma. Both groups planted sunflowers, preschoolers planted carrots in their fields, and elementary school children planted sweet corn. Like 3c, they will return in late summer for the corn harvest. And because learning and working makes you hungry, there were delicious waffles to keep you going. To top it all off, all the children were allowed to frolic on the straw castle.
During their visit, District Administrator Achim Hallerbach, Dierdorf Mayor Manuel Seiler, Katja Milad from the country's women and District Farmers' Association chairman Uli Schreiber all agreed that it was a successful campaign and a very sensible addition to the classic hours.
Caption:
Photo 1: Pupils in class 2c at Gutenberg primary school in Dierdorf, Jessica Karrasch (teacher trainee in class 2c), Dominik Ehrenstein (Hof Kaisereiche Dierdorf), Manuel Seiler (VG mayor Dierdorf), Sandra Kster (leader of Wir Westerwlder), District administrator Achim Hallerbach (Neuwied district), Katja Milad (district chairman of the Neuwied rural women's association), Gabi Schfer (environment and energy department of the Neuwied district administration), Andrea Theisen-Welsch (class teacher in class 2c), Ulrich Schreiber (district chairman of the farmers' association)
Picture 2:
Nadine Kambeck (Eulennest Wienau Kindergarten), Mrs Sandra Kster (Head of Wir Westerwlder), Elfi Kautz (Eulennest Wienau Kindergarten), Katja Milad (District Chairman of the Landwomen's Neuwied Association), Gabi Schfer (Environment and Energy Department of the Neuwied District), district administrator Achim Hallerbach (Kreis Neuwied), Dominik Ehrenstein (Hof Kaisereiche, Dierdorf) Manuel Seiler (mayor of VG Dierdorf), preschool children in the kindergarten Eulennest Wienau, Hofhund Wilma.
---
Local: Dierdorf and surroundings
Become a fan of NR-Kurier.de local edition Dierdorf on Facebook!