More and more games and apps are now relying on a play-to-earn system that could have a significant impact on the gaming of the future. This means that native crypto tokens can usually be earned while you play, which can then be converted to cash.
In this article, we want to tackle some of the most exciting and well-known NFT games and explain what lies behind titles like Axie Infinity, Splinterlands or Binemon. In addition, the Lucky Block crypto lottery has recently been added to the blockchain games for Android and iOS when the team launched its own smartphone app a few weeks ago.
NFT Games: The most popular cryptocurrencies for Android and iOS
There is no doubt that Axie Infinity is one or perhaps even the most famous NFT game ever. The game to make money with the cute, animated monsters has been the market leader since 2018 and now has a fan base of around two million active users.
The game is about acquiring new axes by fighting other players or by breeding those that have unique characteristics. As part of the Ethereum ecosystem, creatures representing non-fungible tokens can be exchanged and traded with other users in the marketplace.
In addition, Axie Infinity has two native cryptocurrencies, AXS and SLP. The price of the AXS token is currently more than € 20.15, with the highest level reached on 6 November 2021 at a fantastic € 158.
In fact, you can download Axie Infinity for free on your Android or iOS device, even if you have at least three Axie NFTs to play with. Although the NFT game is not available in the Google Play Store or App Store, the game can be downloaded for free from the Axie Infinity website.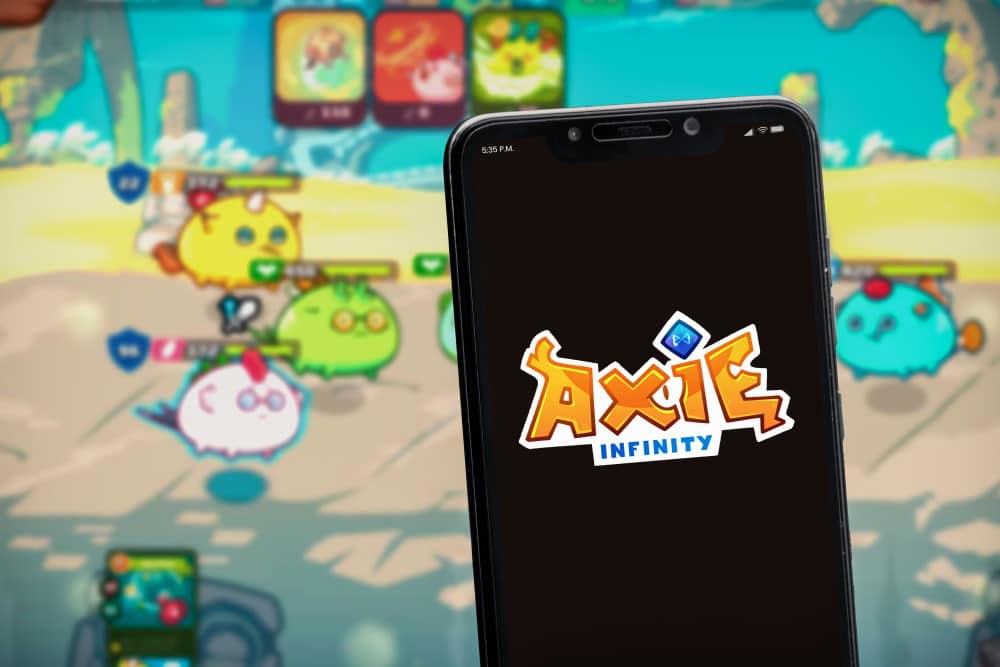 Another upcoming NFT game that offers both fun and money-making opportunities is called Binemon. It is no coincidence that the name of the game is similar to the famous anime franchise Pokemon: Binemon combines some elements from the Pokemon universe in a standalone crypto game.
In high-quality 3D graphics, players can buy and sell so-called mons in the marketplace, collect them and compete against other creatures in a fantastic adventure. In the design of the various monsters, it is noteworthy that internet memes have a significant influence on the appearance of the characters.
Running gags from the internet world such as Pepe the Frog or Doge are important components of the Binemon world, which has three in-game currencies. So players can earn Ambrosia Coins by playing, but DRK is used to buy Mons.
The NFT game is free to download in the Google Play Store and App Store, making it much easier to play on Android and iOS devices.
Splinterlands and Devikins
Splinterlands, the next NFT game on our list, can also be downloaded for free from the Google Play Store and App Store. The trading card game makes the hearts of fans of digital trading cards beat faster as Splintershards (SPS) shouts in the game as a reward for successful quests and battles.
Of course, there are non-fungible tokens behind the virtual cards that make the monsters unique. The design is reminiscent of a combination of World of Warcraft and Digimon, which certainly contributes to the appeal of the NFT game Splinterland.
You do not collect Airdrop + Staking rewards for 3 days …

The new thing is that coupons are no longer dropped once a day, but like SPS Staking Rewards continue to multiply until they are collected.#splinterlands pic.twitter.com/qLKB655jMp

– Hatoto ♦ ️ (@Kaesetopf) May 18, 2022
We would also like to introduce Devikins, a mobile game for Android and iOS that also works with NFTs and cryptocurrencies. Here, players can build their own Devikin army and use them in various turn-based role-playing adventures.
Like Axie Infinity, Devikins is about character breeding and training young "Devikids" who can later be sold for money. In the integrated marketplace, players use native devicoins (DVK) to buy and sell the NFTs.
Crypto lottery Lucky Block: Now available for Android and iOS devices
In addition to classic NFT games like Axie Infinity or Splinterlands, there are also games of chance that work with blockchain technology. One of the most well-known and most promising crypto lotteries of all time has also been available as an app in the Google Play Store for a few weeks now, and the iOS app is coming soon: Lucky Block Lottery.
This is a really special lottery because it combines many exciting points: high prizes, a transparent system, donations to a good cause, rewards for each token owner and much more. This is ensured not only by the Binance Smart Chain on which Lucky Block is based, but also by the unique winning principle of the jackpot lottery.
Of course, the person whose lottery ticket is drawn receives the largest share of the jackpot with 70% of the prize pool. The remaining 30% is distributed among all other LBLOCK holders, donations to non-profit organizations and the Lucky Block marketing department.
LBLOCK is the name of Lucky Block's original cryptocurrency and is required to participate in the big lottery. Lucky Block Coin is none other than the fastest growing crypto token ever, reaching a market value of $ 1 billion in just three weeks after the ICO.
On top of that, Lucky Block is constantly expanding its own range, such as its own NFT collection Platinum Rollers Club, the weekly newsletter and the internal smartphone app. Anyone who wants to participate in the Lucky Block Lottery can still participate in the first major event on the gaming platform: In May 2022, ie. this month, the first LBLOCK jackpot lottery draw is to take place.
Instructions: How to participate in the LBLOCK lottery
In this quick guide, we explain how to enter the Lucky Block Lottery in just three steps:
Step 1: BNB acquire
First, we are looking for a suitable provider from which we can buy Binance Coins (BNB). For this step, we directly recommend the Lucky Block website, which comes with a high degree of usability.
In a few minutes, make the purchase of "BNB" and click on the cryptocurrency to enter the transaction window. There we enter the amount for which we want to buy BNB coins.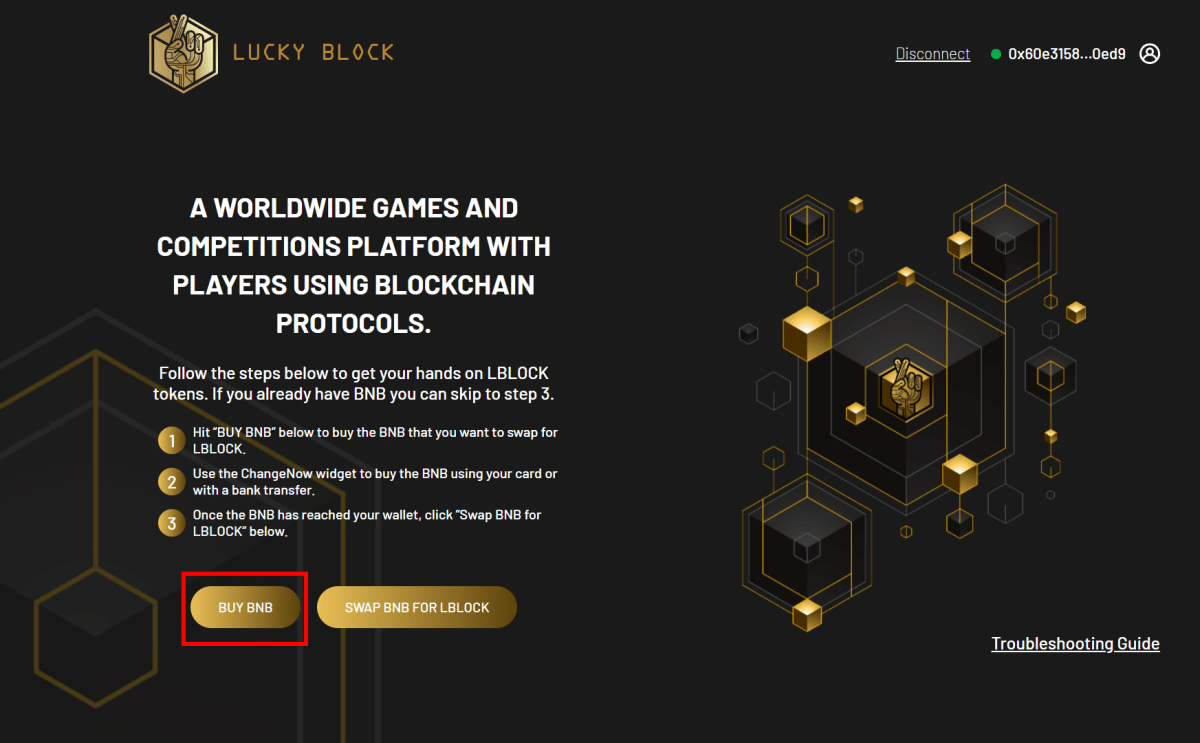 Step 2: Replace BNB with Lucky Block Coins
In the second step, we take the BNB tokens to the official Lucky Block website with our MetaMask wallet and click "How to Buy" and "Buy Lucky Block". We can then connect our wallet to the platform and exchange our BNB tokens for LBLOCK on the BSC network exchange.
Step 3: Participate in the Lucky Block Lottery
Now you just have to wait until the Lucky Block Lottery starts, which should not wait. Then we can participate in the crypto lottery with our purchased LBLOCK coins and look forward to an exciting event.