Crypto Exchange Bitstamp published a report on one of the most comprehensive global crypto surveys, in which investors from over 23 countries went to the polls in the first quarter of 2022. A detailed overview of key facts and trends.
With nearly 30,000 respondents, the Bitstamp Crypto Pulse report uses one of the most comprehensive surveys of crypto investors. Both retail and institutional investors from different countries were asked about their attitude, investments and confidence in the crypto industry. The study was analyzed using a wide range of factors and indicators and, as one of the most recent in this area, it provides information on how far crypto-adoption has reached among investors.
Institutional investors have been involved since 2017
Of the 28,615 respondents, about 23,000 were private investors and 5,500 institutional (professional investors or investment organizations). No people who have ever dealt with cryptocurrencies were interviewed. In the end, Bitstamp wanted to understand the audience that actually drives adoption and development. Of the retail investors, 54.3% were men and 44.5% women with an average age of around 37 years. The proportion of men among professional investors was slightly higher at around 60%.
Most of the retail investors surveyed have not been active in the crypto market for a very long time. Almost 60% have been dealing with the subject for less than 2 years. For professional investors, the curve shifts backwards by about a cryptocurrency cycle. The institutional adoption of cryptocurrencies is therefore not a new phenomenon, funds and asset managers seem to have done the initial work for years.
The various cryptocurrency cases
From Metaverse computer games to NFT collections to daily payments, the crypto space has evolved a lot over the years. New use cases also emerged, especially charitable donations saw a recovery as a result of the Russian-Ukrainian conflict. The survey showed that over 70% of retail investors want to expand their investments in the crypto area, and about 50% said they trade in some form at least once a week.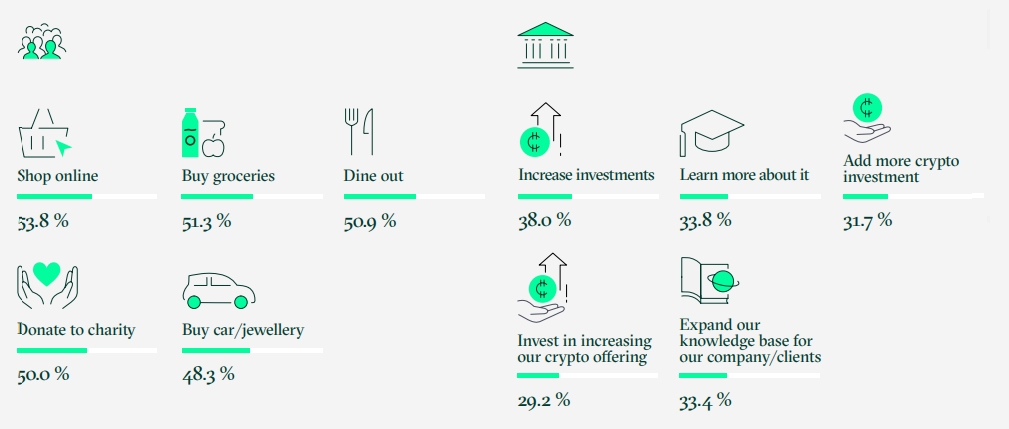 Many of the retail investors reported that they used cryptocurrencies on a wide range of consumer goods. From online purchases to charitable donations. This is in contrast to the widespread rumor that digital assets are only used for speculation. For institutional investors confirmed that 72% want to increase their crypto investments over the next 5 years, and almost 70% recommend the space to their clients.
Knowledge and confidence in cryptocurrencies
Back in March 2020, a study assumed that knowledge about cryptocurrencies is related to user trust. In the Bitstamp study, this hypothesis was supported and shows the direct influence of knowledge on the level of trust. Particularly in countries with uncertain and volatile fiat currencies, a large proportion do not have access to a bank account, although blockchain technology allows them to participate in the global economy.
As cryptocurrencies can be a way out of the crisis for third world countries, knowledge and confidence in the field are generally higher than in industrialized countries. In the Western world, many people are cautious and speculation often comes before daily payments. Therefore, the highest confidence in cryptocurrencies was observed in African and South American countries. France and Japan, on the other hand, showed by far the greatest distrust, with levels below 50%.