There is currently a growing discussion on social networks about the proportion of vaccinated among those infected with Covid-19. A weekly report from the Robert Koch Institute (RKI) shows that among Omicron cases, 95.58 percent are fully vaccinated and only 4.42 percent are unvaccinated. Facebook pages and more blogs spread further accusations. The Facebook group Free Saxons wrote, for example, that the omicron variant of coronavirus "now even specifically affects vaccinated humans".
However, the calculations are based on an incorrect figure, which the RKI later corrected. that posts in social networks also do not take the context into account: According to RKI, the data say nothing about the effectiveness of the vaccination.
The allegation that 95 percent of vaccinated omicron cases stem from an incorrect statement in RKI's weekly report
As one of the first to attack journalist Tim Röhn published RKI's weekly report on Twitter on December 30, which was published the same day. He cited the information it contained on the vaccination status of 4,206 Omicron cases: "4,020, ie 95.58% fully vaccinated (1,137 of them boosted) – 186 unvaccinated (4.42%)."
The numbers actually lay in it RKI reportbut they were corrected on January 3, 2022, whereupon Röhn also on Twitter pointed out. IN many contribution on the Internet however, the correction has not yet been taken up (as of 6 January). Users also sent us several pictures with graphics circulating on Whatsapp.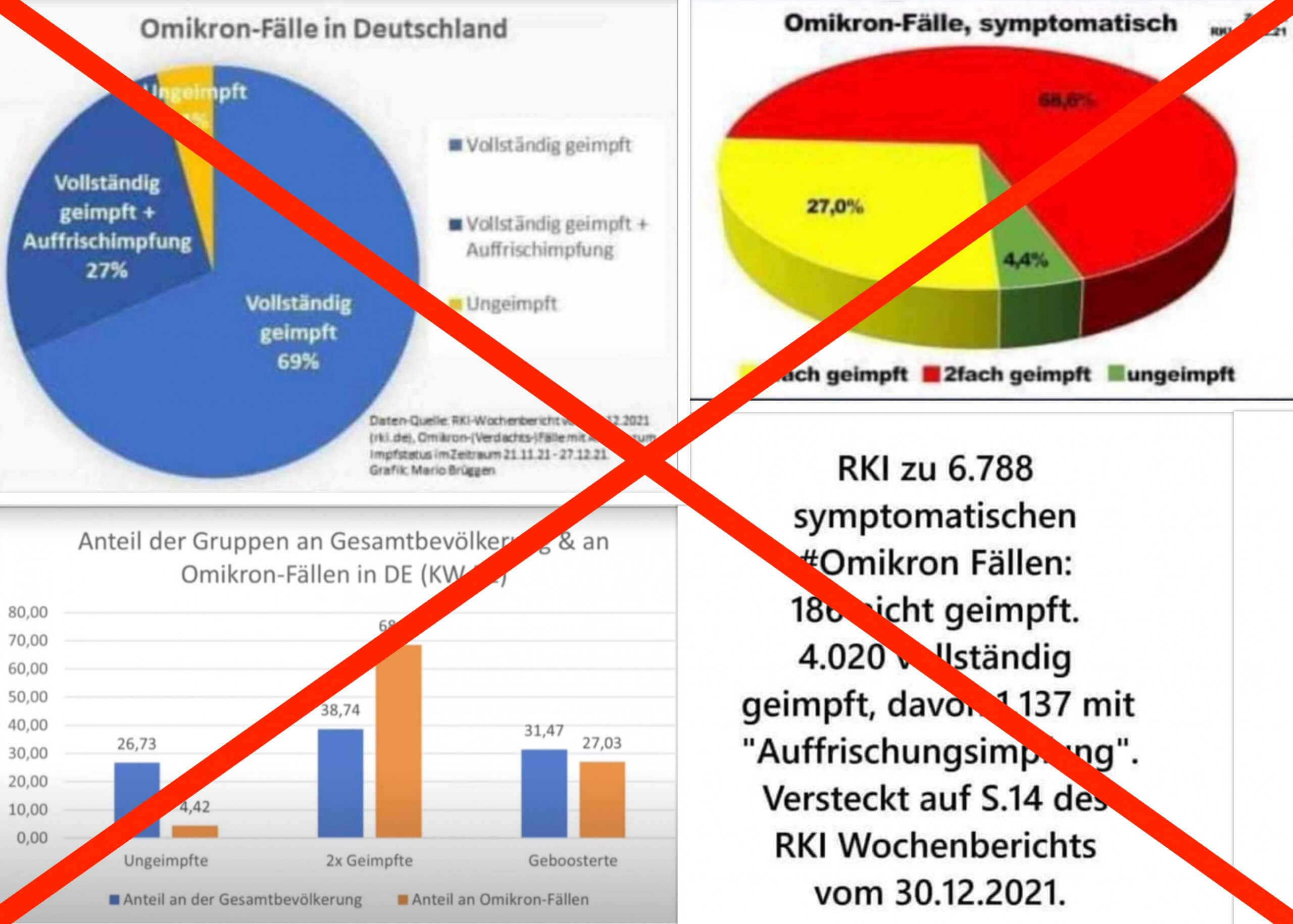 According to the new version of RKI's weekly report (PDF, pages 1 and 14) not 186, but 1,097 infected persons were reported as unvaccinated. The proportion of unvaccinated among Omicron cases where vaccination status was known was therefore significantly higher (21.44 percent instead of 4.42 percent).

CORRECTIV.Fact check asked RKI how the error occurred. A spokeswoman wrote: "During the update (the weekly report) the old text version was used and only the numbers contained in it were updated, the update of a number was forgotten and compensated for Monday."
This can be confirmed by RKI's weekly report from December 23rd (PDF, page 38) confirm. There is the same number of unvaccinated among the omicron cases (186) that were erroneously listed in the weekly report a week later on December 30th.
Data on omicron cases are not complete
RKI data on omicron infections should always be viewed with caution. They include only a small sample of cases where the omicron variant was detected and where vaccination status was also known.
According to corrected weekly report between 21 november and 27 december 2021, a total of 10,443 omicron cases were transferred to RKI via the reporting system. Of these, vaccination status information was apparently only available for 5,117. Some of the omicron cases are suspicious cases. A simple PCR test is not enough to determine a virus variant – the samples must with genetic sequencing or a "variant-specific PCR test" to be analyzed. The first method provides clear evidence, while the second only suspected cases can be identified.
The actual spread of omicron is not quite clear at present. In the 51st calendar week of 2021 (end of December), 6,257 omicron cases were reported to RKI as evidence by genome sequencing or as suspected cases following a variant-specific PCR test. Omicron cases thus accounted for 17.5 percent of all corona cases (page 12).
RKI: The data are not suitable for calculating vaccination effectiveness
As the RKI spokeswoman wrote to us, data published in the weekly report on vaccination status for omicron cases are not suitable for calculating vaccination effectiveness. To do this, one must take into account the number of vaccinated in the population. RKI also explains this in its own way website (Section "How can it be explained that there are more and more vaccine breakthroughs as the vaccination rate increases?").
Because: The higher the number of vaccinated in the population, the smaller the proportion of unvaccinated in the population – this is also evident in cases of infection and in the intensive care units. It was announced by RKI in early December graphic: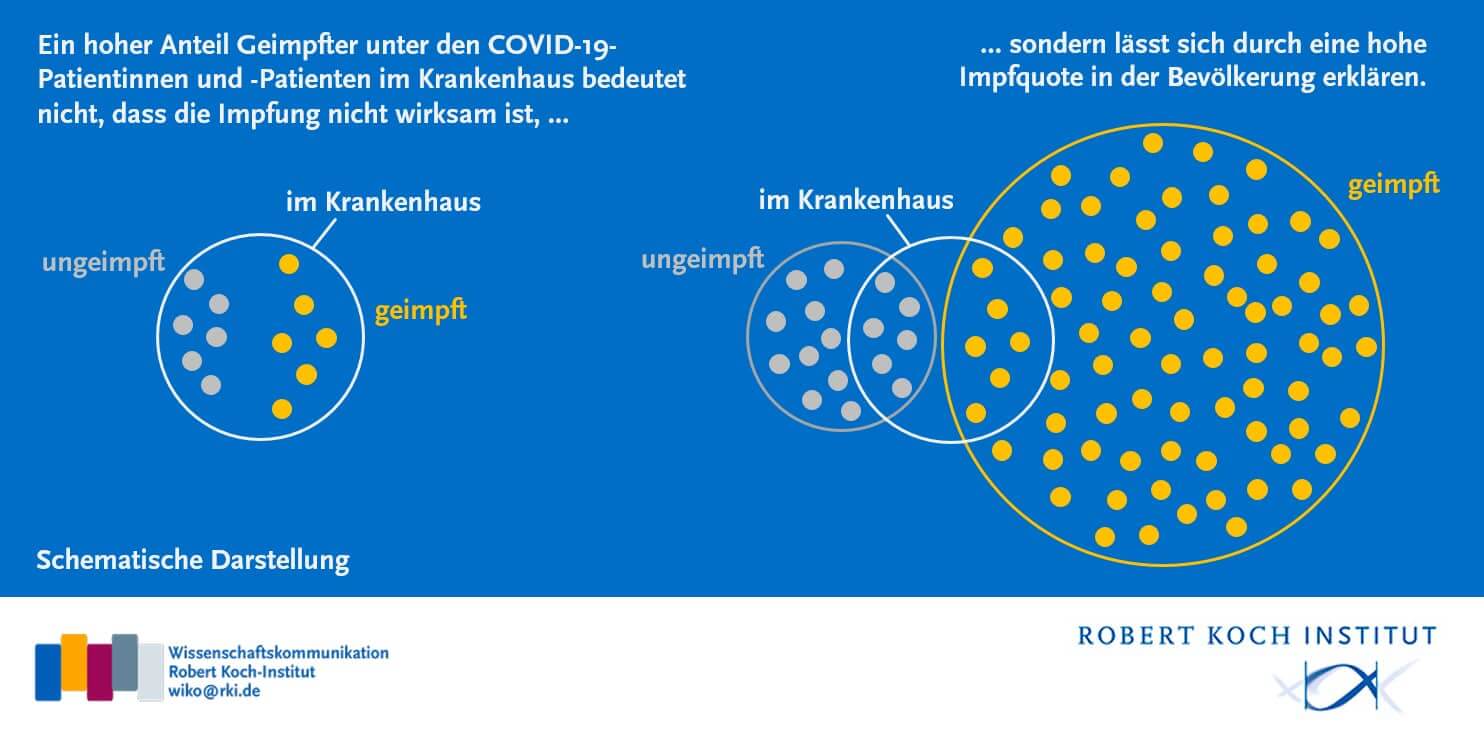 In the total population of Germany, 25.6 percent are currently unvaccinated, of which about one-fifth are children up to four years of age for whom no vaccination is available (From 6 January 2022).
It is still unclear how much omicron's impact on the vaccine's effectiveness is
To RKI assumes (as of January 4) that the effectiveness of the vaccines is greatly reduced compared to the omicron variant with a dual vaccination. "From about 15 weeks after the second vaccine dose, the effectiveness of the vaccine has been reduced to such an extent that adequate protection against disease after primary immunization can no longer be assumed." However, after booster vaccinations, the first research results from the UK show. good efficiency again (section "How effective are the Covid-19 vaccines?")
RKI last provided information on vaccination efficacy in the weekly report of 23 December (PDF, pages 26-27). It said: "I [vollständig] vaccinated population […] Both the incidence of symptomatic cases and the incidence of hospitalizations in all age groups presented and at all times were well below the respective incidence in the unvaccinated population. "
Basically this calculation from RKI is an estimate that also involves uncertainties. According to the weekly report of 23 December, RKI has been at approx 85 percent of symptomatic Covid-19 cases vaccination status is known. About the reasons why vaccination status is not always reported, we have In December reported in more detail.
Editing: Sophie Timmermann, Alice Echtermann
The main public sources for this fact check:
corrected RKI weekly report from 30 December:

link

RKI weekly report from December 30, incorrect first version (archived):

link

RKI weekly report from 23 December: Link