Ethereum transaction fees always reach extreme prices in a short amount of time when a project is heavily hyped. On May 1, ETH transaction fees rose to their highest level since May 2021. In addition, high network usage caused outages on the Ethereum blockchain.
The creators of the popular Bored Ape Yacht Club, Yuga Labs, started NFT sales of the virtual land NFTs for the new Metaverse project "Otherside" on May 1, 2022. The hype resulted in buyers spending multiples of the purchase price of The Ethereum fees. According to Etherscan, a user paid around $ 14,000 (5 ETH) in transaction fees. Yuga Labs has already announced the first steps for Apecoin and DAO.
Ethereum transaction fees hit high annually
Since Ethereum blockchain can only process about 15 transactions per second, there are always extremely high ETH transaction fees and network congestion when there is high demand. The validators or miners prioritize transactions from people who tip them in addition to the base fee.
Watchtheburn has been collecting blockchain data since the August 2021 Ethereum blockchain EIP-1559 upgrade. With the ETH upgrade, the development team introduced a so-called burning mechanism. Since then, part of the transaction fees for each ETH transaction has been "burned", ie. ruined forever. This is intended to make Ethereum a deflationary cryptocurrency after the ETH 2.0 upgrade.
Due to the hype surrounding the new NFT Metaverse project, the number of burned Ethereum increased to a new annual high in addition to the ETH transaction fees. About $ 71,300 ETH worth $ 200 million was burned that day.
The average gas fee averaged $ 439 on May 1, 2022, according to Etherscan. On the UniSwap and NFT marketplace OpenSea, the average price was even around $ 4,000. However, Ethereum transaction fees have since returned to normal.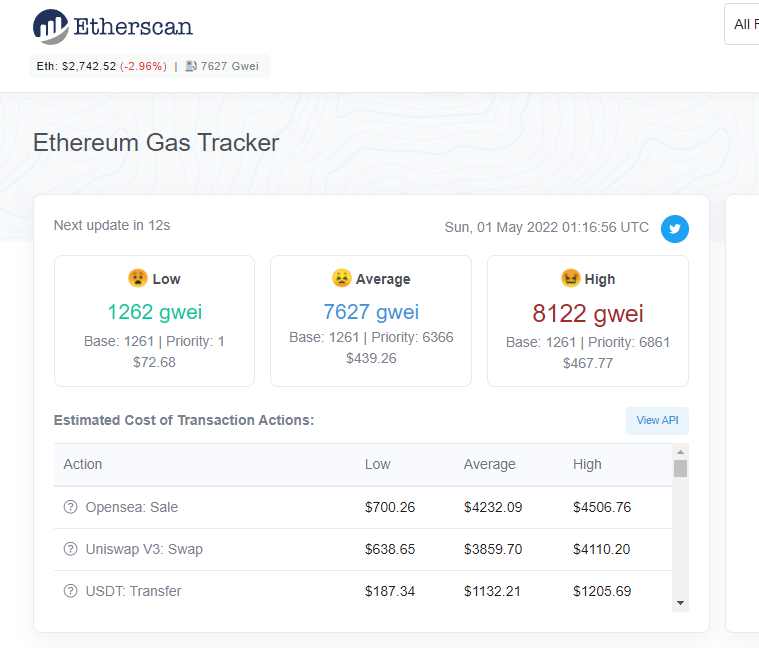 NFT minting leads to failed Ethereum transactions
Due to the high network load, there were isolated failed Ethereum transactions and outages. If you are making an ETH transaction and you do not have enough ETH in your wallet, there is no way to get your money back.
Because transaction costs were so volatile, transaction costs and the cost of each NFT sometimes exceeded users' inventories. As a result, some people lost their money. At times, NFT buyers paid more than that 10x in transaction fee to buy an NFT.
Yuga Labs wants to bring Apecoin on its own chain
Yuga Labs apologized for the incident on Twitter after the company was criticized for selling NTF on the platform. "We're sad to have turned off the lights on Ethereum for a while. It seems quite clear that ApeCoin must migrate to its own chain for proper scaling. We would like to encourage the DAO to think in this direction. "
Yuga Labs also wants to compensate the users who lost ETH due to the failed network transactions and the users who paid high transaction fees. Exactly how Yuga Labs will raise a multiple of the retail price is not yet known.
Disclaimer
All information contained on our website has been examined to the best of our knowledge and belief. The journalistic contributions are for general information purposes only. Any action taken by the reader based on the information on our website is entirely at your own risk.