There will be misunderstandings. Conscientious cleaners and parents in this world will see the tattered shoes in the hallway. Or maybe they spot them in the open shoebox and think the new pair has been taken out and on, while the old things that are now really dead have been put in their place. And then they do what's always talked about in all the motivational podcasts: They go 'the extra mile'. They do more than they should because they mean well: so they kindly discard the broken sneakers in the trash.
1450 euros for the rubbish bin would not be as bad as a few hundred thousand for a poorly cleaned grease corner or a discarded bicycle wheel – but it is possible that the 'Paris' sneaker from Balenciaga will soon be in the tradition of Joseph Beuys and Marcel. Duchamp (as it would at least be labeled like it): art that is not always immediately understood as such and therefore is sometimes removed by mistake, but which is always hotly debated.
On Monday, when the new model, including the special edition 'Destroyed', was launched, many users on social media asked themselves if it should be a joke. One mother joked on Twitter that she never thought her son would be a trendsetter, but he has been walking around with the "look" for years. Others actually felt stepped on: Balenciaga and her designer Demna Gvasalia started making fun of their customers and probably thought they could sell them anything. Especially when the slogan for the shoes shown was: "Meaning to be worn all your life", which results in a fun text-image scissors when the upper and the sole seem to fall apart at the time of purchase just by looking at them.
'As if the shoes had had the exciting life that the owner can only dream of. A kind of proxy adventure «
But as always in life, the same thing applies here: reading helps. The images circulating on the web are campaign motifs with "extremely worn and dirty" models. The regular sneakers are quite normal, fairly intact canvas sneakers. However, there is actually a limited edition of 100 pairs, which is not nearly as "damaged" as in the pictures, but is certainly "spoiled": Cracks in the fabric, heavy wear, lettering written on the rubber along the entire length of the ankle with a permanent marker . Whether it is intentional or actually unintentional deception – the attention effect could not be better, of course, and so even fashion columnists can hardly avoid buttoning the shoe. You can expect the actual available model to sell out quickly.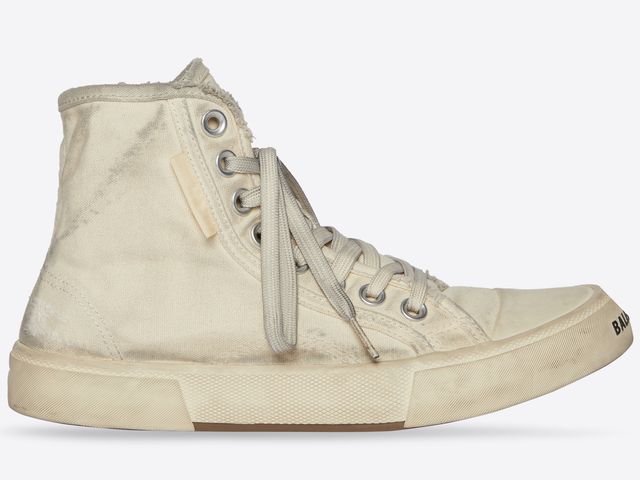 Not just big campaigns, but also the used look itself has a long tradition in fashion: rocking jeans, T-shirts or sweaters with holes, slits and other signs of wear, so they look brave or at least no longer stuffy. As if they had already had the exciting life that its new owner can only dream of. Kind of a proxy adventure. How sad, how ingenious as a business idea. Because the intentional destruction is again associated with extra effort and possibly even manual labor, the price can be increased again, logically.
Perhaps 'Paris' – especially in these turbulent times – will still be a postmodern kick in the ass on us. A parable about a luxury industry with liberated prices, absurd mechanisms and the associated completely painless customers. Destroy what destroys you. In this case, however, it will mean: Take neither the undamaged nor the processed, but simply buy nothing.
Typical Instagram comment: "He looks like I have it"
This is what the seller says: "Handle with care"
Matching song: "Seek and Destroy" (Metallica)