"I think I forgot how to pack," I say to my husband, shrugging. Scattered on the bed in front of me are blouses, T-shirts, swimsuits, sunscreen, patches and insect repellent. On the floor in two piles are children's things – shorts and sleeping bags, diapers, bodysuits, baby food jars and wetsuits. "If need be, we're looking for a kids' bazaar again," my husband says lovingly, hugging me. "We always come up with something."
Two years of the corona pandemic, which we have almost never traveled in, are almost behind us on the day that a six-week joint trip to the south lies ahead of us. We are two adults on parental leave, a small child of almost four years and a baby of eight months. Since our first parental leave together in Australia in 2019, we have dreamed of repeating such an experience.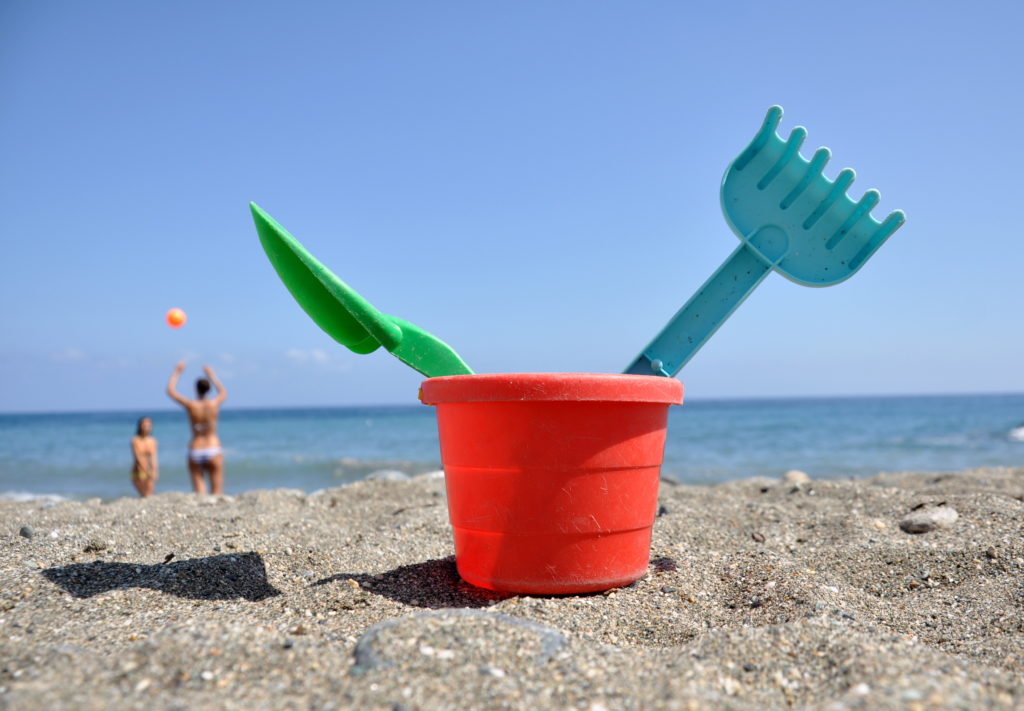 We would like to dare the roadtrip adventure again, not quite so far away, not quite so extraordinary. Suitable for children and corona, that is the motto. With the car to Italy – but the worries also run with. What if it's broken up, someone drives us in, or we can not fit everything in the trunk? I have never worked with packing lists before, but this time we need to use the storage space sensibly. We have to condense our semi-detached house to the area like an SUV, our world to eight square meters. The little son needs a buggy, the big one his scooter. The little one needs diapers, the big one doesn't need them anymore – but more pants than the rest of us combined. The little one should use jars and a blender for homemade food, the big one should have a case with Lego, books and crayons. And we adults? We do not need anything – except some clothes and headphones for our mobile phones. After many trips around the world together, seven years of long-distance relationships and almost four years of parenthood, we have long since learned to improvise.
And then we left – without a fixed itinerary, without a pre-booked accommodation and without a fixed return date. Via Bolzano to Ancona, then cross over to Corfu, this is the first itinerary, but we already get anxious when we book the ferry. Being in Ancona on a fixed date, previously been invited to a big wedding? What if we get infected with Corona and have to be in isolation for two weeks? Twenty-hour ferry ride – will it be fat or hell? It's better to start first and then see how it goes, we decide.
Munich-Bolzano-Wedding-Ski Day-Padua. We've only been on the go for a week, and the four-year-old is already showing signs of exhaustion. "When are we going home?" he asks every day. He misses his friends, his kindergarten. When he goes to bed at night, he gets a tantrum which he has not had for a long time. I google "What to do against homesickness?". Recommendation: throw yourself into the holidays! We decide on a spouse split: My husband is going to Venice with our little son for a day, Max and I are doing a mother-son day in Padua. We start with cakes in the pasticceria around the corner, go to the playground and take the bus. Children's program – and everyone is happy.
But my husband and I realize we need to slow down our travel pace and find better routines. When are good travel times, when are the kids fit for activities, when do they need time to rest and calm down, when do they just want to play? How should the suitcases be packed on the day of departure? What belongs in the hand luggage? And what do we expect from each other?
A road trip is an existential experience, even if it is "only" Italy. Keep packing, unpacking. Where are the night lights, the cereal products, the sleeping bag? We must always look for new places to live, carry the kids to stranger beds while they sleep. Who gets sick of switchbacks? Who needs food and when? Everyday life is concentrated on the nuclear family. There are no distractions, obligations, worries or enough space to avoid each other. It's a balancing act between being prepared for at least a few eventualities (we need winter jackets and boots as well as swimming trunks and neoprene) and letting go. We improvise and dry laundry on hangers that we hang on the cupboard handles in the kitchen because there is no drying rack. Buy superglue to fix the toy dinosaur's broken leg and shine it with a patch. Wrap the baby in the trunk of our car in the supermarket's underground garage and spend afternoons building with Big Lego in the cafe. We look for book and craft stores and buy new shoes when the big one grows from his.
We carry, comfort and dance, we party, stroll and marvel. We quarrel – and we shine.
We enjoy unforgettable hours on the beach, the little one reaches out into the powdery sand, the big one shouts for joy in the icy waves. We have a picnic by the pool, jump on a trampoline and ride on a cogwheel track. We hike through the Cinque Terre and pick oranges from the tree. We feel how the landscape changes during our car trips, how spring breaks in and bathes the houses in a warm golden light. We experience the love of children among the Italians, who even in the smallest toilet building break out with enthusiasm for our children, iron their hair in the supermarket and give them sweets. A love and affection that strengthens our backs and transmits to the children. Of course, we all go to restaurants and cafes, to markets, to churches ("but it's creepy here") and get to know through children's eyes a whole new view of the countryside that we thought we knew so well in advance. .
How lovingly the Italian children take our son into their play even when they do not understand each other. How varied the playgrounds are designed and how diverse is the nature that connects the cities. How does it feel good to drive and just let the kids play. To discover something new in every home and to end up at random in the most beautiful places, such as the hills of Florence overlooking the Duomo or the vineyards of Tuscany.
We discard our Corfu plans and drive to the sea. The weather is great, a look at the weather app confirms that we are in the right place. We buy mussels at the markets and cook them on the gas stove in the evening. We bake pizza in the wood-burning stove, which is only ready when the sun goes down. We lie in the warm sand and squint in the sun while the little one crawls over us and follows the big one. We do not read a page in our books, yet we flood our heads with new things.
As our route slowly leads north again, we are melancholy. Our journey has become a state that we wish we could have continued. "We can still do it," I say to my husband over the last glass of red wine the night before the final stage. Eight accommodations, six weeks and 3126 kilometers are behind us when we drive back to our garage yard in early May. Summer in Germany is ahead of us. The next adventure is already waiting.