Minecraft is the best-selling video game in the world, but unlike many other games, it has not had its own marketplace in the game. Independent developers are changing that. They turn Minecraft into a Web3 game – NFT Worlds.
What are NFT Worlds?
The game in pixel graphics is known for its diverse capabilities. It must be possible for the player to develop according to his individual wishes. Minecraft would also be ideal for a Web3 customization.
While the developers of Mojang have not yet supported this idea, independent programmers did not want to wait any longer and started the NFT Worlds project.
Collaboration is not uncommon in Minecraft. While Mojang took over the development of the game, independent organizers operated their own servers, making Minecraft very popular in multiplayer. The modding scene in the game is also pronounced.
NFT Worlds also uses this principle, but expands the functionality with additional elements. Instead of a normal Minecraft server, NFT Worlds transforms Minecraft into a world similar to Decentraland.
Land can be purchased with cryptocurrencies. NFT Worlds uses Polygon for this – a fast and cheap Layer 2 solution for Ethereum.
As the name of the platform suggests, the world is made up of individual NFTs that act as parties. The current base price per NFT from OpenSea is 14.9 Ethereum – which is equivalent to over 37,400 euros.
NFT Worlds has great potential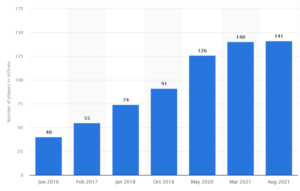 NFT Worlds calls itself Metaverse. Unlike other Metaverse games, Minecraft already has a very broad base of active players around the world. According to Statista, the video game has over 140 million monthly players.
Blockchain and virtual reality
From there, the road to Metaverset is not very far. To access NFT Worlds, players simply need to get the server's specific address and sign up for an Ethereum wallet address to begin with.
Players can expect a modified Minecraft world, which they can of course help shape themselves. To swap items with other players, use your own ERC-20 token WRLD, which is currently priced at 26 cents.
Since the entire server ecosystem is based on the token, money can also be earned by playing. So it's a game to make money.
in Game $ WRLD procurement, transactions and P2E $ WRLD layers will soon be rolled out. Completely frictionless, no gas needed to use / shop $ WRLD in an NFT world.

In this demo video we built a simple "Shop" using $ WRLD layer and bought an Apple in-game with $ WRLD. pic.twitter.com/8XjCuzdkTG

– NFT Worlds (@nftworldsNFT) February 12, 2022
Does NFT Worlds have scalability issues?
The goal of a Metaverse is to create a particularly immersive gaming experience. Most recently, the concept stood for the ability to wear VR glasses and have particularly busy servers.
Decentraland is the greatest game to date that wants to portray a metaverse. There is currently no upper limit for players. On top of that, there is only one case.
It's different with Minecraft. There are many different servers that can usually only accommodate a few dozen players at a time. More powerful servers are already serving hundreds of players at the same time.
NFT Worlds is currently still in the testing phase, but would like to welcome as large an audience as possible on its own servers. The current limit is 6,400 players on NFT World's main server.
The test phase serves to check the resilience of the servers and thus determine how many players can enter a server at the same time. The audience is growing. During the test, 26,000 players entered the server in just three days.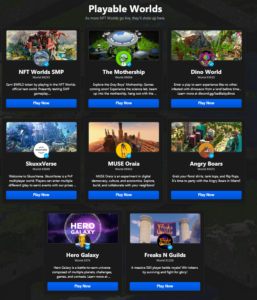 In the future, congestion should also be prevented by NFT Worlds opening different worlds – that is, different bodies.
NFT Worlds is building its own game
In addition, the developers of the Metaverse game are working on a standalone game, so in the future, the connection to the server will no longer be established via the Minecraft client. This could potentially lead to better functionality.
Here is a comparison of the playable size of 1 single NFT World vs The Sandbox & Decentraland.

This is not a joke.

If you've ever thought about where to build your metaverse project or your community metaverse etc …

We think you know who to choose 😉 pic.twitter.com/T92yeUMrIK

– NFT Worlds (@nftworldsNFT) January 4, 2022
To make matters worse, the extreme size of a single instance of Metaverse. While Decentraland has over 23 million square feet of digital space, NFT Worlds has 3.6 trillion square feet.
Since Minecraft was programmed in Java for a long time, the game's source code was actually decompiled, but in principle never open source. NFT Worlds, on the other hand, is built on decompiled code.
Mojang excludes any commercial use of the proprietary code in its Terms of Service.
The user is excluded from commercial use of our products.
NFT Worlds developer Temptranquil says his project is therefore constantly being monitored by Mojang.
They constantly disagree about checking out our chat and we talk to them. They keep an eye on us from the sidelines, so to speak. They do not give us a formal green light, but I think they see us as the best case scenario for someone using their product.
However, NFT World's founders ArkDev and Temptranquil are aware of the risk that Mojang could ban them from their jobs at any time. Maybe that's why they want to detach the game a bit from Minecraft.