metavers
Instagram starts test drive with crypto art NFT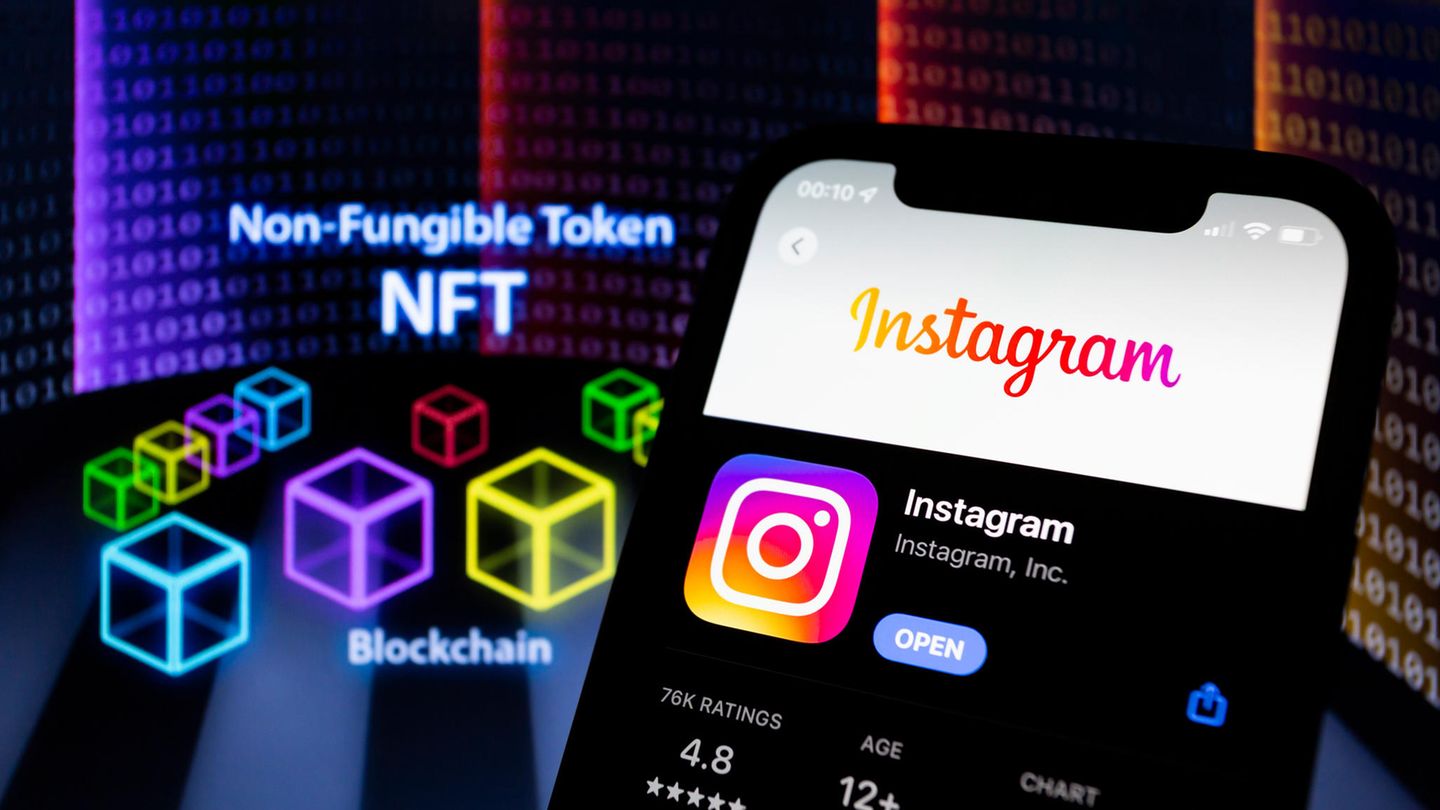 The digital parallel world Metaverse was also to develop into a giant trading place for digital goods. The NFT technology used is now being tested on Instagram in the meta group.
A group of artists and collectors from the United States will soon be able to showcase their digital NFT artwork on Instagram. This was announced by Meta CEO Mark Zuckerberg and Instagram CEO Adam Mosseri on Facebook and Twitter. Non-fungible Tokens (NFTs), which are currently booming on the art scene, make it possible to deliver digital content with a non-exchangeable certificate of ownership. From a technical point of view, NFTs are entries in an infinitely updated digital register, the so-called blockchain.
Zuckerberg said in an interview that his company is testing NFTs on the platform and that "similar features" will soon be available on Facebook. Instagram CEO Adam Mosseri announced that a small group of US users will have the opportunity to see NFTs in their feeds, stories and messages.
Instagram wants to learn from users

The information about the NFTs is displayed in the same way as profiles and products that use keywords ("tags"). Clicking on the tag reveals information such as the name of the creator and owner. Mosseri said the test will initially be on a limited scale to allow Instagram to learn from the community. Therefore, there are no fees for posting or sharing the digital collectibles on Instagram. The focus is on the ability of creative people to make money with NFTs. But collectors are also allowed to display their art objects.
" vendor-id="5e717c8e69966540e4554f05″ vendor-name="Instagram"/>
"I would like to acknowledge in advance that NFTs and blockchain technologies and Web3 are more broadly about the distribution of trust and power," Mosseri said. "But Instagram is basically a centralized platform, so there's a tension here."
Twitter introduced NFTs in January

Advocates of blockchain technology use the term Web3 to claim to have created the third generation of the web. The first generation (Web 1.0) describes the era when companies and organizations filled the web with their websites. Web 2.0 is characterized by the emergence of social media services such as Facebook, where the content is primarily generated by the users themselves. In Web 3.0, users should also own digital valuables online.
The NFTs that may be featured on Instagram in the future are technically based on Ethereum and Polygon blockchains. Ethereum in particular has come under criticism due to the high transaction fees ("gas fees") and the enormous energy requirement to secure transactions. Mosseri stressed that support for NFTs on Instagram could help introduce the technology to a wider audience. By January, Twitter had already introduced NFTs on the platform as hexagonal profile pictures.
Experts assume that the promotion of NFT technology is part of the group's larger Metaverse plans. In the virtual parallel world of Meta, users should be able to move around and interact with each other in the form of digital avatars. It must also be possible to trade in digital goods and status symbols. For example, Zuckerberg suggested that clothes worn by an avatar in Metaverse could be taken to different locations using NFT technology.
Hi
DPA