In the exclusive Sky interview, Jamal Musiala reflects on a season that was not enough for his team. It went better for him personally. The Bayern youth also talks about the competitor BVB, the national team and his claim to be a regular player.
Jamal Musiala on …
… the character of his season and his personal end to the season: "A 3's. It's been a good season for me. I've got more playing time and played in a couple of important matches. I've also developed mentally and physically. I had to get used to a few things, including new positions. was good for my development, but we could have won more titles. "
… Summary of the team's performance this season: "We are all disappointed with how things went for us in the two cup tournaments. Despite that, we never gave up in the Bundesliga. We expected more from all of us. We attack next season."
… The importance of a win against Wolfsburg on the upcoming 34th game day: "We want to win every game. It is important for us that we can go on holiday with a good feeling and that we have a better feeling for the start of the season."
… Fitness units with Leon Goretzka: "There are large differences in the weights (laughs). I'm constantly working on myself, but I do not want to go as extreme as Leon Goretzka. There are also two different playing styles. I do not need so much muscle building. I work on my speed and technique. "
Jamal Musiala at the fitness sessions with Leon Goretzka.

… His change in diet: "I changed my diet and looked at what I should and should not eat before the match. These are the little details that I would not eat before the match. I took a blood test to see what things I react a little more to. Where my stomach is longer about digesting.It's a few things like wheat.I would not eat pasta before a game now, nor eggs.Usually I ate an omelet in the morning.Now I eat a Porridge or bread with avocado and potatoes with some meat for lunch. "
Jamal Musiala on his diet change.

… His requirement for a permanent place: "I always want to play more, and if I feel like I'm making an effort to start, then that's what I want to do. I like to just play and keep at it, but do not stress. I will like to perform and when I feel like it minutes, I will be there fully. "
… whether he expresses internal criticism when appropriate: "I would not criticize other players, but I would give my opinion when I feel something went wrong in the game. We have a good relationship and we want to win."
… His nickname Bambi and how long he wants it: "The nickname stays with me for a while. The fans like it too. People can call me that, no matter how long. But I have to develop out of the little young player. That's what I want out of in the near future. "
Jamal Musiala about his nickname Bambi and how long he wants it.

… His favorite position: "I have the most fun in tenth place in the offensive midfield. That's where I feel most comfortable. That's where I played the most when I was young. But the fact that I last played in sixth and eighth place was "Good for my development. It's important to get game training. I also like to play on the wing because I can get into one-on-one situations there."
… His relationship with competitor Thomas Müller: "We learn from each other, but I learn a lot more from him than he learns from me (laughs). We have a really good relationship and we think we can both do better. "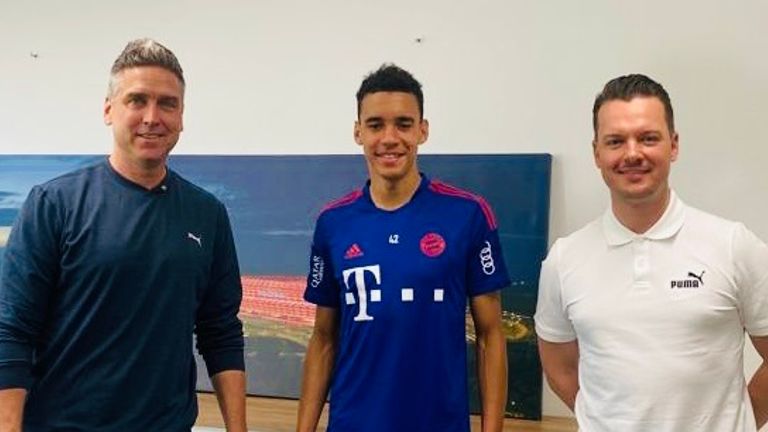 Mulige his possible desire to play in England again after his time in Munich: "I'm concentrating on Bayern now and I can not think long term right now. I have to improve and develop here before I think: 'England is a great country, it's a great league there'."
… the new signatures of BVB: "They have become stronger, you could say. But we are entering the new season with the same confidence, not with fear. We are just doing our thing. We are not looking at the others. But it will be fun when the competition becomes bigger. I'm looking forward to it. "
Jamal Musiala on the new contracts from Borussia Dortmund.

… His claim to be a regular player at the World Cup: "I trust myself! But whether I'm in starting XI or a replacement, I want to be ready and help the team. I want to help us get far."
… His feeling that he is traveling to DFB after the season: "With a good feeling. We have a lot of really good matches that will prepare us well for the World Cup. We will see where we stand. There is always a good atmosphere in DFB. I look forward."
… His connection to Hansi Flick: "He's like a mentor to me and he gave me confidence from the start so I can keep my head clear on the pitch. I have the feeling of full confidence in DFB."
… Meaning of the Nations League: "If we play the matches well, we go into the World Cup with a good feeling. It will be good to see what works and what does not."
… World Cup chances: "We want to bring the World Cup title to Germany. We are one of the favorites, but there are a lot of world-class countries in the tournament. It will not be easy, but we must be aware that we want to win the tournament every single one. of our players. "
Valg his choice for the German national team: "It was not easy. I thought about it for a long time and had a good conversation with Jogi Löw. It gave me a really good feeling. My teammates in FC Bayern also made me feel most comfortable in Germany. Then I got that decision. "
More about the authors at skysport.de
All other important news from the sports world can be found in the News Update.