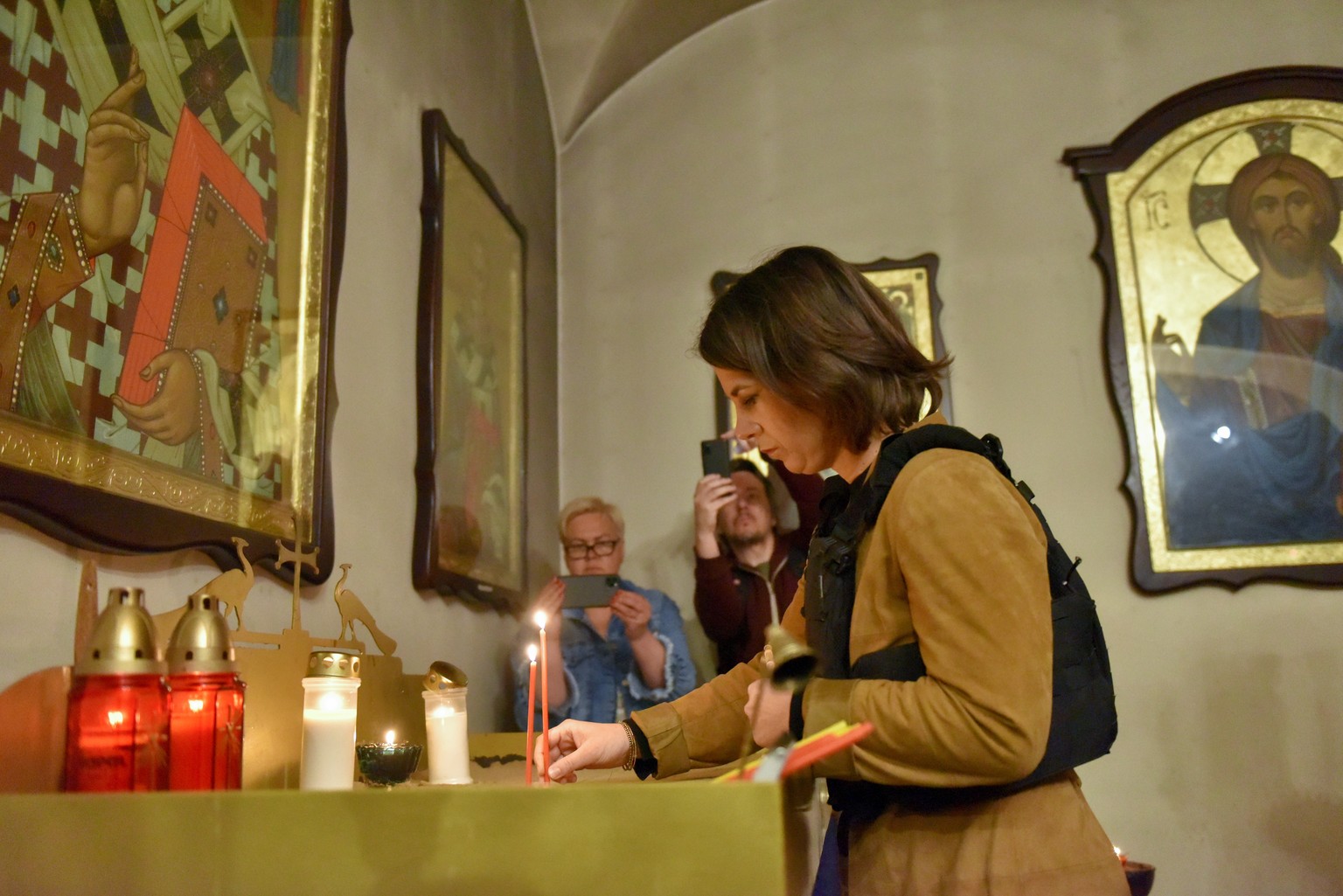 Annalena Baerbock lights a candle for the victims of Russian war crimes in Bucha.Image: keystone
Relations between Germany and Ukraine hit rock bottom after the outbreak of war. Foreign Minister Annalena Baerbock has now sent an important signal with her visit.
Gestures often have a great symbolic effect in politics. There was plenty of that during German Foreign Minister Annalena Baerbock's visit to Ukraine on Tuesday. She lit a candle in St. Andrew Church in Bucha. Victims of Russian atrocities had been buried there in a mass grave.
Baerbock then drove to the largely destroyed Kiev suburb of Irpin, where, despite security concerns, she entered a bombed-out house. "You are a very brave politician," said Mayor Olexander Markuschyn. "And they are a very brave country," Baerbock replied, accompanied by Justice Minister Iryna Venediktova.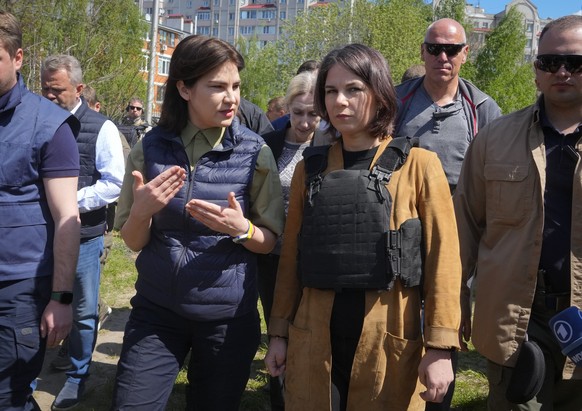 Baerbock and Justice Minister Iryna Venediktova (left) in Bucha.Image: keystone
The signal associated with this was clear: the Russian war crimes in Ukraine should not go unpunished. "We owe it to the victims," ​​the foreign minister said. Later in Kiev, she personally hoisted the black, red and gold flag in front of the German embassy, ​​which was reopened with a minimal staff.
broken relationship
She also met with her counterpart Dmytro Kuleba and President Volodymyr Zelenskyy. She announced that the training of Ukrainian soldiers on the modern 2000 self-propelled howitzers would begin in a few days. And finally, Baerbock visited the Babyn Yar Memorial, where the Nazis murdered more than 30,000 Jews in 1941.
It was a journey full of symbolism, which was well received by the Ukrainians. "Dispute between Kiev and Berlin – was there anything?" asked "Spiegel".
Relations between the two countries were quite shattered after the Russian attack. The German government put the brakes on sanctions against Moscow. Europe's leading economic power had become too dependent on Russian coal, oil and gas. Germany would also have nothing to do with the supply of heavy weapons.
"Offended liver sausage"
The low point was reached in mid-April when Federal President Frank-Walter Steinmeier was excluded from a planned visit to Kiev. He had previously marked himself as a friend of Russia. When Chancellor Olaf Scholz did not want to travel to Kiev, Ukrainian Ambassador Andriy Melnyk described him as an "offended liverwurst".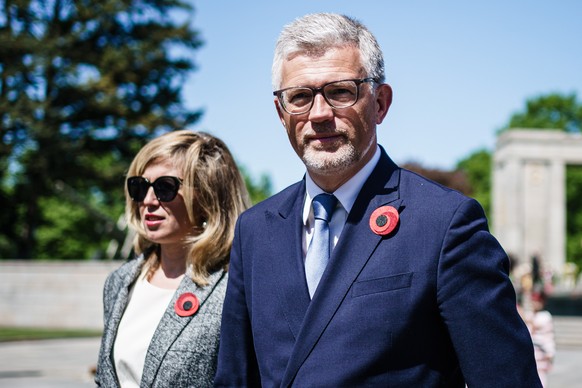 Ambassador Andriy Melnyk likes to speak plain language.Image: keystone
Melnyk is a very undiplomatic diplomat, which has not helped the relationship. Since then, however, there has been a noticeable relaxation. After all, the traffic light government is now supplying heavy weapons, and it is working flatly to turn away from Russian energy, "forever," as Annalena Baerbock stressed on Tuesday.
The waves level out
Calm has also calmed down on a personal level. There was a telephone conversation between Selenskyj and Steinmeier. Nothing should stand in the way of a visit by the Federal President. CDU leader Friedrich Merz and Federal President Bärbel Bas (SPD) traveled to Kiev last week.
Foreign Minister Annalena Baerbock has now been followed for the first time by a member of the government. Their strong gestures and brave performances also reflected a remarkable development. In last year's federal election campaign, she seemed overwhelmed as the Green Party's candidate for chancellor and raised doubts about her suitability for higher tasks.
The green learning curve
As foreign minister in the traffic light government with the SPD and FDP, the 41-year-old quickly found his legs. She left a scent mark at the meeting with Russian colleague Sergey Lavrov in Moscow. Baerbock managed to resist the unruly and hardened political expert. But she could not prevent the war.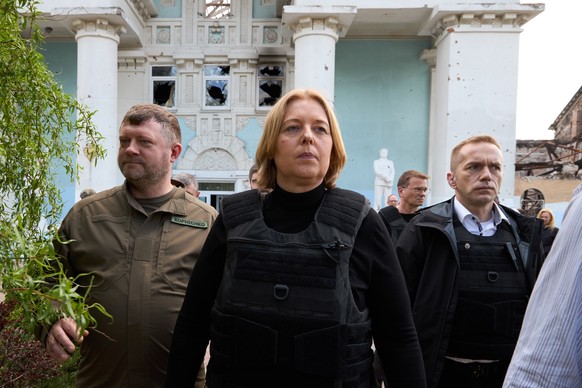 Federal President Bärbel Bas was in Irpin last Sunday.Image: keystone
Since the bombing and shooting in Ukraine, Baerbock and her party have experienced a steep learning curve. The Greens have their roots, among other things, in the 1980s peace movement. Former Secretary of State Joschka Fischer felt this hardcore pacifism in a very tangible way.
increase in the political barometer
Annalena Baerbock does not have to fear anything like that, on the contrary. No German party is as clear to the Russian aggressor as the Greens. Former parliamentary group leader Anton Hofreiter marks himself as a veritable super falcon when it comes to arms deliveries. The biologist from Munich is considered among the party's left wing.
This pays off personally for Annalena Baerbock. In the latest issue of the ZDF Politbarometer, the Foreign Minister overtook SPD Chancellor Olaf Scholz, who was perceived as hesitant and weak in the leadership, on the popularity list. She is now in second place. The clear number 1 is party colleague and Minister of Economic Affairs Robert Habeck.
He is trying to free the German economy from its dependence on Russian oil and gas in record time while avoiding a recession. Which is obviously being honored by the voters. It may play a role in the Green Party's chancellor question, even though there are more than three years until the next federal election.
For now, "Annalena Superstar" can enjoy her role as "icebreaker" in relation to Ukraine. For the German media, it is clear: With her trip, she also played vanguard for Chancellor Scholz. His arrival in Kiev is only a matter of time.
Russian operations in Germany
Subtle tips from Scholz against Putin
This may also interest you:
In a lawsuit over the release of documents, a court in New York has overturned a ban on former US President Donald Trump for contempt for justice. The "New York Times" and the television stations CNN and CNBC reported unanimously that Judge Arthur Engoron had imposed a fine of $ 110,000 (almost 105,000 euros). Trump's lawyers also had until May 20 to provide information about the search for documents requested by New York's Attorney General Letitia James under threat of criminal prosecution. Otherwise, the order will be reinstated, including a fine of $ 10,000 per. day of contempt of court.