– ABBA turns 50: Ever since the comeback album "Voyage" and the announcement of the Avatar show of the same name in London, the Swedish pop legend has once again been on everyone's lips. The official tribute show ABBAmania, which tours through Germany from March 13, 2022, comes at just the right time. We spoke with ABBA's legendary costume designer, Owe Sandström.

Mr. Sandström, in March 1972, ABBA recorded as a group their first single "People Need Love". When did you become your costume designer?
Owe Sandstrøm: From 1973. That year they participated without success in the Swedish preliminary round of the Eurovision Song Contest with "Ring Ring". My costumes can also be seen in the movie clip for the song. It was before the group ABBA, because at that time Björn Ulvaeus, Benny Andersson, Anni-Frid Lyngstad and Agneta Fältskog were just four young friends who sang and danced together. None of us could have imagined that one day they would be as successful as ABBA. Totally crazy!
ABBA digital: Björn Ulvaeus, Agnetha Fältskog, Benny Andersson and Anni-Frid Lyngstad (from left), the members of the Swedish pop group Abba in virtual format.
© picture alliance / dpa / PA Media, NNZ
Do you want to design clothes for ABBA from the beginning, which had something specifically Swedish about it?
No no no. You know, I'm also a professor of science. I studied plant science, chemistry and marine biology at the university from 1963 to 1970. Since then, I have taught young people who want to become veterinarians and worked with wild animals. For the ABBA costumes, I was inspired by nature and the circus with its amazing outfits, epaulettes and crystals. I went to flamenco schools in Spain until I was 22 because I actually wanted to be a dancer. Eventually I chose science, but my boyfriend has become a professional dancer.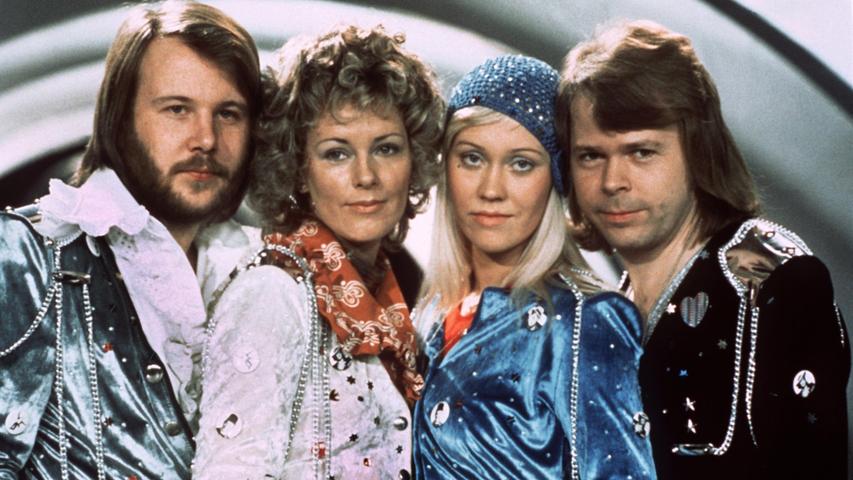 Benny Andersson, Annafrid Lyngstad, Agnetha Fältskog and Björn Ulvaeus (from left) at the Grand Prix d'Eurovision de la Chanson in Brighton in 1974. They took first place with "Waterloo".
© dpa, NNZ
But you only became a full-time fashion designer thanks to ABBA?
full time designer? When ABBA and all the other Swedish artists wanted to tour, I got up very early and made new designs in my fashion studio. Then I went to school to teach until 4 or 5 pm. Then I met with my tailor and the other staff to discuss which of the designers we would implement. After they were gone, I was busy doing things like attaching, organizing, and getting the materials done after midnight. And so it went on and on. As soon as ABBA came back from a tour, we made new plans.
Why did you never rest as ABBA's fashion designer?
For I never said to them, "You can wear this costume. It's done." Instead, everything was always discussed together, for example, The Girl With The Golden Hair was to be part of the Australia show: Bjørn and Benny wanted to try a mini-musical about a Swedish show girl who is just a puppet of their leaders. And that's exactly how the two singers should look: golden through.We then tried on different dance costumes until we found the ones that were both elegant and comfortable.You just could not present ABBA for anything finished.
How do you remember the first ABBA show of your life?
I do not remember where it was, but I just stood there with my mouth open and thought, "My God, did I really design all these crazy things myself?" I did not know if I should be happy or embarrassed about it. moment! (laughs) ABBA was not very popular in Sweden at that time. But personally, I was fascinated and surprised from the start. I have always believed in my work.
Would you say that your outfits were part of ABBA's mass success?
Yes. A British journalist once said: "ABBA, it's the music first. The lyrics. And then the looks." Listen to their music with your eyes closed and you will inevitably see the cats, the stripes, the white outfits in your mind.
Did ABBA's songs later affect your designs?
In any case. When they made the song "Money, Money, Money Must Be Funny In A Rich Man's World" in 1976, their producer Stig Anderson calls me: "You have to design costumes that remind us of when money was or is important". Then I said, "You're crazy, money is always important!" I was so inspired by the roaring thirties in the US with all the gangsters, the shootings, Charleston, the rich and poor people in all black and white costumes. So many thoughts behind everything and everyone!
Her fashion shaped not only ABBA, but the 1970s as a whole. How do you personally determine that?
Madonna left ABBA's "Gimme! Give me! Give me! (A Man After Midnight)" – and wanted something visual for it, so she asked French fashion designer Jean-Paul Gaultier to ask me if he could completely copy mine. blue-and-white striped suits.A few years later I met Gaultier in person and found out that he had produced an entire collection inspired in every detail of my ABBA designs.He suggested we work together.But at that time I had much to do as a teacher and with my animals.
Did ABBA pay you well?
I am not authorized to comment on this. We have all decided never to talk or discuss money. Not even about private relationships or our sex lives.
And how did ABBA celebrate their successes in the 1970s? As usual with champagne and cocaine?
No no no! Of course we ate and drank well at the time, but there were no excesses or scandals at ABBA. Never ever! But I never toured with them because I had my hands full at home.
Did your costumes trigger a fashion wave after "Waterloo"?
Yes everywhere. You saw them on pictures or on t-shirts. I designed about 100 costumes for ABBA, including their choir and orchestra. Some even twice. I have also occasionally made clothes for myself to wear to crazy parties. There was a lot of dancing to disco music. And there were exceptional performances.
What was your unique sales proposal as ABBA's costume designer?
The combination of playfulness, elegance and the unexpected. I wanted to design unlimited costumes that the world had not seen before. Circus, folly and glamrock presented in a beautiful way.
What is ABBA's central message?
Luck! Enjoy your life and be kind while you can. Listen to the music Go in, dance out – as we say at the ABBA Museum. And enjoy the outfits! Of course, one can also feel a little sad, but such is life.
The ABBAmania "Super Trouper" tour stops at the Arena in Nuremberg on March 26, 2022.