They frolic, scream and clap their hands. Most of them have never flown. Many have never left their towns or villages. And they would not be gone now if the fateful war had not driven them out.
A few days ago, planes were still monsters that made ugly noises, triggered alarms, drove people into basements and dropped bombs. Now someone has tamed these monsters. They are here at the airport and need to take off. They want to fly to a place where the kids have been promised what a vacation will be like.
And that's why they frolic, scream and clap. They are excited and happy, they marvel at everything that is happening around them and look forward to every moment that is to come. They are on a plane taking off from the ground in a city whose name they can soon forget.
Escape from the atrocities of war
The airport in Baia Mare, a large city in northern Romania, only 40 kilometers as the crow flies from the Ukrainian border: The approximately 160 children who are currently on a plane to the Turkish city of Antalya come from foster families, mainly from Dnepropetrovsk- the region. They were rescued from the atrocities of war in Ukraine and first taken to Romania.
Airport in northern Romania's Baia Mare: A plane brings Ukrainian child refugees to Turkey
She was brought out of Ukraine by the Romanian association Blondie, which usually helps seriously ill children from needy families, or who are orphans. The association arranges expensive, often life-saving treatments for them, often abroad. But ever since Russia's war of aggression against Ukraine began, Blondie has been helping Ukrainian children escape the war.
Rocket with the inscription: "For the children"
In less than a month, Blondie and its partner organizations have rescued about a thousand children from Ukraine. Most waited in temporary shelters for the humanitarian evacuation corridors to open, then traveled for days by bus and train to cross the border into the northern Romanian city of Halmeu. They are children of all ages, from toddlers who can barely sit upright, to teenagers who may already have an idea of ​​what their future might look like – if the current war had not disrupted everything.
Things could have gone differently for these kids. Also for those at Baia Mare Airport. On their way to Romania, on the run from the war, some of these children stopped at the Kramatorsk train station, which was the target of a Russian missile attack on April 8, 2022. Several children died there. There, and also in Mariupol and in many other cities, large and small, where Moscow bombs fell randomly on residential areas, on people's homes and on civilian shelters marked "Children". A Russian soldier wrote cynically on one of the rockets that hit Kramatorsk: "To the children."
Preserve the Ukrainian identity
Some of the children now rescued by Blondie never knew their parents or lost them. Others are so-called "social orphans" whose families were unable to raise them. Therefore, they were taken care of by the Ukrainian state, and their parents saw them only on weekends and during holidays. Some of the children have different types of disabilities and until now there has been no possibility that they can be integrated into normal schools in Ukraine. There are also abused children and those whom the justice and juvenile protection system has removed from a harmful family environment. They travel with their caregivers, who are sometimes mothers themselves and have taken their own children with them.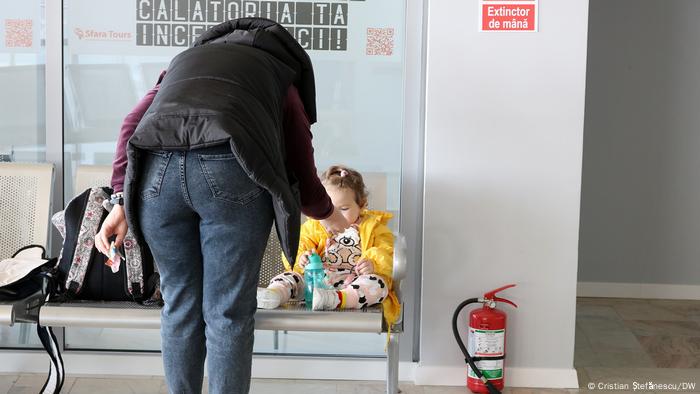 Airport in northern Romanian Baia Mare: The Romanian association Blondie helps Ukrainian refugee children
The group, which flew to Antalya, was also joined by some mothers from disadvantaged backgrounds who needed help to get their children to safety. Even an entire family is there because the authorities in Kiev have decided to allow conscripted fathers to leave the country if a couple has many children. How long the group stays together in exile Turkish is hard to say. One thing is for sure: all children stay together – so they do not forget their language and can preserve their identity.
Intervene where others give up hope
According to UNESCO, about 100,000 children in care live in Ukraine. Not only do they lack family ties, they are even more exposed to all forms of abuse, human trafficking and other forms of exploitation in the middle of the war. In addition, many homes have no electricity or water supply and no food.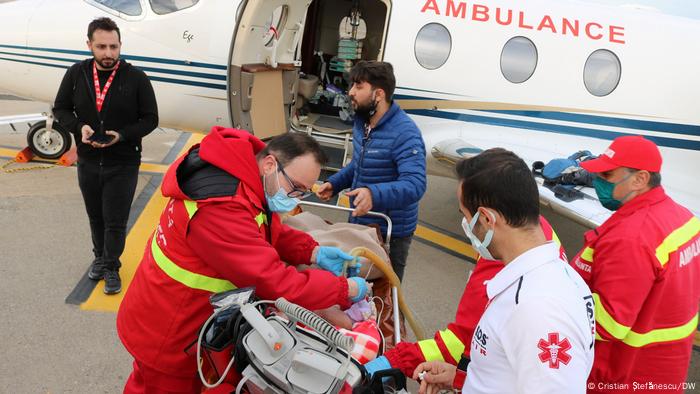 Bucharest Airport: A special plane brings five-month-old Arina to Dortmund
The Blondie Club is used to intervening where most have given up hope. In the first hundred days of 2022, the association, founded by former banker and journalist Adelina Toncean, organized more than 30 flights for children – some of the children were war refugees from Ukraine, others came from Romania and needed special medical treatment.
From Odessa to Dortmund
Two planes were simultaneously involved in Blondie's actions on Monday. One brought Ukrainian orphans to Turkey, another transported a Ukrainian child to a clinic in Germany: Arina from Odessa, only five months old, born seriously ill and only able to survive with artificial respiration. Her mother is Ukrainian and her father is Russian. Shortly after the start of the war, the mother was able to emigrate to Germany with three of the family's four children. The father stayed with Arina, who was in a hospital in Odessa.
Adelina Toncean found out about little Arina by chance – through a Ukrainian refugee in Bucharest. When the military threat to the Black Sea city from Russian attacks increased in early April, Adelina organized a complicated transport for the little girl: first overland to Moldova's capital Chisinau, from there by special plane to Bucharest and then on to a clinic in Dortmund. Arina is now waiting for an operation. Her mother Daryja and her three older siblings are already in Dortmund.
Soon, father Dmitro follows – along with the family's three cats. "To hell with Putin, to hell with the war," he swore while waiting in Bucharest for a connecting flight to Germany.