University of Munich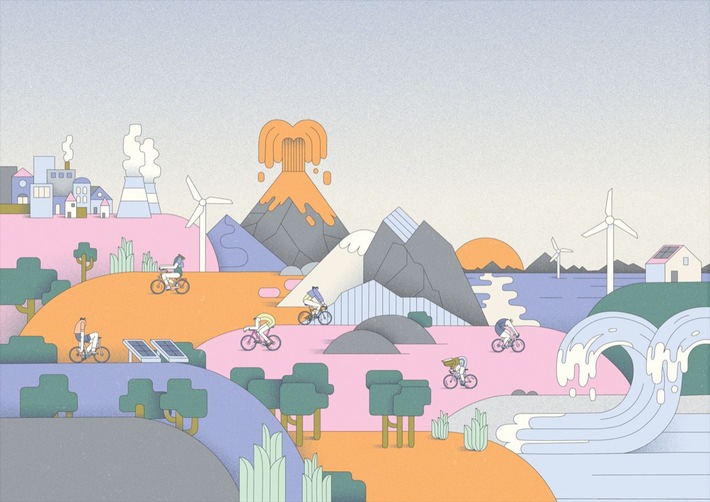 In the format "Design in the Arsenal", the Faculty of Design at the University of Munich for Applied Sciences organizes the design discourse and network on design-related topics. On May 18, 2022, MCBW will focus on "Circular Design and Energy Conversion".
Munich, 9 May 2022 – During social transformation, design as a discipline at the center of innovation processes plays a major role that goes far beyond formal aspects: Design reflects, communicates and shapes social, technological and cultural change – and makes complex relationships available.
Event as part of MCBW
As part of MCBW (Munich Creative Business Week) 2022, the Faculty of Design at the University of Munich for Applied Science invites you to a network and lecture on the topic "Circular Design and Energy Transition" on 18 May 2022 from 21.00 Network partners from the university, creative industries, politics and society present their topics in keynote speeches and are available for professional and informal exchange. In addition, the faculty presents the interdisciplinary book project "Renewable Energies for Understanding and Having a Say" with an exhibition, a collaboration between Munich University of Applied Sciences, the authors and Bertelsmann Verlag. Short films by students on the subject of sustainability complement the program.
impulse lecture
Prof. Dr. Christian Holler, Faculty of Applied Science and Mechatronics, co-author of the publication "Renewable Energies – To understand and have a say"
"Can we meet our energy needs in a climate-neutral way by 2045?"
How much energy do we use and how much of it comes from renewable energy sources today? Are we on the right path towards CO2 neutrality? Christian Holler's impulse dares a look into the year 2045.
Christoph Amann, graduated from the Faculty of Design
"Striving for the Future – How Can Social Change Mean the Great Transformation successful?"
What factors make social transformation movements like the French Revolution, Bauhaus or movements like #MeToo and Fridays for Future more or less successful? The five pillars of social change will be presented: an approach to successfully initiating system change locally, nationally and globally in the future.
Jenny Gallen, social design laboratory in the Hans Sauer Foundation – and graduate student from the Faculty of Design
"Creating a Circular Society: Participatory Design Processes for More Circularity"
It has long been known that the common practice of "take make waste" is no longer sustainable. A transformation – away from unsustainable, linear practice towards regenerative and closed circuits is necessary. What contribution can co-creative design processes make to initiating, designing and anchoring the necessary change processes? In the lecture, the Hans Sauer Foundation's social design laboratory presents its practical approaches to this issue.
Christina Schepper-Bonnet, Competence Team Cultural and Creative Industries and Dr. Michael Droß, M: UniverCity
"Cultural and creative industries as a catalyst for innovation: the subject of cross-innovation using the example of the new European Bauhaus"
How do we achieve the transition to a climate-neutral, spacious and habitable city? Using Neuperlach as an example, M: UniverCity, the Munich University of Applied Sciences' innovation network and the Munich Municipality's cultural and creative industry competence team have designed Transition Hub – a hub for projects aimed at providing concrete and on-site answers to this question.
Susanne Mitterer, Competence team Cultural and creative professions
"Solutions for circular design – examples from the cultural and creative industries"
Intelligent design is more than just design. It combines design standards with sustainability and use. It thus promotes innovation, acceptance and positive social perception. Based on examples of best practice, the lecture will show approaches that can be a key to the future.
Viktoria Schmidt, founder of nearBees and graduated from the Faculty of Design
"Together for the bees"
The online platform nearBees has set itself the goal of saving the bees – by promoting local beekeepers and offering a wide range of regionally produced, untreated types of honey. She reports on the implementation of a sustainable idea.
Media representatives are welcome to contact Tina Barankay on 089 1265-4264 or by email.
General registration for the event is possible until 11 May 2022. The exhibition can be seen from the faculty yard until the beginning of June.
Time: May 18, 2022, at 18:00 to 21:00
Location: Faculty of Design at Munich University of Applied Sciences, Lothstraße 17, 80335 Munich www.designimzeughaus.de
Hochschule München
Die  Hochschule München ist mit rund 500 Professorinnen und Professoren, 750 Lehrbeauftragten und rund 18.000 Studierenden eine der größten Hochschulen Deutschlands. In den Bereichen Technik, Wirtschaft, Sozialwissenschaften und Design bietet sie über 85 Bachelor- und Masterstudiengänge an. Exzellent vernetzt am Wirtschaftsstandort München, pflegt sie enge Kontakte zur Berufspraxis und engagiert sich in anwendungsbezogener Lehre und Forschung. Die Hochschule München wurde bei EXIST III, IV und EXIST Potentiale als Gründerhochschule ausgezeichnet. Neben Fachkompetenzen vermittelt sie ihren Studierenden unternehmerisches und nachhaltiges Denken und Handeln. Ausgebildet im interdisziplinären Arbeiten und interkulturellen Denken sind ihre Absolventinnen und Absolventen vorbereitet auf eine digital und international vernetzte Arbeitswelt. In Rankings zählen sie zu den Gefragtesten bei Arbeitgebern in ganz Deutschland.