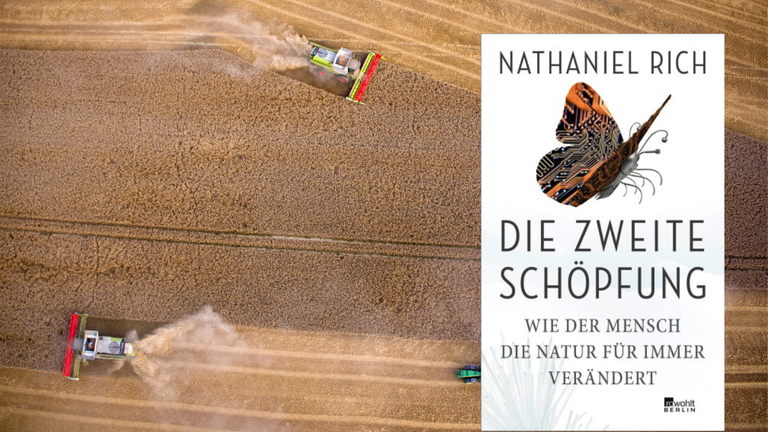 "You have PFOA in your blood. It's in your parents 'blood, in your children's blood, in your loved ones' blood. How did it get there? Through the air, through food, through the use of non-stick cookware, through the umbilical cord. Everywhere, where researchers have tested for PFOA, they have found it, it is found in the organs of Atlantic salmon, swordfish, mullet, gray seals, cormorants, polar bears from Alaska, sea turtles and sea lions and also in albatrosses. Sand Islanda nature reserve in the middle of the North Pacific. "
PFOA are fluorine compounds that are used, among other things, to make outdoor– Functional clothing is used. These fabrics allow liquids to roll off, they are durable and resistant – incredibly practical, but harmful to health in the long run. Above all, however, they can no longer be let go. It is a so-called perpetual chemical: it does not decompose, but keeps accumulating. A drastic example that Nathaniel Rich uses to illustrate that we have already irrevocably redesigned our environment.
"What we with misplaced nostalgia still call 'the world of nature' is gone, if it ever existed. Hardly a stone, a leaf or a cubic meter of air is pulled by our clumsy hand. "
No way back
This is the starting point for "The Second Creation": Mankind has already changed the previous landscapes, food chains and also the cycles of the climate system too much for a path "back to nature" to lead. Ecosystems cannot be restored to their former state. But of course we must ensure the survival of at least some animals, plants and natural areas, if nothing else to ensure our own existence. In this situation, the ecological question becomes both more urgent and more difficult to answer.
Nathaniel Rich cites the example of the Atlantic coast of the US state of Louisiana. The marshland is sinking because sea levels are rising. This ecosystem can no longer be saved. Environmentalists can only do one new Create a landscape that offers shelter for at least some animal and plant species. As one Louisiana activist quoted by Nathaniel Rich puts the situation in a nutshell:
"There is no longer a pristine environment that can be left to itself. We are past that point. If you break something, you are responsible for it. Well, we have the responsibility now."
In the English original, the book is called "The Second Nature", completely without regard to the philosophical tradition from Hegel to Adorno, which is attached to this term. No, Nathaniel Rich thinks quite practically: life on earth – animals, plants and their habitats are now social decisions Delivered. We live in a "time of terrible responsibility," as the author puts it.
"If something resembling a wilderness is to survive in the future, it can only happen through very careful and conscious control. An endangered ecosystem, like any patient in critical condition, requires constant interventional care. "
The conflicting relationship with nature
What criteria can environmental care in the Anthropocene be based on? What interests should it serve? How is it determined what is worth protecting?
These are important questions. Nathaniel Rich, however, does not approach them systematically and conceptually-theoretically, but descriptively. In fact, The Second Creation is a collection of reports he wrote for various newspapers and magazines. They deal with, among other things, a mysterious mass extinction of starfish in the Pacific Ocean, the local political debate in the prestigious ski resort of Aspen, which is losing snow due to global warming, or the attempt to bring extinct animal species to life with the help of genetic engineering.
This list shows: Nathaniel Rich is interested in the ambivalent and self-contradictory, as well as the obscure and grotesque. Some passages sound almost like satire, even though they are based on facts. The author characterizes the industrial site where the toxic perpetual chemical PFOA was manufactured as follows:
"On summer evenings, the young people snuck with their friends to a warm pond on the industrial site, populated by two-headed frogs. The boys caught the little monsters, the girls screamed, and the couples heard the sound of the deformed frogs croaking out of both mouths. "
The Second Creation is an entirely American work: Almost all of the main characters, examples, and intellectual influences come from the United States; the specificities of local environmental policy also play an important role.
Nevertheless, Nathaniel Rich also has something to say to German readers, or rather: something to tell. His quote "Stories about people in the time of terrible responsibility" makes it clear in what contradictions our relationship with nature has become entangled. Ultimately, they all revolve around the question of whether we can actually live up to our responsibility for the planet. The author has no answer to that, but his stories are funny and at the same time stimulate reflection.
Nathaniel Rich: "The Second Creation. How Man Changed Nature Forever"Translated from English by Thomas Gunkel, Rowohlt Verlag, 320 pages, 24 euros.