Ukraine has been fighting against overwhelming Russian military power for over two months. But the country uses a weapon no one would have guessed: cryptocurrencies. The Ukrainian government and various charities have already raised over $ 100 million in digital currencies as donations.
Ukraine's move towards a decentralized method of receiving grants has extended the Eastern European country's crowdfunding initiative to include most cryptocurrencies. It is also another indication of the potential of cryptocurrencies to act as a better currency mechanism for financial transactions.
Minister of Ukraine: Use of crypto is an economic breakthrough
According to Alex Bornyakov, Ukraine's Deputy Minister of Digital Transformation, $ 60 million of the $ 100 million went to the primary fund managed by Kuna, a Ukrainian cryptocurrency exchange.
In addition, Bornyakov said in a recent online briefing that Ukrainian President Zelensky believes the use of cryptocurrencies could be an "economic breakthrough."
According to blockchain analysis firm Elliptic, more than 120,000 crypto donations have been made since the Russian invasion began, including a $ 5.8 million donation from Polkadot founder Gavin Wood and a CryptoPunk NFT worth over $ 200,000.
According to Pratik Gauri, founder and CEO of 5ire, in situations where governments are in chaos, it is difficult to trust traditional banks. If one is afraid of surveillance, a relatively anonymous system without government involvement is attractive.
"The use of cryptocurrencies of good and evil in a conflict is becoming more and more apparent. For example, cryptocurrencies are often used by evil actors. Russia could exploit them to circumvent sanctions, which is currently the most important weapon used by the United States. and its allies against Russia. "Russia's proliferation of cyber warfare against the West also means that people who possess cryptocurrencies can be a target for cyber attacks. Although one of the biggest attractions of cryptocurrencies is that they are meant to be anonymous, they are not foolproof, "says Gauri.
The majority of donations in bitcoin and ether
The majority of the donations received so far are made in bitcoin and ether, although USD stablecoins also make up a significant portion. But it is not only cryptocurrencies that are being donated, NFTs are also being sent to the Ukrainian government's Ethereum account.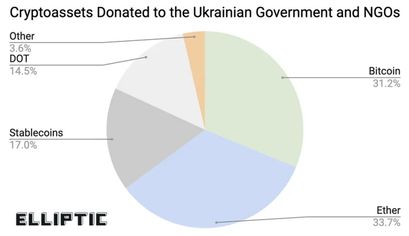 The donations received in cryptocurrencies were an immediate relief for the country, which would otherwise have to rely on cumbersome traditional fundraising processes. The cross-border financial system has been a boon in this regard, says Raghav Gupta, founder of EquiDei
The war also set the stage for mass adoption of digital currencies as both Russian and Ukrainian citizens turned to cryptocurrencies to protect their wealth, he adds.
Although cryptocurrencies have proven to be an excellent way to donate money quickly, facts such as the actual usefulness of cryptocurrencies should be considered: While it can be difficult to create a wallet and receive cryptocurrencies, it is even harder to store cryptocurrencies in the world using each day.
Another disadvantage of cryptocurrencies could be the lack of accountability. If a crypto exchange allows digital assets to be traded without identity verification, it can open the door to fraud. But if it is very restrictive, people will not be able to use it – so the factors must be weighed accordingly.
According to experts, it is not enough to make cryptocurrencies a standard for money distribution, but also to consider how they can be used in everyday life, such as when shopping for groceries.
The Ukrainian government accepts donations in Bitcoin, Ethereum, USDT, Polkadot and Dogecoin. Apart from the government, certain non-profit and philanthropic organizations such as Come Back Alive, Ukraine DAO, Endaoment and Kyiv Independent, an English-language Ukrainian newspaper that has reported on the fight on its Twitter feed, accept cryptocurrencies directly. In this article, we explain in detail how to buy these and other cryptocurrencies.