U-turn in digital currencies



What is behind the crypto interest from Russia?
By Jannik Tillar
04/10/2022 at 11:01
At the beginning of the year, the Russian central bank was still toying with the idea of ​​banning cryptocurrencies. After the war of aggression against Ukraine, the Russian government turned around. According to analysts, Western sanctions should not be circumvented by Bitcoin.
Just three months ago, Russia would completely ban cryptocurrencies. Now, after the war of aggression against Ukraine, there is suddenly no more talk of it. Russia even wants to supply energy in exchange for bitcoin, explained senior Duma deputy Pavel Zavalny. A few days ago, Prime Minister Mikhail Mishustin also campaigned for more acceptance of cryptocurrencies.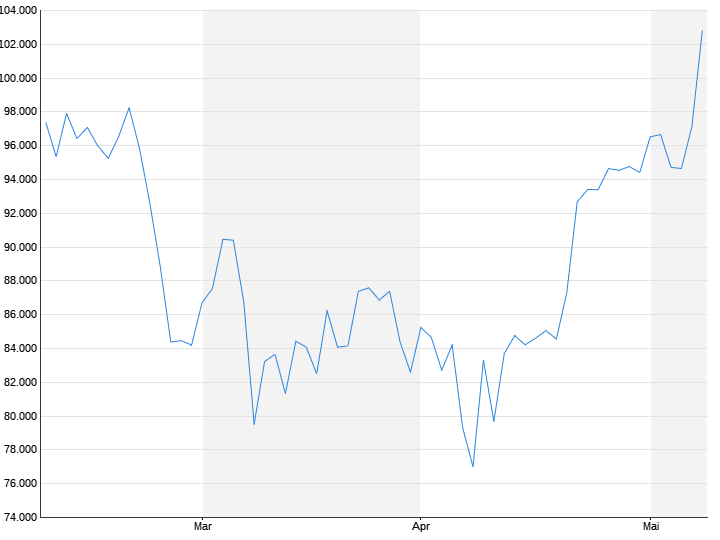 The crypto markets immediately affect such statements. Already after the invasion of Ukraine and the exclusion of Russian banks from the Swift system, the cryptocurrencies benefited. In the last few weeks, stock exchanges have recorded significantly higher trading volumes and hash rates, that is, computing power, in Russia – in some cases by more than 900 percent. All of this is driving prices up in the short term.
The suspicion: To circumvent Western sanctions, Russia could simply switch to cryptocurrencies. Dollars, euros or yen would then no longer be needed – not even accurate data on the origin of money. But can Russia have a strategic interest in Bitcoin at all? Analysts are still arguing over this issue.
Trading volume flattened out again
One thing is for sure, no circumvention of sanctions can be deduced from trading volume and hash rate alone, explains Timo Emden from Emden Research to Capital. Two points should be distinguished: Cryptocurrencies as a means of payment and as an asset. Western countries in particular are following the first variant closely. Meanwhile, the Russians have exchanged 900 percent more rubles in digital currencies.
Trading volume within the crypto scene, however, flattened out again after peaking at the beginning of the war. Russian institutional investors transferred only $ 62 million in the first four weeks of the war. The data do not show that Russia is increasingly trading goods via digital currencies. "If it had come to a really big reparking, then we would have seen other increases," says Emden.
It is more realistic for Russian individuals to protect their assets. Sanctioned oligarchs could also be among them – but it's hard to prove because of the blockchain. "My guess is that the oligarchs have already gotten off by investing funds in cryptocurrencies," Emden explains. In other words, it was especially private individuals who accounted for the first summit. Once exchanged for Bitcoin, payment flows can hardly be traced – unless investigators know the person behind the wallet's ID. Blockchain transparently shows who is transferring how many coins and when. But who is behind the ID is sometimes anonymous and the ID consists of up to 35 characters.
How sustainable is the crypto interest from Russia?
The EU now wants to change that and is dependent on the so-called "know-your-customer" procedure (KYC). Transactions in Bitcoin, Ether and other cryptocurrencies should be able to be tracked in the same way as traditional transfers – this is the goal of the Transfer of Funds Regulation (TFR). This is not a direct reaction to the Russian war of aggression, CDU MP Stefan Berger told Capital. But he also noted more intense discussions, which presumably also influenced last Thursday's decision. The low turnover of 62 million dollars does not speak for a systematic evasion of sanctions, says Berger. In this regard, he sees the Bitcoin offensive as a glimpse into the pot for small Russian investors.
Analyst Timo Emden also does not believe in sustained interest in crypto from Russia. "Right now, they're using Bitcoin more as a marketing tool. It's new, it's independent of the state. It sounds good." In addition, the payment rate is higher than with IBAN transfers. On the contrary, Moscow is preoccupied with its own digital currency – if you will, an e-ruble. The western countries, and above all China, are also working flat out on their own projects. "It's like a race to land on the moon. And the question is, what system will Russia join?"
In this regard, Bitcoin may become a test drive for Russia because the systems work the same way. Both run on blockchain technology, the only difference being that Bitcoin and Co. is organized in a decentralized way. An e-ruble or e-yen would be issued by the central bank. The benefits of a digital currency are obvious: the administrative costs per. e-ruble tends to be zero and can also be easily integrated into other payment systems. And: With a digital currency, Russia could become less dependent on the US dollar. That is a stated goal of Russian President Vladimir Putin, who could actually use it to effectively circumvent sanctions.
This text was first published by Capital.