Lazzarini Gran Turismo Mediterranea
Yacht in Ferrari design and with a giant spoiler
Lazzarini presents its new yacht concept: Gran Turismo Mediterranea is inspired by Ferrari design and has an SF90 Stradale in its belly.
The Italian design company Lazzarini actually designs cars – but the designers obviously have more fun drawing yachts. The boats made by the Italians are always spectacular and already quite sophisticated – the Lazzarini leaders hope that every single one of their proposals will be implemented by a yacht builder in reality. Lazzarini's latest work Gran Turismo Mediterranea (GTM) is a boat whose design is influenced by Ferrari models. A Ferrari can also be included on the ship – the designers chose an SF90 Stradale for their design.
With a giant rear spoiler
The Lazzarini GTM is 27 meters long, 6.70 meters wide and 6.10 meters high (1.80 meters below and 4.30 meters above the waterline). The so-called GT wing is particularly striking: the yacht is actually equipped with a massive rear spoiler that extends almost the entire width of the boat and therefore could be about six meters wide. Lazzarini states that the GTM should be capable of speeds of up to 70 knots (130 km / h) – not only is this extremely fast for such a large watercraft, but the rear wing could actually be aerodynamically efficient at such a high speed.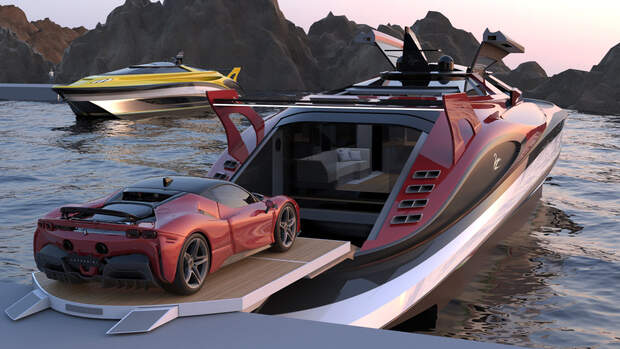 Wing doors can remain open
When open, the two large side wing doors also catch the eye. The great example Ferrari is not known for often equipping its models with gull-wing doors, but this type of construction was apparently ideal for the yacht: by simply folding them up, the doors reveal large entrances. In addition, the doors can apparently remain open while driving, providing a dramatic entrance. It is not known if they were also included in the aerodynamic calculations when they were open.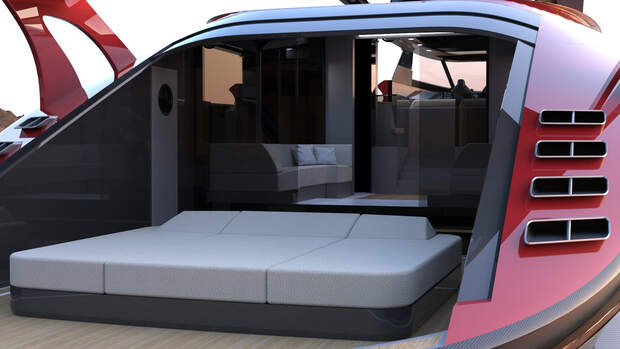 Up to 130 km / h fast
The yacht, which is painted red, is said to be made of carbon fiber, which ensures high rigidity with low weight. The already mentioned 70 knots (70 nautical miles per hour) enable three MAN V12 engines, which are combined with a jet drive from the New Zealand specialist Hamilton. The jet drive is steerable and thus ensures better maneuverability. In addition, a wing extends from the bottom of the bow area, allowing for higher speeds by partially lifting the ship's hull out of the water, thereby reducing displacement and resistance.
Retractable car platform
Lazzarini sometimes shows his latest creation in pictures with a Ferrari SF90 Stradale on the aft deck, but sometimes only a large sunbathing area can be seen there. The Italians show the resolution in the video (above in this article): The Ferrari is placed deep in the ship's hold. He stands on a platform that can be raised if desired – the sleeping pad moves back automatically. After mooring, the Ferrari platform can be moved beyond the aft deck to above the quay wall, then it extends two small ramps that the car can use to leave the platform.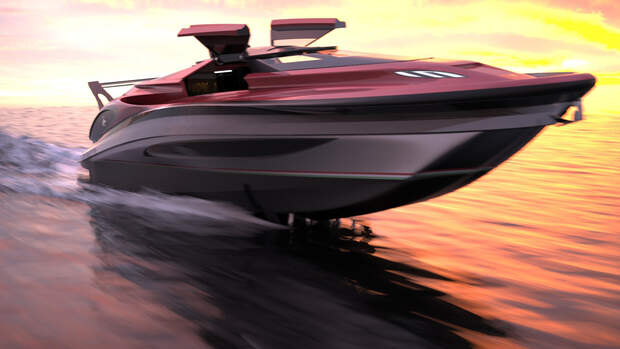 Three bedrooms – three bathrooms
The Gran Turismo Mediterranea's cabin is inspired by sports car cockpits, although the large seats would not fit in a sports car. The yacht is equipped with three double bedrooms, and each bedroom has its own bathroom. In the living room there is a sofa, a desk and a table for eight people.
It is not yet known if a yacht builder already has plans to build the Lazzarini Gran Turismo Mediterranea in reality.
opinion poll
Fascinating technology has been used in both, which is perfectly adapted to the respective environmental conditions – so: yes.
I'm a real land crab, and yachts are more expensive than already expensive cars – so: no.


Read more
There's more from Lazzarini here – much more:
– Lazzarini Saturnia yacht with tunnel port for jet capsules
– Hybrid sedan Lazzarini One with 288 hp pr
– Lazzarini Pagurus Crabmaran: 25 meter long amphibious yacht
– Lazzarini Stratosfera drives, flies and dives
– Lazzarini Design Hover Coupé: Flying car in retro design
Throw away Resto-Floats from floating engines: In a Benz or Bulli at sea
Conclusion
Lazzarini is extremely diligent when it comes to yacht design – and the Italians also have many spectacular ideas. The now presented Gran Turismo Mediterranea is intended to be a kind of Ferrari of the sea, which can also carry a Ferrari if desired. The red ship has a sporty, sleek design that matches its car models, with the giant spoiler spanning the aft deck being the most eye-catching. And the yacht can also be driven in a very sporty and manoeuvrable way: 130 km / h is an extremely high speed for a 27 meter long boat and the ship's jet drive can also be steered. When it comes to Lazzarini's designs, it's always exciting to find someone who can turn the spectacular ideas into reality.