Cryptoadoption is advancing day by day. Coinbase even predicts 1 billion cryptocurrencies by 2025. Wondering how this should be possible?
Some reports point to massive cryptoadoption within a very short period of time. According to Coinbase, there were a total of around 250 million crypto users by the end of 2021. But these were to rise to 1 billion by 2025!
Crypto.com assumes similar growth rates as in 2021 and concludes that there will already be 1 billion users by 2022. The comparison with the number of Internet users in the 1990s is particularly interesting. What factors help us to adopt crypto as soon as possible? How do we get to a billion users?
"The entry barrier to buying crypto is already relatively low."
We obtained an expert opinion on these issues from Philipp Sandner. In his opinion, it is already relatively easy to get started with crypto.
"Boerse Stuttgart's Bison app, for example, provides good access. In about 10 minutes you can create an account there and buy cryptocurrencies. "
He sees more of the problem in the fact that there are so many different cryptocurrencies. Interested must start somewhere, but often can not see the forest for the trees. That there are so many different areas with DeFi, NFTs and stack coins does not make it any better. In his opinion, it is best to go from one point, such as Bitcoin, to the next. "Those who are interested should just search for Bitcoin on Wikipedia and deal with it," Sandner says. There are so many ways to approach the subject. Books, YouTube videos and articles are great sources of knowledge.
According to the expert opinion, barriers to entry do not pose a problem. Philipp Sandner sees them more Knowledge gap as a possible problem.
From El Salvador to Russia, the rules are important for beginners
Last year, El Salvador became the first country in the world to recognize Bitcoin as a legal tender. In a positive sense, individuals as well as institutions are forced to accept BTC payments. Other inflationary countries, such as Argentina or Brazil, are expected to see Bitcoin as a legal tender one day. For example, the Swiss city of Lugano already accepts tax payments in cryptocurrencies.
This also has a positive effect on the number of users. The more states accept Bitcoin and crypto in general, the more people fall under "users" in the statistics. In a broader sense, means of payment also belong to the subject of regulations. Legal means of payment is also a form of regulation, such as EU money laundering rules. And rules can be a significant obstacle for new users.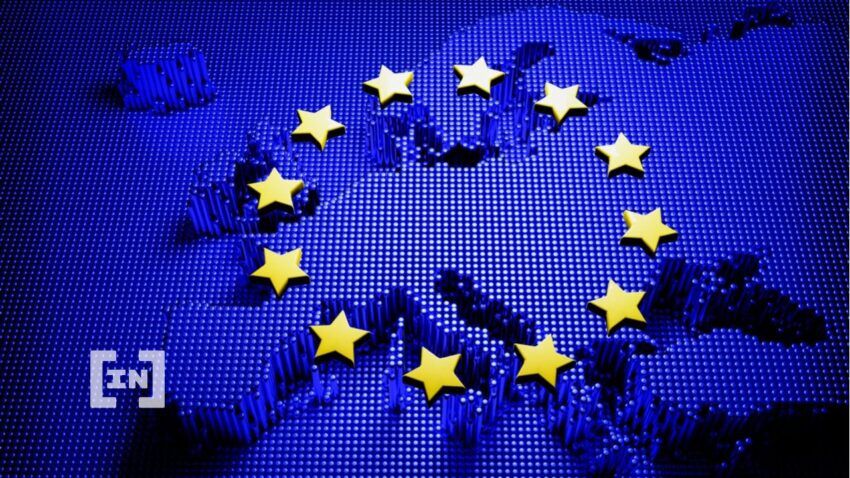 Beginners can quickly be deterred by exaggerated obstacles, such as the possible forthcoming KYC regulation in the EU. You have certainly yourself had the situation where a friend asked you if an upcoming regulation could put an end to crypto?
However, we will not accuse the EU of unnecessarily throwing obstacles in the way of new users. Surely the EU will not put a few interests above the crypto-society? It would only happen if a few people benefited from it?
Bitcoin, Ethereum and Dogecoin – What do they have in common?
The three cryptocurrencies mentioned above have one thing in common: volatility. This can not be ruled out, at least when looking at the monthly chart. Price fluctuations of 10 to 20 percent per day may occur. However, this is mainly due to the fact that there is still relatively little capital in the individual assets. The market is not yet efficient and is much more sensitive to both the demand and supply side.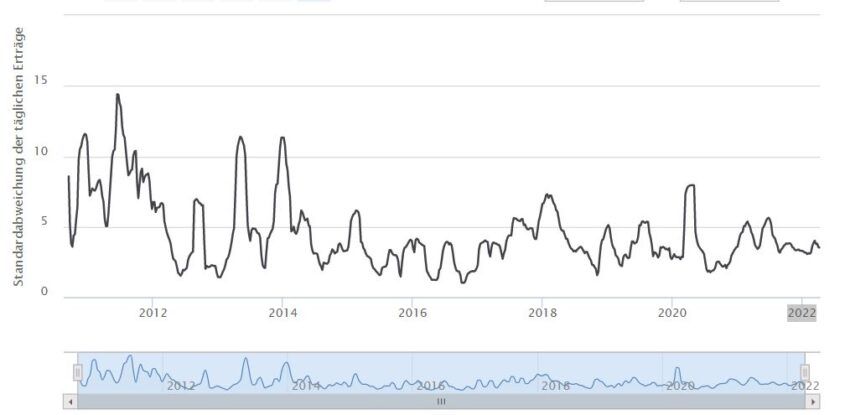 However, the graph already shows that volatility has fallen over the years. Responsible for this is, on the one hand, the access of the wider masses as well as institutional investors to Bitcoin. You can read more about that here.
By the way: According to Finder, Bitcoin, Ethereum and Dogecoin have something else in common. They were the three most popular cryptocurrencies in a survey conducted in the United States in December 2021. According to this survey, every second cryptocurrency user has Bitcoin!
Last but not least, the point of the contractual means of payment Bitcoin / crypto must be mentioned. Like legal tender in El Salvador, acceptance into ordinary business will play a role. The higher this is, the lower the volatility will be because more people use crypto in their daily needs.
Philipp Sandner had a clear position on the question of whether cryptocurrencies could replace the euro in the future:
'It obviously depends on who my interlocutor is. For an El Salvadoran, Bitcoin is already a means of payment. In Europe, however, it will always remain the euro. It is impossible to remove the currency from a country like Germany from one day to the next. "
Nevertheless, he wants to motivate young talents to engage in crypto:
"Just press enter (as you explore crypto). A whole new world opens up for you. Career and advancement opportunities for those willing to swap time for knowledge."
Disclaimer
All information contained on our website has been examined to the best of our knowledge and belief. The journalistic contributions are for general information purposes only. Any action taken by the reader based on the information on our website is entirely at your own risk.