Status: 04.05.2022 11:55
The renowned trauma educator Alexander Korittko has made guidelines for teachers on how to deal with traumatized refugee children from Ukraine.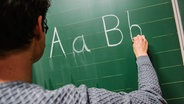 listen to the post
6 min
Children from Ukraine sitting in our classes after fleeing and saying, "We are okay! We are fine!" And to them: teachers who, of course, know: nothing is right there. How are these kids doing?
I think when they say "everything is okay", it is a partially appropriate response at first because they are no longer in direct threat. But the other side is that they, along with their mothers and grandmothers, naturally care and worry about the fathers and grandfathers who are still struggling to survive in Ukraine. That is, the children are in an intermediate state between their own safety and care for others.
And what's more, these kids probably have pictures in their heads that they saw during the escape that they first have to process?
It is true. The question is: How does such a treatment work? It used to be said that one should talk about the dramatic immediately after dramatic events to put words to the pictures. Today we know: There are people who are willing to talk about it – others are not yet. They need something completely different. I think there are individual differences.
In practice, it now appears that the children are sitting in class here in northern Germany. Is that really what they need now: to learn to count, write and read?
Above all, they need to feel empowered in some way. If they learn something they do not already know – for example, say: My name is Viktor and I am from Kiev – it is part of self-efficacy. But you do not have to imagine that they are immediately ready to learn all the things in a foreign language that other children learn in school.
They have made handouts, for example, for teachers who work with these children. What are the best tips you can give them along the way?
The most important thing is that the children can do something themselves. If you do not know the language, it can be physical training, something that works without language. First of all, this is much more important and much more useful – not only as a distraction, but also to experience one's own body as alive and to get out of a physical torpor.
Can educators do it justice in everyday school life at all?
They can do this, for example, by incorporating certain rituals that have nothing to do with language every morning or when saying goodbye in class. Maybe stand in a circle, hold hands and sing a song. It might be a help. Above all, rituals, ie recurring time structures, are something very, very important for children who are here from Ukraine, because these time structures help to create a sense of predictability. Things that are unexpected and terrible do not happen all the time, but things that are predictable happen.
If we look at the whole education system: What is missing?
I think we also have many other children who do not feel well in everyday school life, for example when we think of inclusion and the question: how can children with disabilities be brought into everyday school life? I think we need smaller groups. I believe that we need measures for the special needs of children.
What enrichment can it be for a class, for the class as a whole, if children and young people, for example from a war zone, are there?
I believe that the enrichment is that children learn very early in school, that there are different destinies, cultures and languages, and that this difference in the long run can contribute to learning much more from other countries, from other cultures and from others. things than just what you experience in everyday life in Germany.
The interview was conducted by Jan Wiedemann.