Status: 05/05/2022 13:12
The exhibition "I live" is currently taking place in Meldorfer Dom in the Dithmarschen district. There are eleven moving stories of children who have experienced and survived war somewhere in the world over the last 100 years.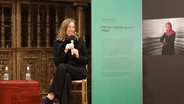 listen to posts
4 min
The stories behind the pictures range from the First World War to today. The traveling exhibition shows pictures put together on the occasion of the 100th anniversary of the aid organization "Save the Children". The children were photographed by war photographer Dominc Nahr. "I photographed eleven people for the work 'I live'. It doesn't matter if it's in Cambodia or Germany, being a child at war is always the same." Dominic Nahr's images are insights into the souls of adults who suffered deep scars from war experiences as children and memories that are burned to this day. Like Evelyn Brix from Berlin, who especially remembers the hunger immediately after World War II. "It was around 1946, a time when we had very little to eat, we got an extra meal twice a week, it was called Swedish feeding. I remember noodle soup and butter rolls with cocoa, it was a real pleasure."
Martina Dase had the idea for the exhibition "I live".
Martina Dase, who grew up in Meldorf, had the idea for this exhibition and the illustrated book "I live". And she knows every single story about the people depicted there, like the one about Vanessa from Rwanda who survived the 1994 genocide in her country. She does not know if her parents are still alive. "Vanessa was very depressed, in one picture you can see her crying while she tells her story, and in another you see her with her daughter. And it is a phenomenon: that the trauma of war is passed on to the next generation. In Rwanda it's a phenomenon. 20 percent. "
A journey through 100 years of war – the hunt for eyewitnesses
The exhibition is a journey through 100 years of war that begins right after World War I, when Save the Children was founded in England to help children in need. But one thing was clear to Martina Dase: If there is not a contemporary witness who experienced World War I as a child, who was helped after the war by "Save the Children", and who still remembers it, then the whole project will fail. Finding the 100-year-old needle in a haystack. "It was extreme with the over 100s. We were looking for people over 100 in an illustrated book, we asked the federal president and failed. Then I found one who was no longer clear in his head. And so we did, we started a newspaper call and then a woman called and said, 'My uncle could be someone.' " That someone was Erich Karl, born in 1914 and a vital 105 years old when Martina Dase met him for the first time. An absolute stroke of luck. "This life experience made him special, and when he saw the book, he saw that I am not alone in my fate, and he said, 'I am one of these people from all over the world now, so I say thank you!' "
Contemporary witness Erich Karl was an enrichment
Erich Karl himself visited the exhibition at the Ministry of Foreign Affairs in Berlin; he died last summer at the age of 107. But that's not the end, because there are not only ten people from ten decades of war, but also baby Rajia from Myanmar. "It was important to us that we do not stop, but that the story of 'Save the Child' continues, that's why eleven stories, that's why Rajia is there – as a glimmer of hope that things can get better. She I'm fine – and it's so nice. "
The traveling exhibition "I live" in Meldorf Cathedral can be looked forward to May 22, the next stop will then be the UN in Geneva.