– For many parents, it is unthinkable not to provide any help, even if their own child is in need. But why do we do exactly that if we send our children to their room with their anger or downplay their fear of the monster under the bed? A question that Nadine Dzolic spent a long time trying to answer.

"Because we have not learned to deal with our children's sometimes strong emotions," says Nadine Dzolic, author of children's books and Flümer® Coach from Wilhermsdorf. "As children, we were forced to suppress our fears, our anger, or our sense of powerlessness. We were taught how to feel and how to behave appropriately. Outbursts of anger were not tolerated, and we often made impressions only when we were especially sweet and friendly. " So it is not surprising that many adults today simply function and approach the end of their lives without taking into account their own wants and needs.
If we meet our children out of this inner attitude, if the emotional world is not yet completely limited by rules and boundaries, beliefs and evaluations, we automatically also meet the parts of us that we once locked in. Now we suddenly encounter this unbridled anger that should never have been there, or the fear that always seemed unfounded. We now perceive these feelings as a danger if they were punished with violence or detachment in our own childhood. We react as unconsciously as our own parents taught us, thus passing on to our children what actually hurt us so much: An unhealthy way of dealing with emotions and feelings.
Nadine Dzolic is convinced: "In every human being there is a deep need to be held and protected, even in moments of strong emotion. Moments that let us experience that we are completely right and loved with all that is alive in U.S."
But how can we succeed in meeting the feelings of all our children in an accepting and appreciative way? By realizing that these feelings are no longer dangerous to us today. Today we can be angry without fear of being punished. Today, we can succeed in establishing a new way of dealing with emotions and feelings in our family that promotes our children's healthy development and strengthens their self-esteem.
"Since I have been fluttering, I have suddenly been good at school.
I always have Sama with me, and now I have written my first 3. "
Eren, 4th grade
Using Flümer® – a concept that gives emotions a face – this change is effortless. With them, any person, whether large or small, is able to perceive and express their inner world and easily influence it in a playful way. Then there's Wilbert, the angry one who just wants to say what's bothering her. Or Albert, the fear that is active because it wants security. Suddenly, it's easy to talk about emotions. Suddenly the child finds words to express his inner world and often one even finds the reason that was hidden behind the anger. Only when we know the true cause of our thoughts and behaviors can we create real change. Everything else would just be damage limitation and look like a car warning light that you are trying to cover so you do not have to see it anymore.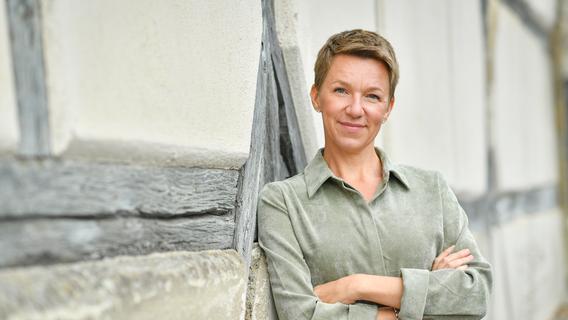 Nadine Dzolic
© Thomas Grad
In addition to her work as an author of children's books, Nadine Dzolic also runs workshops for families, schools and day care centers. She provides personal coaching and has even been training since July 2021. Her goal is to change the way we handle emotions and feelings in the long run. Many coaches, therapists and educators from Erlangen, Nuremberg and Herzogenaurach, among others, already follow her vision and have been trained by her to become a certified Flümer® Coach. "Only when we have something at hand that makes it easy to deal with children's emotions in a playful way can we succeed in breaking through our outdated behavior and reaction patterns. Only then are we able to respond lovingly and appreciatively to our children's feelings as well as to our own.
Flyer as PDF for download